On Google, and specifically in SEA, the message contained in your ad serves as the primary representation of your brand. Over the past years, Google has implemented a multitude of changes to deliver a message tailored to the consumer's needs.
It all began in 2002 with the emergence of standard text ads, progressing through various extension types, extended text ads, and culminating in a system of multiple combinations with Responsive Search Ads (RSAs). RSAs are capable of accommodating up to 15 headlines and 4 descriptions.
Creating content might appear to be a subjective and intangible task. Hence, Google developed a tool called Ad Strength to assess the relevance of your ads.
In this article, we will explain how Ad Strength functions and how Google calculates the "score" assigned to the ad. Then, we will delve into various strategies to improve your RSAs.
Lastly, we will conclude by outlining the method for testing your ads and the findings regarding the results from our test case.
What is Ad Strength in Google Ads?
Let's start by establishing a clear definition of Ad Strength.
According to Google Ads, Ad Strength provides you with feedback to help you focus on providing the right messages to your customers. Ranging from "Incomplete", "Poor", "Average", and "Good", to "Excellent", Ad Strength is a tool designed to help you optimize the performance of your ad. A higher Ad Strength will maximize the performance of your ad.
This tool provides real-time feedback during ad creation and post-creation optimization based on ad performance.
These recommendations can be consulted directly in Google Ads.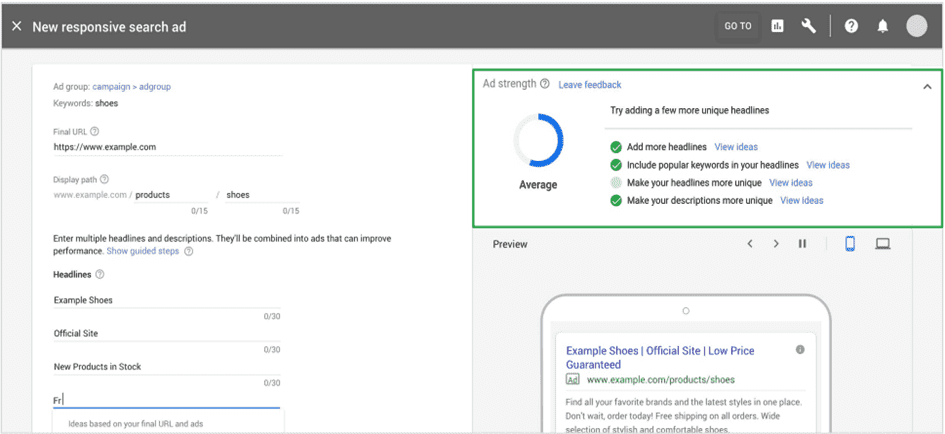 Google prioritizes several key aspects when creating ads: diversity, quality, titles, descriptions, and keyword relevance. Additionally, Ad Strength evaluates the connection between ad content and the displayed URL.
Ad strength vs. Optimization score vs. Quality score
Google now provides several indexes to help you manage your account and adapt it to the latest best practices.
It is important to distinguish each index.
Below, you can find a table summarizing the different scores provided by Google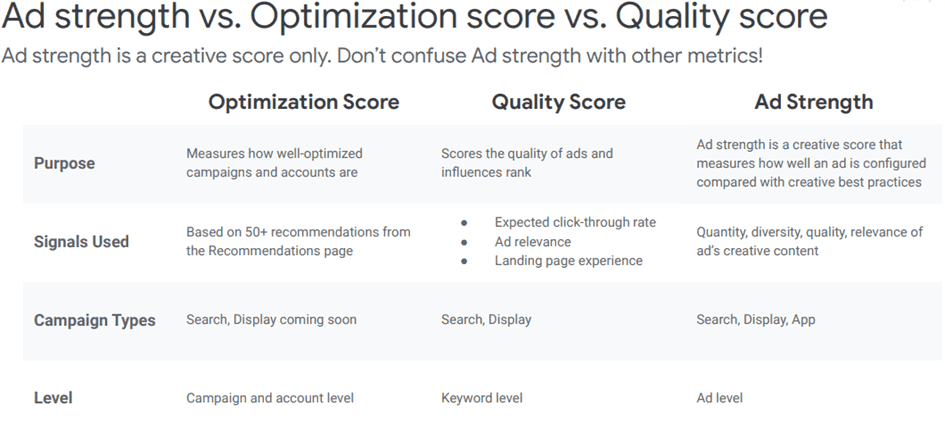 Account structure for optimizing your RSA
You may have noticed that if you use the same generic ad across several ad groups with different landing pages, the score can vary greatly.
I want to underline the importance of a proper structure that can unleash the full potential of your ads.
I'm not going to dwell on the structure at the campaign level, as this is highly dependent on your objectives, budget optimizations and so on.
However, at the ad group level, it's important to distinguish each product. If your products have several assets, we don't want them to be diluted in the message. In order to provide the best possible relevance at the ad level, an ad group must be made up of a specific product.
In the same vein, your keywords must also be specific to the integrated product corresponding to the ad group. We want to avoid mixing too many lexical fields so that the product, ad and keywords correspond as closely as possible.
RSA optimization strategy
According to Google, there are several ways to improve the quality of your RSAs.
Firstly, the exclusivity of your ad is strongly favoured by Google. This may seem logical, but we often write similar headlines or descriptions for convenience or lack of time.
Secondly, and this is why I stressed the importance of account structure, it's important to link your headlines and descriptions to the keywords that make up the ad group. Using the keyword insertion tool can also be useful in this case.
In addition to Google, Brand Geddes at SMX 2022 in Munich told us that to best adapt your message, it's important to orient it according to 3 categories: Features, Benefits and CTA. You also need to know where you are in the funnel of the customer journey and adapt your message along these 3 axes.
RSA identification and improvement process
To identify RSAs with potential for improvement, it's a good idea to use a multi-step methodology:
1. Use filters: Use the filters available in the Google Ads interface to sort ads according to their ad strength. You can filter by "Ad strength" and select ads with a score below a certain predefined threshold.
2. Analyze performance: Once you have identified RSAs with low ad strength, evaluate their performance. Are they underperforming compared to other ads? Look at click-through rates, conversion rates and other relevant metrics.
3. Evaluate the components: Dive into the components of these ads. What specific parts (titles, descriptions, URLs) scored low on ad strength? This will help you identify areas for improvement.
4. Make adjustments: Based on your analysis, make adjustments to the Responsive Search Ads in question. Try tweaking titles, descriptions, or URLs to make them more relevant and consistent.
5. Test and iterate: Modify the RSAs and observe how these changes affect their performance. Continue to refine your ads based on feedback and results.
6. Keep an eye on the big picture: Make sure that any changes you make to RSAs don't compromise their performance.
7. Monitor regularly: Constant monitoring of the Ad strength of your ads is essential.
Don't hesitate to adjust your approaches according to changes in the algorithm or the performance of your ads.
In short, improving your RSA requires careful evaluation and constant iteration.
Test methodology for optimum results
The diversity of the various ad elements seems to be an essential point in the development of an RSA for Google. Indeed, RSAs were launched to be able to provide a substantial number of combinations (47,280 combinations if you use the 15 headlines and 4 descriptions) and, with the help of smart bidding, to be able to offer the right message, at the right time and in the right place.
However, it's essential to realize that different factors can influence the deliverability of your ads (market size, sector, product, budget, etc.). It's also important to consider the volume of your ads: given all the possible combinations of your RSA, will you and the algorithm have a sufficiently large sample to draw conclusions about the performance of a headline or description?
It might seem counterproductive to pin your headlines and descriptions, as this limits your number of combinations. Nonetheless, it's a powerful tool when it comes to developing your tests, as it will give you a solid basis for the volumes of data collected. So don't hesitate to pin!
Our results
We analyzed over 500 ads on one of our clients, filtering only the ads in the generic segment. Each Ad strength segment gathered over 300,000 impressions. Investments are relatively similar, with a slight advantage (+15% investment) for the "Good" segment.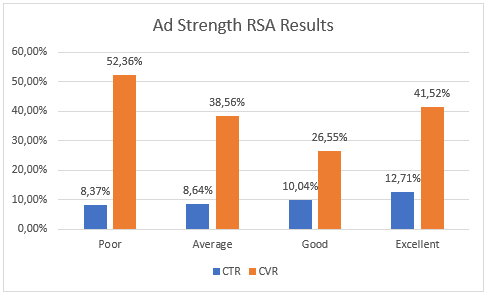 First, there's a clear correlation between Ad strength and CTR. The better the Ad strength, the higher the CTR.
However, this observation does not seem to extend to the CVR level, as the ads with 'Poor' ad strength seem to benefit from the highest CVR.
Obviously, we can't draw a conclusion for the entire market, and these results could change depending on context and sector.
However, it's worth pointing out that there are several things to consider before reworking your RSAs.
Conclusion
While Ad strength is a very useful tool for developing your ads, it's important to remember that it's not an end in itself.
There are various tools you can use to build your RSAs (AI, KWIT, etc.). But as we've seen, the most important thing is to maintain your 3 axes Benefits, Features and CTAs, and adapt them according to where you are in the funnel.
Once your headlines and descriptions have been created around these 3 axes, don't hesitate to pinpoint your headlines and descriptions according to your themes. Ex: Position 1 Benefits, Position 2 CTA & Position 3 features. This will reduce the number of possible combinations, but it will also give you a substantial volume of data for your analysis.
As for drawing your own conclusions, as we noticed in our test, Ad strength and performance are not always correlated. This indicator can give you an idea of the relevance of your ads, but other elements need to be taken into account.
In conclusion, I encourage you to regularly test, modify, analyse and retest your ads!
Recevez nos divagations directement dans votre boîte de réception
Nous approfondissons les sujets brûlants du marketing numérique et aimons partager.