To conduct better digital campaigns, a company must have connected data, measure the right KPIs and succeed in reaching its audiences in an automated way, with the right message, through all channels, without silos among teams and partners.
Let's face it: most of us have no idea what that means. It's all part of the "digital maturity" process. You can measure your own digital maturity using different tools, and we see workshops to improve your digital maturity popping up everywhere. Of course, this maturity is important: according to a study by the Boston Consulting Group and Google, the most digitalized companies save 30% in costs and increase their turnover by 20%.
These workshops, therefore, aim to take the vision of digital campaigns to a higher level. Often via a matrix articulated around different aspects: KPI, audiences, attribution and econometrics, automation & organization. The goal is to remove barriers, achieve results with pilot campaigns, and then, with those results, gain sufficient internal support to make large-scale improvements.
But very quickly, we realize (or we knew for a long time) that there isn't enough knowledge in-house. We understand that we depend way too much on what agencies say, often without knowing the different sources of data, and that being ​​digitally mature is still a very distant reality.
The reaction of some managers is then as follows: "We are going to internalize these skills, to no longer have silos between ourselves and our agencies, to appropriate our data and be able to react much more quickly". And in this way, paid social, SEA, or display managers increasingly appear, both in SMEs and large companies.
They are often proud of the internalization of certain channels and campaigns' management and seem to have the impression that they have thus acquired the right knowledge and are making great strides towards digital maturity …
And yet, often things go wrong. Recruited profiles generally have two to five years of experience in an agency, know what CTR, bounce rate, and CPC mean, but have little knowledge of marketing and management in general, and have no experience of change processes in complex companies or traditional management structures. They stay for two years, are totally frustrated because nothing is progressing internally according to them, then leave.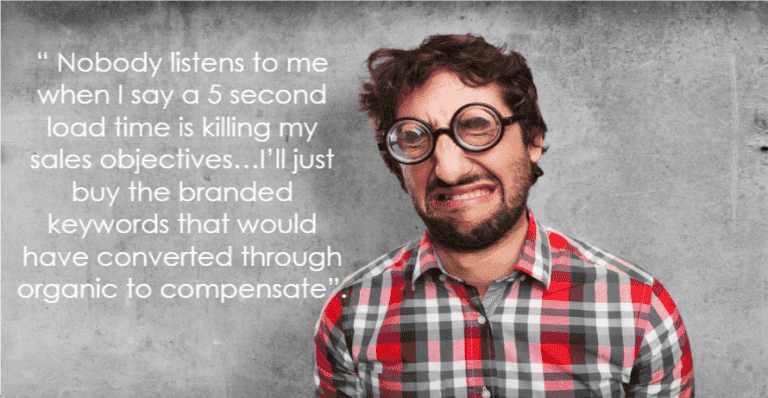 The first question we almost always ask a company that proudly claims to "manage display and SEA internally" is: "What attribution model are you using?". Very often, they answer: "Last click, because it's easy for reporting, and management prefers it".
With such a vision of attribution, upper-funnel display campaigns cannot succeed, and silos remain among individuals and teams.
Acquiring knowledge to manage channels is one of the necessary steps to increase digital maturity, but not the first one. Whether you have an internal employee or an external agency managing your campaigns does not change much if the organization remains internally made up of silos.
This is where the first step is for us: what are we measuring and how can we get the different teams in and outside the organization to work together to improve the common outcome? This requires a common internal goal, a good understanding of analytics, the limits of attribution, and data visualization. What is clearly reported is usually achieved.
Instead of directly internalizing SEA or display, we believe it would be better to train executives and middle management on the principles of digital analytics, the customer journey, and what is needed for setting the right KPIs. Only when this step is taken, can one consider internalizing skills for campaign management and start tackling the rest. CLICKTRUST offers various training courses, designed specifically for management, and actively helps companies in their internalization process.
More on this topic in the presentation given at Digital First 2020.
Recevez nos divagations directement dans votre boîte de réception
Nous approfondissons les sujets brûlants du marketing numérique et aimons partager.