Links are one of the top-ranking signals used by search engine crawlers. If you want your site to rank higher on important keywords to improve your visibility in the search engine results and thus organic traffic, you will need to include a link (external or internal) strategy to your SEO project.
Why is a link strategy important for SEO?
Search engines will follow links, internal and external, to crawl the web. That's how they discover new pages and can index their content. Based on the content of the page, the quality of the page, and the number of links pointing to it, crawlers will determine if the page is of sufficient quality to rank or not, and how high the page will rank for a specific keyword.
We can say that search engines see links as votes: in theory, the more links you have, the more chances you have to rank higher. But… that's in theory.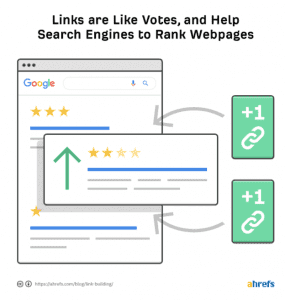 Over the years, people discovered ways to manipulate organic search results by abusing link-building techniques with the goal to have as many links as possible, which is also known as "over-optimization". To prevent this, Google rolled out several algorithm updates, such as the famous Google Penguin, with the goal to filter out websites using borderline techniques which do not deserve to rank. Google can also penalize your site and make you lose your positions.
Since then, receiving links is still a very strong ranking factor but you need to be careful and choose quality over quantity. The more high-quality the website linking to yours is, the more likely you are to improve your ranking.
Different techniques for link building
In this article, we will focus on external links and more specifically on link building. Link building is the process of getting links (also named backlinks) from other websites to your own website pages. Through this link, the authority of the domain you are linked to will be passed on (also known as "link juice" or "link equity"), and this authority will increase your chances to rank higher in the search engine results, improve your visibility and therefore get more organic traffic.
Different techniques exist for link building such as brand mentions, content creation, competitor analysis, lost links analysis, broken links, content collaboration, and more! Let's discover them a bit more in detail.
Create and publish link-worthy content:
The idea here is to create qualitative and interesting assets with the goal to have people share it and link to it. How? Think about unique data or stories you could write about your own business or products/services that you are selling for example. Create visually attractive content such as infographics to display it. Once done, you can use several channels to share and promote your content to increase your chances of getting links from it.
As an example, the infographic below has been created for one of our clients. It concerns products they are selling and has been made including data coming from a survey. This infographic has been published on the client's website and it ended up being shared and linked to gaming websites with high domain authority resulting in a strong and natural link.

Brand mention:
Let's say you noticed that your brand has been mentioned on a website but without any link, well this kind of situation would be a good opportunity to acquire links. First, verify that this website is of good quality (we'll discover more on this subject below), then try to have a link placed pointing to your website, that's a quick win!
Competitor analysis:
Having a look at what the competition is doing is always a good idea to have a better idea of how a similar business can be successful with link building. Try to discover from which websites they are getting their links from. What type of content do they produce? Who are their partners? Then ask yourself if those could be a good fit for your company as well. If it is the case, then try to acquire links using the same websites or techniques.
Lost links:
It might be that in the past you had links coming from qualitative websites pointing to your site but for some reason (could be website redesign, content adaptation, or content removal) the link has been removed. In this case, you can try to contact the site owner or your partner and have your link back.
Broken links:
Broken links are links that have been placed on other sites which are pointing to yours but are linking to a broken page on your site. An easy fix for this is to have the broken link replaced by a working link to another page of your website, so you can rapidly benefit from the link juice is passed on again.
Content collaborations:
How does it work exactly? The process itself is simple, start by building a list of suitable and qualitative partners/websites to work with (we'll see below how to select them). Then reach out to them and negotiate the collaboration.
Once this is done, brief the partner, to guide him into writing an article that will be published on their website. Inside the article, you should request to add a link to your website, using an anchor text placed on the keyword you want to optimize your page for. It's through this link that link juice will be passed on from their site to yours and that's how you will be able to improve your website's authority.
What to look at to build a qualitative list of websites?
As mentioned above, having links is important, but making sure they are qualitative is crucial if you want to have high value in the eyes of Google. There are different indicators that you can look at to build a list of qualitative and trusty websites with high authority & qualitative content.

Some metrics to look at:
Domain Authority:
This is a metric used to evaluate the overall quality of a domain from an SEO point of view. This score is based on several factors such as the number of backlinks a domain has, the number of referring domains & the level of organic traffic. The higher the domain authority of a site is, the better. When building up a list of partners, always try to select websites with a high domain authority (DA): usually from 30, which is already a very good score. There are different tools (paid or free) that you can use to verify the authority of a domain: Semrush, Moz (you can also use the Moz extension), Ubersuggest or Website SEO Checker.
Domain rating:
Shows the quality of a site's backlink profile. This score is based on the quantity and quality of links pointing to the website. Too low quantity of links can be a sign of lower quality because other sites don't want to link to it, but on the other hand, a site with thousands of backlinks can be perceived as a non-trusty website (e.g. web directories). Here are some tools you can use to verify the domain rating of a site: Ahrefs, Majestic (you can use the Majestic extension as well), or Semrush.
Citation flow:
Looks at the volume of links a website has and the link juice it can pass on. Some tools to verify citation flow: Majestic or Website Seo Checker.
Organic traffic:
Getting more organic traffic is not the first goal behind a link project. Increasing your domain authority is. However, when building your list of partners, looking at their level of organic traffic is another indicator of quality you can use. It's most probable that websites that have a very low level of organic traffic won't be able to bring you authority. And if you can bring extra visitors on top of qualitative link juice to your site, it's a double win! Here are some tools you can use to see the organic traffic of a website: Semrush, Ubersuggest, Similarweb, or Ahrefs.
Aside from those specific scores, there are also other elements you need to look at
Avoid spammy websites:
Try to think for your business and to put yourself in the place of the users. Would you want your business to be associated with sites containing more "sensitive" content? For example, site directories or websites including content that is not related at all to your business? Probably not.
Relevancy of the sites:
Ideally, try to partner with sites that have content related to your website/business. It will help Google to make the link between the website you're linked from and your website. Indeed, by partnering with sites that have content that is totally unrelated to your site, you could send confusing messages to Google.
Relevancy of the anchor text:
The anchor text is the clickable text where the link is being placed on, so when clicking on it, it will bring you to another page. As Google uses the word used in anchor text to better understand for which keyword the page linked should rank, it's better to always select a relevant anchor text.
Unlimited lifetime:
For some partnerships, the duration of the link you will require is limited in time. You will benefit from the link juice and the site authority for a specific period of time, then the link will be removed by the partner. Don't forget to ask this before confirming your collaboration, of course, it's always better to have an unlimited link that will allow your site to keep benefiting from the domain authority of the other websites.
Do follow link:
By default, links are always "follow", meaning that the link juice can be passed on from one site to the other. But when a "no follow" tag is added inside the link, like in this example: <a href="http://www.website.com/" rel="nofollow">Link Text</a>, it tells the search engines to not follow it or not to count it. Meaning that no link juice is being transferred and that this link won't help your rankings to improve in the search engine results. So try to always be sure you're going for a follow link with content collaborations. There are a few extensions that can easily show you if a "no follow" link is detected on a page; Nofollow SEO Link Highlighter, Moz extension, NoFollow
Whether you follow those tips or others that you could find online, our biggest advice would be to not follow them blindly but to always try to think of the most suitable solution for your business and your customers. Keep in mind to always go for quality over quantity, may it be related to the quality of your articles or the partners you're choosing to work with.
It's also important to take into consideration that link building should be a later step to take in your SEO efforts to improve your ranking and visibility in the organic search results. There are other very important optimizations to put in place in order to make your website SEO friendly.
If you want to learn more about SEO basics and understand where to start, check out our article about rethinking SEO Audits.
Recevez nos divagations directement dans votre boîte de réception
Nous approfondissons les sujets brûlants du marketing numérique et aimons partager.