In our last article on how to do link building, we learned why the link-building process is important in the context of an SEO project and how it can impact your ranking and the visibility of your website in search engine results.
We also discovered a few link-building techniques which we already had the occasion to test ourselves for several businesses and were very successful.
In today's article, we wanted to take a step ahead and present you with some more advanced link-building strategies. We highlighted a few techniques that will definitely have a positive impact on organic visibility. Let's discover them a bit more in detail.
Ego bait
As the influencer technique, ego bait is a targeted method but less direct, imaginative, and more focused on human psychology. The goal is simple: generate direct links and traffic to your website. How? By using flattery!
Write a piece of content about a well-known and influential person from your sector. You can repeat the process to highlight several people from your industry. The content itself can be an article, an interview, a blog post, etc.
In the content don't hesitate to highlight the strengths and accomplishments of that person. Make the link with your own business and think about your target audience but keep that person as the main subject of the article and make it flattering!
The objective is to make that person share your content, talk about it, and ideally link to it! Because who doesn't like to be put under the spotlight and share it with the world? On top of that, you increase your chances that this person will mention positive things about you as well which is another opportunity to improve brand visibility and traffic, it's a win-win strategy!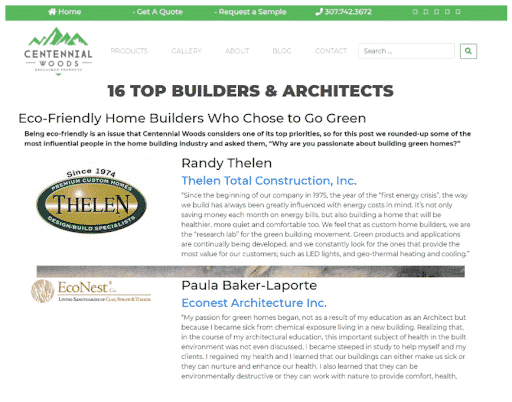 Source: leadgenerationexperts.net
Building visibility on Youtube
Youtube is first known to offer a lot of opportunities in publishing and optimizing videos but also to generate a lot of traffic and video views. It's also the second most popular website after Google and has over 1.9 billion people logged in each month. Some actually consider it the 2nd biggest search engine.
There are possibilities to build links from Youtube to your website but as those links are no-follow, they won't transfer any link juice to your site and therefore won't impact your site authority.
What we want to highlight here is how linking your site to Youtube can help improve your Youtube views which will ultimately impact your organic visibility and ranking.
The first step will be to create the video content and publish it on Youtube. When done it's time to drive traffic to your channel. To do so try to link your videos to other support. Let's say you are publishing a piece of content on your site, try to add a link to a related Youtube video. Don't forget other social or video platforms such as Facebook, Vimeo, or Instagram.
The goal is to highlight your Youtube channel, drive traffic to it, and increase your video views. This will ultimately increase your Youtube channel visibility and ranking. The biggest advantage with Youtube in terms of visibility is that you can appear in both search and video organic research which brings you way more opportunities.
Any additional advice would be to complete your profile and keep your channel up to date. The more information you will share on your profile the more visible your channel will be in the SERPs.
What is also very important is to keep creating and uploading qualitative content. You will have more chances to gain visibility by feeding your channel and posting new and qualitative content.
Resource link building or local reach out
Resource link building might be the most manual and basic technique but its efficiency is underestimated. It often leads to qualitative traffic in addition to passing on authority to your website because you select what website you would like to get a link from.
The principle is easy: open a search engine and look for keywords related to your business or a product/service you would like to increase visibility for. Search engines offer you a lot of results and some of them will be very interesting resources to use.
To find them, try to look for: your keyword + "resources"/"links"/"blogs"/"helpful resources"/'helpful links", etc. However doing those researches you still end up with millions of results which can be overwhelming. Here is another tip to narrow down your search, look for: your keyword "inurl:"resources" or "links". Here is an example: linkbuilding inurl:links. This query allow you to filter the research by showing results which contain your keywords in their URL or in the title which make the results more specific.
Of course, don't blindly take the first few websites you see but be sure that, first, they fit your business and industry and most important, that they are qualitative and have a high authority. You can learn more about how to create a qualitative list of websites to get links from in our previous article on how to find link building opportunities.
Once the quality of the site is verified, you can contact the site author and ask for a mention and a link to your site.That's the part where you need to convince them to link to your site. A budget can help in that case but you can prove to them that your website and content is qualitative and that adding a link to it is an added value for users. If you can convince them that you are providing them with a qualitative resource, it's a win.
Guestographics
Guestographic technique is using infographics in a new way. With infographics, you usually publish and promote them on your own website. Well, the goal of the guestographics strategy is to try to convince others sites, preferably high-ranking websites, to publish your infographic.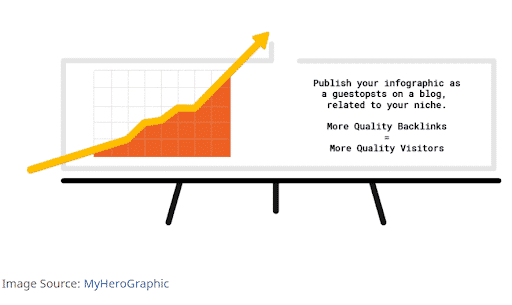 For this strategy you will need to create an infographic, that's the first step & the most important one. As with every content you create, your infographics will have more chances to be shared if it provides unique content and trustworthy information. If it's awesome, people will want to share and talk about it. Here are a few criterias you can take into consideration to create a valuable support:
Choose a relevant topic, linked to your business
Choose a "fresh"-recent topic
Make it interesting, add great information but not too much
Go to the point, it needs to be easy & quick to understand
Adapt the layout, organize it to make it easy to read
Build an awesome design, it needs to catch attention
Make it unique
Here is an example below of a very good infographic representing different SEO optimizations and how it impacts the traffic of a website with time.
Once this creation step is done, you can then start to reach out. Look for websites that are related to your infographic's content and where you would like to see it published. You can use the techniques we saw in the local reach-out strategy above to prospect for links.
Now that you have prospects, you can get in touch and ask them first if they are interested to see your infographic. Then it's time to convince them that adding your infographic to their site is a real added value for their users. They need to understand that you are "offering" them a great piece of content to post and share with their audience.
On top of that, you can also propose to write a guest post, to go along with your infographic publication. That's a way to offer them an extra piece of information related to a subject they're interested in.
The last stage of this strategy, which is the most important for you, is to get your links. Once your infographic is embedded on a site, you can automatically get a link from this site to yours. In addition to that, you can easily add yourself a link sending to your site in the guest post you wrote or add the site owner to add a link. The very interesting part about guestographics strategy is that you will not only get backlinks, but links supported by relevant content and we know that contextual links are much more powerful to satisfy Google and improve ranking.
Skyscraper
This link-building technique is related to content creation but more specifically to improve existing content on the web. How does it work exactly? Go into a search engine and look for a keyword you would like to rank or improve your position. Look at who is ranking in the top positions and with what type of content. Well, the idea of the skyscraper technique is to create an improved version of that content. No need to be innovative, just better than the competition.
You might want to develop the content a bit or make it more visually attractive by adding images, videos, or infographics to it. What can you do differently from the others? What is inspiring and what are the weaknesses?
The goal here is really to try to think about what extra information you can bring to this existing content to succeed to rank higher than the competition. The advantage of that strategy is that you know it's working because the competition does it, you can only do it better and benefit from the visibility.
There is another way to find qualitative content from the competition which is more efficient. Think about players from your industry which have popular websites and you know already rank well for the queries you're interested in.
Use a tool such as Semrush and go into the backlink analytics tool. Enter the domain you want to analyze and go into the "indexed pages" tab. There you have a view of the website pages and the number of links per page but also the number of different domains referring to the page. Looking at those numbers can help you to highlight content that works for the competition and that you can use for your skyscraper strategy.
Once it's created, you should promote this new content to your target audience. Make sure they know it exists and make them want to share it and link to it to earn natural links and traffic.
10x content
10x content is similar to the skyscraper strategy but brings it to another level of content quality. 10x content basically means ten times better than the existing content.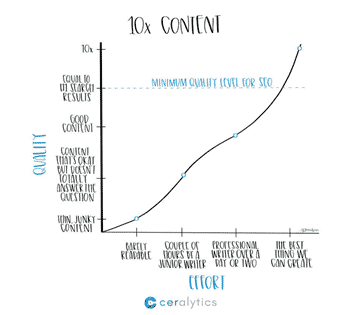 But you might be wondering how to do this? By creating unique and visceral content using qualitative information.
If what you have in mind is already existing or if you think there is enough content already on the web then you might want to think about another topic.
The idea is to bring content that is not on the search results yet or not developed enough. Find missing opportunities. Cover questions that don't have answers yet. Do and share an experiment or survey of your own. Try to provide information users can relate to and data that can't be found on the web yet. You can also update old content by bringing more recent data to it. You can create quizzes, lists, comparisons, or even tools!
In any case, keep in mind this list of criteria you shouldn't miss when creating your 10x content:
Use trustworthy data
Try to provide unique information
Provide a good user experience by serving an easy-to-read and go-through support accessible on all device
Make it visually attractive
It needs to stand out, and create an awe effect
Solve a problem, answer a question
Use trustworthy information and data
Here is an example of 10x content: The results from the analysis of 11.8 million Google search results done by Brian Dean. He analyzed over 1 million search results to help people better understand what factors can influence ranking.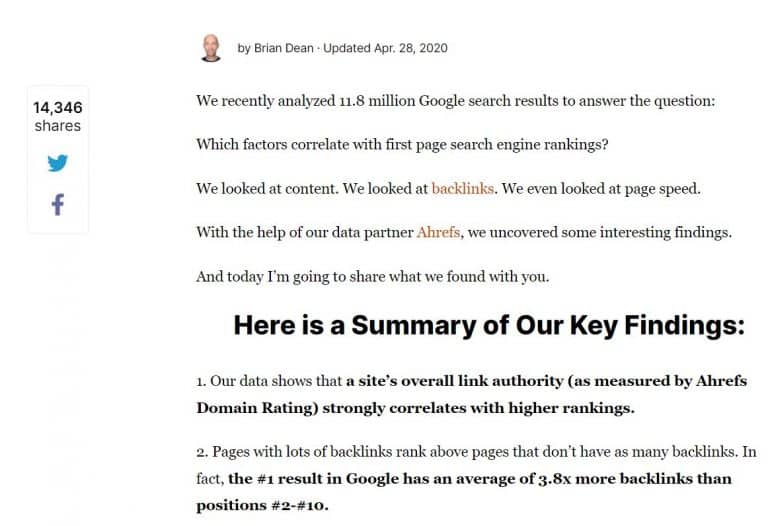 The reasons?
Well organized with key findings at the beginning then each finding is developed in detail below
In-depth & valuable content made with a statistically significant data set
Visually attractive with a lot of graphs and screenshots
Made with practical examples
To sum up, the idea is to create and provide content that doesn't exist yet and that people will want to read, share and link to.
Note that those last strategies will most likely require time, resources, and budget but will be very effective in terms of results. Creating unique and qualitative content can easily lead to shares, natural links, brand awareness, and organic traffic, even if it's in the long term.
Our experience shows that content creation or content improvement is worth the effort and will allow you to compete higher in the search results.
The more pertinent and qualitative content you can create, the more chances you have that people will find it relevant, and useful and will link to it. But don't forget that communication is playing a big part in this content creation strategy. If people don't know your content exists, you won't get links from it.
Your ultimate goal is to improve users' experience, that's what Google will see and that's how you can increase your chances to rank higher in the SERPs.
Recevez nos divagations directement dans votre boîte de réception
Nous approfondissons les sujets brûlants du marketing numérique et aimons partager.