Display & Video 360 (a.k.a DV360 or previously known as DoubleClick Bid Manager) is a DSP (demand-side platform) that allows you to buy ad inventory programmatically. In this part of the Google Marketing Platform, you can manage your digital media mix. It offers you a better way to work and some benefits such as:
Collaborate across teams: you can optimize the collaboration between the creative team, analysts team, video team, and digital team.
Reach the right people: through this tool, you can have access to insights about your audience thanks to specific options such as keywords, demographic data, and remarketing.
Use intelligent automation: machine learning algorithms help you to respond to customers' needs and improve your performance by using bidding and optimization.
Now that you know the essentials about this platform, you are wondering how to manage user access to this amazing platform, right? That's what you're about to find out.
How to add a user in DV360?
Once you are logged into the platform, you can see on the right hand, in the header, an "icon" just next to the loop. By clicking on it, a small window will pop up and the option "User management" will appear.

By selecting this option, a second window will open where you will be able to click on the "New user" button.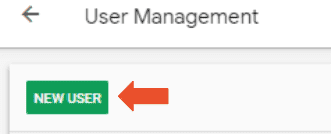 Fill in the name, the email address, and the type. Then you will be able to configure the access by clicking on the "Add partners or advertisers" button.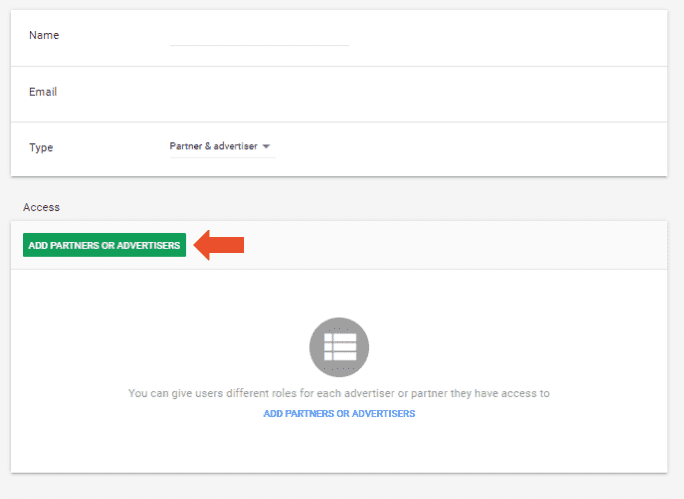 A window will pop up, you will have a view on the different partners / advertisers you have, select the relevant one for your user and click on the "Select" button. After that you will see this partner or advertiser appear in the access.

By default, "Read & write" is the role that will be applied to the user. But you can modify it as different roles exist. By selecting the partner, you will be able to select the "Action" button and then change the role.

After selecting the relevant role, you will just have to click on "Save" and the user will have access.
The different roles in DV360
As previously mentioned, different roles exist and you have to decide which one you will give to this new user. But as there are a lot of different roles, it's not always easy to determine which one is relevant.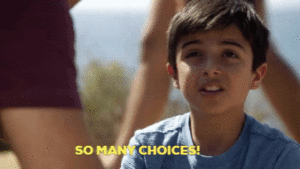 Let us give you a quick explanation of these different roles:
Standard roles
Read & Write: users can create and manage campaigns, pixels, creatives, insertion orders and line items. They can also handle all reports about advertisers and partners they have access to. Finally, they can create or edit users access and modify exchanges.
Read-only: users can only generate reports and read the data about the partners and advertisers they have access to.
Reporting only: users can only manage and create all reports.
Client-safe roles
Reporting only – limited: users can only manage specific client-safe reports and they also have access to client cost metrics.
Creative roles
Creative: users can't view data about cost or marketplace. They can only view media plan information.
Creative admin: the difference compared to the "Creative" role is that this user can give access to other "Creative" users or "Creative admin" users to the accounts they have access to.
Planning roles
Planner: users can edit or create features related to planning, such as inventory or plans. They can also have a view on line items, insertion orders, campaigns, cost data, pixels, creatives and reports to the accounts (partners or advertisers) they have access to.
Planner – limited: same access as "Planner" except they don't have access to all cost data and they can't negotiate deals.
How to edit or delete user access?
Aside from adding a user, editing their role or deleting the user is also a possibility. In the list of users, you can click on the email address, then you will be able to change the role or remove access. How to exactly do it?
Once you click on the email address, a new window will appear and as previously seen, you will be able to select partners or advertisers and then click on the "Action" button. A small window will pop up and both options will appear: "change role" or "remove access", just select what you want to do exactly and then click on "Save".
But, sometimes you won't use DV360 for your programmatic campaigns but Adform. Let's discover how to give access to Adform in this article.
Recevez nos divagations directement dans votre boîte de réception
Nous approfondissons les sujets brûlants du marketing numérique et aimons partager.