All digital marketers should have heard about Google Analytics 4 by now as it has been released more than a year ago (in October 2020). However, GA4's adoption is another story since Universal Analytics is still doing the job and most of us didn't feel the need (yet) to switch to the updated version of Google Analytics. Given that Universal Analytics is doomed to become obsolete and will no longer be updated, it is high time to get familiar with Google Analytics 4. What has changed since the release of GA4? Should I still use Universal Analytics?
Spoiler alert: we definitely recommend switching to Google Analytics 4 as soon as possible. Why? Not because GA4 is a new tool with a cool interface but because GA4 has been designed to provide reports following the new way Google is interpreting data, using more machine learning to face the loss of cookies.
In this article, we will try to cover the most relevant new features available in GA4 but also try to answer the remaining questions we still have regarding the adoption of Google's new Analytics tool.
A quick recap on Google Analytics 4
Before jumping into the new features that Google Analytics 4 offers, let's quickly recap the big changes compared to Universal Analytics.
1) Event-based instead of hit-based
As mentioned by my colleague Julien in his article "Google Analytics 4 vs Universal Analytics: 12 Fundamental questions answered", the main concept of the new version of analytics is "Everything is EVENT-based" Whereas Universal Analytics uses a measurement model based on sessions and pageviews, GA4 is focused on events. An interactive event is anything that occurs on the page. Therefore, all Universal Analytics hit types now correspond to events in GA4.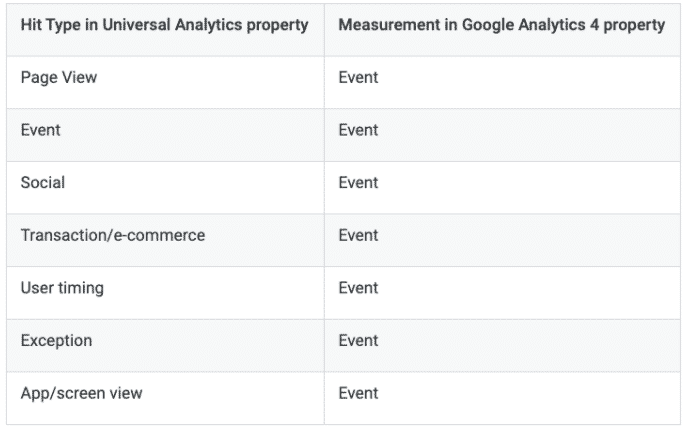 Some events are automatically collected (ex: page_title, language, page_referrer…), some events are recommended (e-commerce events for example) and required to respect a specific naming convention. Finally, you can also set up custom events related to your own business needs.
2) A platform to track them all
The promise behind GA4 is to combine data from multiple properties such as websites or mobile apps. To do this, GA4 allows users to set up multiple "Data Streams" within each property which can be an iOS App, Android App, or a website. User data, engagement metrics, and conversion data from each Data Stream are merged into GA4's reporting interface to follow how users travel between websites and apps on their path to a conversion.
3) More focused on the lifecycle
GA4's premise is that each customer follows a similar pattern through Acquisition, Engagement, Monetization, and Retention. Their report hierarchy matches this pattern with pre-built reports for each step in the customer's journey. This should make it easier to find data and address performance issues in each phase of the customer lifecycle.
4) Machine learning and predictive analytics
One of the main advantages of Google Analytics 4 is its machine learning and natural language processing functions which can be used to predict the probability of a conversion but also create audiences of people willing to convert that can be used in Google Ads for example.
Main changes since the release of Google Analytics 4
Google Analytics 4 is no longer in Beta and becomes the default Google Analytics
Google Analytics 4 was released in October 2020 and is now the default version of GA for new properties. It is still possible to set up a UA property for now but it likely won't remain an option for long.
Cross-channel data-driven attribution model by default
In January 2022, Google rolled out the cross-channel data-driven attribution model. This attribution model uses machine learning end-to-end to deliver credit allocation that is customized to each conversion. Since models are continuously improved, this solution also automatically adapts to the changes in the performance of different touchpoint categories.

The reason that the cross-channel data-driven model is the model by default is not surprising
since GA4 will rely more and more on modeled data instead of relying on cookies. Once again, more room is given to Google's machine learning in order to get more accurate insights.
As in Universal Analytics, it is possible to adapt the attribution model and the conversions lookback window of your GA4 property but this is not something we would recommend since machine learning is likely based on the data-driven attribution model.
If you want to adapt the attribution anyway, you can easily do it via Admin > Attribution Setting

New predictive metrics
In addition to the "Purchase probability" and to the "Predicted revenue", Analytics recently expanded availability of the "Churn probability" metric, one of GA4's predictive metrics, so that many customers who weren't previously eligible to use this metric are able to do so going forward.
What is churn probability?
The churn probability is the probability that a user who was active on your app or site within the last 7 days will not be active within the next 7 days.
About predictive metrics
Google Analytics automatically enriches your data by bringing Google machine-learning expertise to bear on your dataset to predict the future behavior of your users. With predictive metrics, you learn more about your customers just by collecting structured event data.
There are 3 predictive metrics available:


What are the prerequisites for predictive metrics?
3 conditions are necessary to be able to use predictive metrics:
1. A minimum number of positive and negative examples of purchasers and churned users. In the last 28 days, over a seven-day period, at least 1,000 returning users must have triggered the relevant predictive condition (purchase or churn) and at least 1,000 returning users must not.
2. Model quality must be sustained over a period of time to be eligible.
3. To be eligible for both purchase probability and churn probability, a property has to send the purchase (recommended for collection) and/or in_app_purchase (collected automatically) events. When you collect the purchase event, you need to also collect the value and currency parameters for that event.
Where to create and use predictive metrics?
The best use for predictive metrics is for predictive audiences building that you can use either for targeting (Purchase probability) or for exclusion (Churn probability) in your Google Ads or DV360 campaigns.
If your website is meeting the prerequisites listed previously, you will be able to build custom or automatically suggested by Google predictive audiences. To do so, go to the audience builder Configure > Audiences

On the "Build new audience" page you will notice the "Predictive" tab.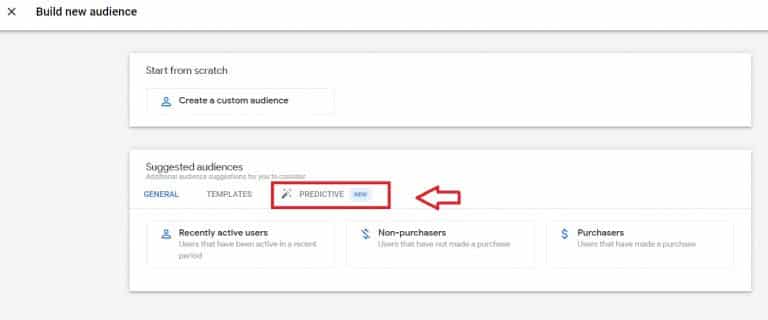 In this tab, you will be able to find the predictive audiences you are eligible to use (or not).
DV360 and Google Search Console integrations
In the last months, GA4 rolled out two new integrations: DV360 and Google Search Console. Once linked to Google Analytics 4, data from both platforms will be available in reports. The linking with the Search Console was already natively possible in Universal Analytics but it was not the case for DV360, which was only integrated into Analytics 360.
Google Search Console integration
What data?
As for the linking with Universal Analytics, 4 dimensions will be available in GA4:
Countries
Devices
Landing pages
Search queries
And the following metrics will also be available:
Ad revenue
Average engagement time
Conversions
Engaged sessions
Engagement rate
Event count
Organic Google search average position
Organic Google search clicks
Organic Google search click-through rate
Organic Google search impressions
Users
How to connect?
In the left menu of your Google Analytics 4, click on the "Admin" button at the bottom of the page.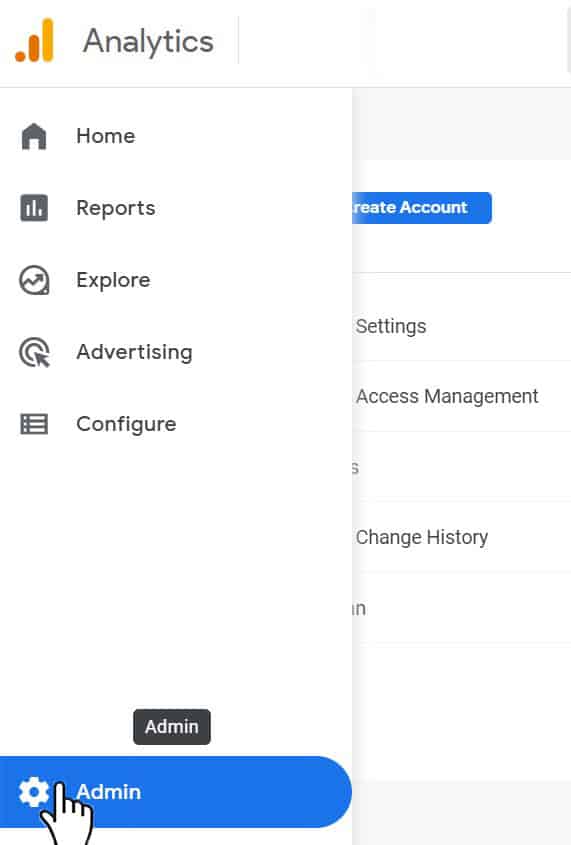 Then click on "Search Console Links" under the "Product Links" section at the Property level.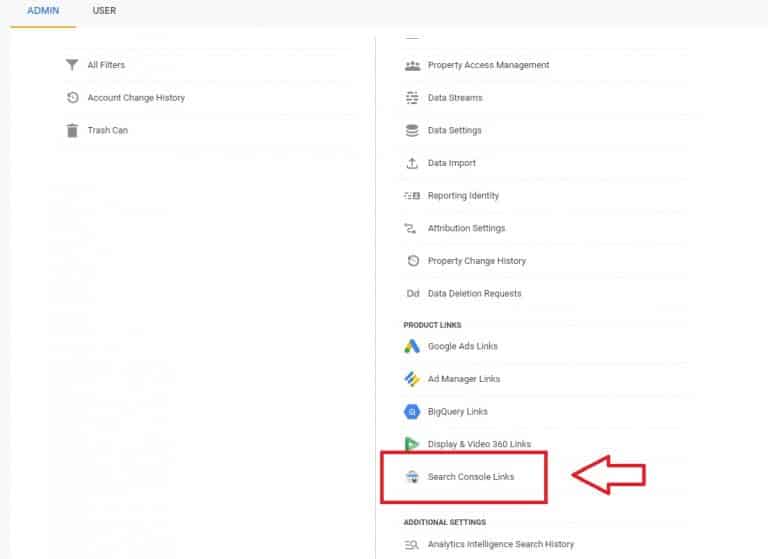 Then click on the blue link at the top right of the "Search Console links" window.

Select the Search Console property you want to link to your GA4 property and click on "Confirm".

Click on "Next" to proceed to the configuration of the settings.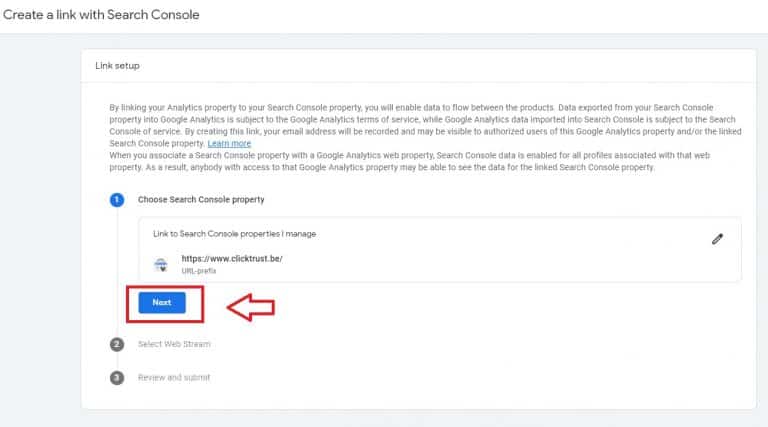 Select your Web Stream and click on "Next".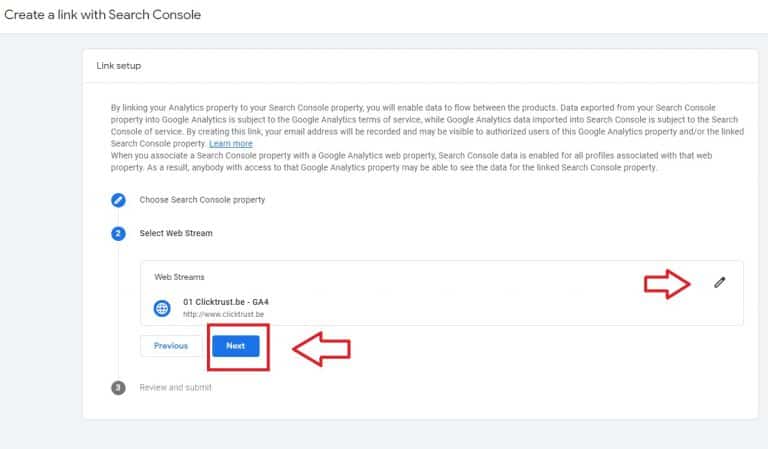 Reports
Google Search Console data will appear as two additional tiles in Reports > Acquisition > Acquisition overview:
1. Google Organic Search Traffic
2. Google Organic Search Queries
More insights are also available by clicking on the blue links of each window.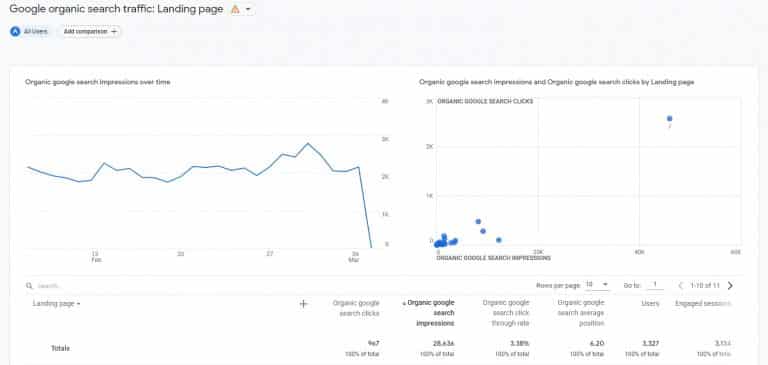 Limits
You can link a web data stream to only one Search Console property.
You can link a Search Console property to only one web data stream.
A Google Analytic 4 property can have only one data stream linked to a Search Console property.
DV360 integration
What data?
When you link your Google Analytics 4 property to your Display & Video 360 advertiser, you get the following insights integrated to your report:
Your Display & Video 360 advertiser appears as a traffic source in your Analytics cross-channel reports.
Display & Video 360 campaign and cost data are imported to Analytics.
In addition, you will also be able to export your GA4 audiences (predictive audiences for example) and GA4 conversions directly in DV360 as it is already the case for Google Ads and will give you an extra layer of optimization.
How to connect?
In the left menu of your Google Analytics 4, click on the "Admin" button at the bottom of the page.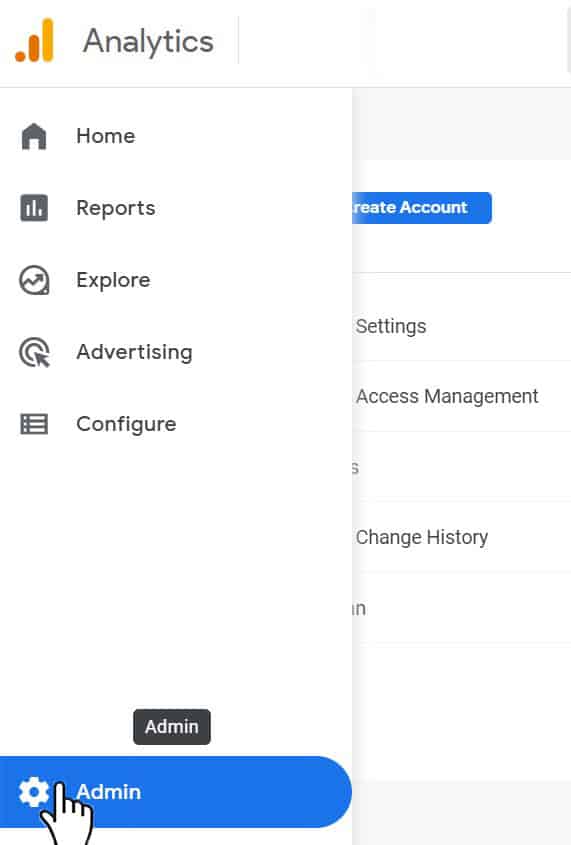 Then click on "Display & Video 360 Links" under the "Product Links" section at the Property level.
Then click on the blue link at the top right of the "Display & Video 360 links" window.
You can either select your advertiser to link by clicking on the "Choose advertiser" button or send a request if you don't have direct access.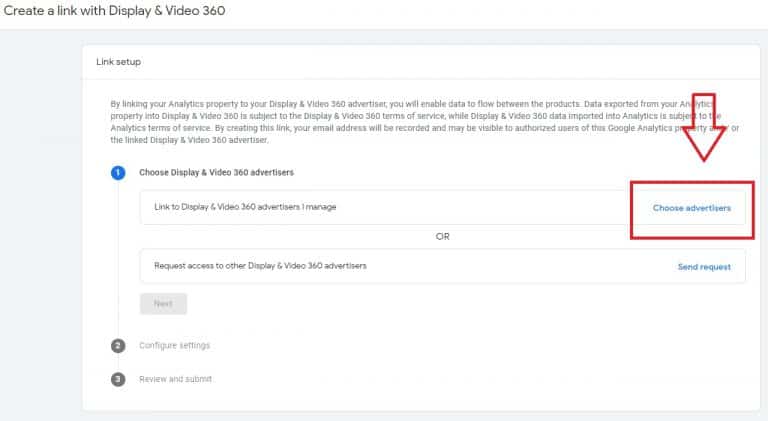 Select your advertiser and click on the "Confirm" button at the top right of the page and then click on "Next" to proceed to the configuration of the settings.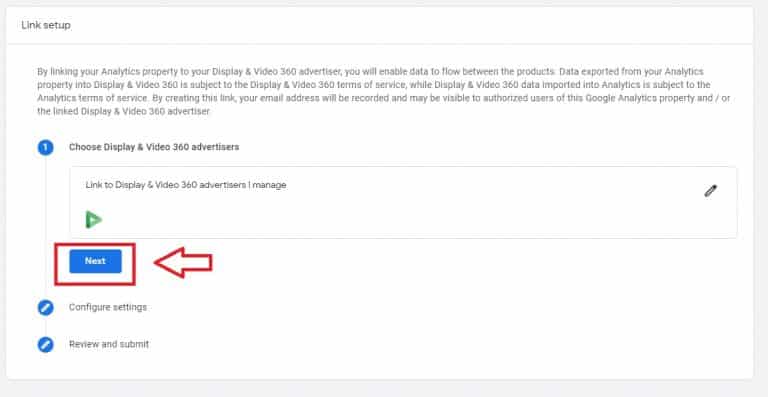 In the "Configure Settings" window, all settings are enabled by default which is recommended to get the maximum of insights in Analytics.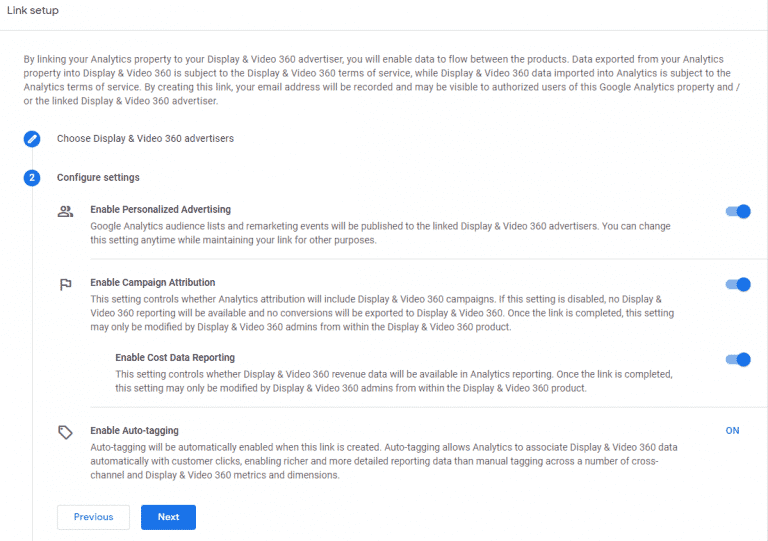 Finally, review and submit your link to DV360.
Google BigQuery integration
Given that this new integration has been widely covered by my colleagues Deborah and Nicolas in their respective articles Build your marketing data warehouse with Google BigQuery and Introduction to GA4 linking with BigQuery and connecting with R, we won't develop this BigQuery integration here but is it important to note that for those are using this feature that it is now possible to filter your export since February 2022.
Offline events data import
As in Universal Analytics, it is also possible to import cost, user, or item (product) data in GA4. But what is completely new is that we can integrate "offline event data" and for some businesses, it is a complete game-changer.
Let's imagine that your company owns both an e-commerce and a physical store. Part of your users are visiting your website to get an overview of what you offer but will rather go to the physical store to make their purchase decision. Classic Customer Journey. Thanks to the offline events data import it is now possible to track the full customer journey from the first website visit to the final local purchase by uploading a simple CSV file. This can be applied to e-commerce events but also any other relevant conversions that occur offline as long as you are respecting a few rules.
Prerequisites
If you're importing values for dimensions that don't already exist in Analytics; you need to create those dimensions before you upload your data
Either the client_id or app_instance_id is required
Either the measurement_id ) or firebase_app_id or event_name is required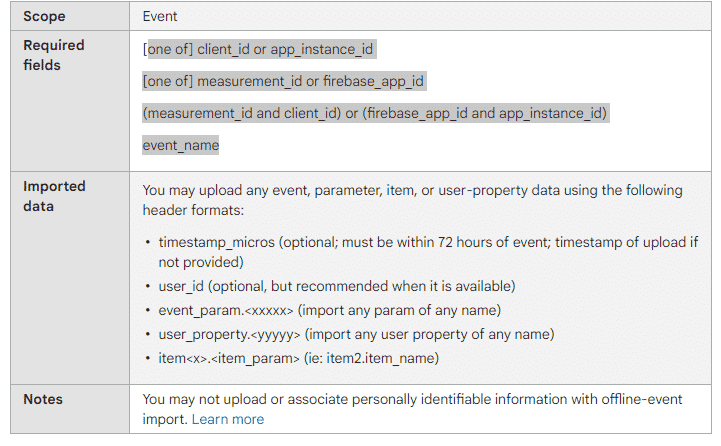 How to import offline event data?
To access the online data import section, simply go to the Admin> Data Import and click on "Create Data Source".

In the new "Create data source" window, make sure to give a relevant name to your import, tick "Offline event data" and click on the "Upload CSV" button.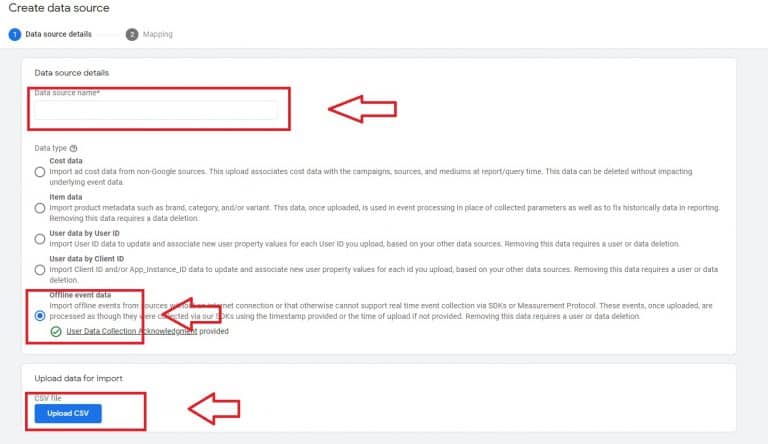 The CSV to be imported includes mandatory fields and other optional fields which, however, must both imply a very specific scheme, which I report below, together with examples.
Limitations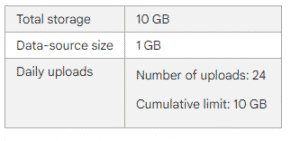 The CSV to be imported includes mandatory fields and other optional fields which, however, must both imply a very specific scheme, which I report below, together with examples.
How crucial is it to adopt Google Analytics 4?
To prepare for the cookieless future, Google has adapted the way they track things and GA4 is their appropriate analytics solution. All the signs are pointing in the same direction, machine learning will play a big role in order to properly attribute conversions cross-channel and the new features or updates are just confirming this observation.
More than ever data is key
In order to provide more accurate insights than in Universal Analytics, GA4 will rely on a huge database of events that will be used for data modeling and for predictions.
Since you will have to respect a certain naming convention to track some events (from automatically collected and recommended events for example), it will be easier for Google to model behaviors given that they will collect similar events from all the GA4 accounts. Combined with a data-driven attribution model, they will be able to provide more accurate insights on the paths to conversions and on the customer journey.
On top of that, not only GA4 will collect data from your website traffic but it will also be able to map data from your App or from offline events. All these data will enrich machine learning for better insights and predictions. For companies that have a physical store, it means they, from now on, can have a view on the full customer journey which is a real game-changer. All the efforts in order to compile offline data and implement it in Google Analytics 4 should be rewarded by key performance insights which were not possible in the past via Google Analytics.
Conclusion
For all the companies that are paying attention to the customer journey, are driving online campaigns, or tracking offline conversions, we will definitely recommend adopting GA4 as soon as possible and start collecting data since historical data from Universal will not be recovered. In a competitive market, being the first to make proper use of the GA4's features could lead to a real competitive advantage since you will get the most accurate insights on performance.
Get our ramblings right in your inbox
We deepdive into hot topics across digital marketing and love to share.