People who know me, know that I tend to be very curious. I like to embrace every opportunity to really broaden my perspective and base of knowledge. Combine that with a love for traveling and you have yourself an international seminar that has my name written all over it… the SMX – London! Unfortunately, the travel part did not really happen (I think you all know why). But luckily the learning part was still very much fulfilled. On this 2-day online seminar I got indulged in a lot of intriguing keynotes, take a look at my personal key takeaways here below!
PPC Automation in 2020
Looking at how to optimize PPC in 2020, it's clear to see that the focus lies on taking a step back and trying to understand the bigger picture. When looking at the standard order of how we build campaigns it's fair to say that it happens in a very cyclical way. You have 5 major steps: you look for keywords, create your ad copy and extensions, check for devices & browsers, look at your audience and then see how machine learning & AI can contribute to all of this. We move from one segment to another but can lose the bigger picture while doing so.
This is why Aaron Levy emphasizes that in order to obtain the full picture, you need to structure your campaigns based on that full picture. The data that is available to us may be seen as king, but you shouldn't forget to include your intuition while creating your campaigns. Both intuition & data should operate in tandem.
Instead of including all possible keywords & bidding on every potential variation we should build a core keyword list and add a DSA to back everything else up.
Don't just include all possible extensions because you can, instead choose the ones that actually serve a purpose and evaluate them to see if they really help the overall campaign performance.
Is there a place for creativity in search?
While creating our search campaigns, we shouldn't neglect the opportunity to be creative. Jason Miller pointed out the painful fact that in the PPC world, you really have to look very hard to find good examples of the use of creativity as a differentiator. He reminded us that creativity could be implemented in keywords & copywriting. But also in the search data we have and the search moments we can create.
When thinking about how we can apply creativity in the future of search, we see that Conversational AI such as intelligent assistants is only going to play a bigger role. Chatbots with enhanced cognitive abilities and visual searches for eCommerce purposes are some of the things we should keep an eye out for.
The local ads landscape
Creating localized campaigns can come with some unique challenges. Knowing that more than 20% of Google searches are for local products, services, or places, it is worth the trouble. Jon Quinton and Oliver Ewbank came with some tips on how to implement local search and social ads and bring excellent results to both independent businesses and multi-location brands.
A major key point in setting up local campaigns is targeting them geographically. This may seem like an obvious step, but experience shows that people move quite swiftly over the settings resulting in missed opportunities to fully maximize your campaign's potential. When it is in your benefit to get as close as possible to a specific store, building, or street, using a pin drop with exclusions is your way to go. Pin drops, in general, have a minimum radius of 1 mile. In addition to that, you can use the pin drop exclusions to get a tighter area and thus have better manual control over your location targeting.
Even though Facebook offers a wide range of ad formats, when creating your local campaigns, it's best to just keep things simple. Formats like single images and carousels work really well across campaigns and are easy to create.
Introducing offer ads could also be interesting when setting up your local campaign. They are discounts you create and then share with your customers on Facebook to encourage them to shop on your site or local store. The cool thing about offer ads is that once someone accepts that offer, Facebook will send them reminders to use them thus creating a soft push toward your campaigns.

Diving into local PPC
When it comes to local search campaigns, there are some things you need to keep in mind to further improve your performance. Knowing that there is a 500% growth in "near me" searches containing a variant of "can I buy" or "to buy", you need to take a second look at your keyword strategy. Including those types of keywords could be very interesting because these searches reveal the intent that the person wants to go into your shop. They generally are lower competition keywords and in result also have a lower CPC. They are highly relevant for your local traffic, but you should only use them in your radius campaigns. Some other tips to keep in mind:
Location, location, location. Include this in your headlines, your display URLs, and your descriptions. These increase the relevance for the searcher and improve your quality score & CTR.
Improve your landing pages. They need to continue the journey of the user so they need to be just as relevant to the locations that you are targeting.
Make use of the user location report to double-check where your traffic is actually coming from. Avoid lowering your CTR by getting impressions from users that are not relevant to you.
Don't forget to check the possibility of audiences overlapping each other while creating several campaigns for different locations. Make use of exclusions to limit this as much as possible.
Going back to basics when it comes to the state of offline conversion tracking
Following an interesting open discussion about the state of offline conversion tracking, Tim Stewart and Russel McAthy suggested that for businesses that have limited experience in offline tracking, going back to the basics is the way to go. Bringing back the old school methods such as coupon codes, or incentivizing your customers to have loyalty cards is going to make it easier for you to track your offline conversions.
Another way of keeping track offline is by introducing e-Receipts into your business. It's a great way to build up a customer list, generate customer data or even cross-sell with personalized sales incentives
Matching your CRM data and web data is also a crucial step in trying to puzzle offline conversions together. Get to love the VLOOKUP in Excel because that's the simplest way to go through those 2 sources of data and really matching them together. Make sure that you draw a map of the data you have available to you and how you can use that in an effective way that benefits your business.
Start with what you have available now. Don't feel the need to go and put extra effort into recollecting new data when there is plenty of data you can go through now. People may tend to think that they need a massive dataset to start, but this is far from true. Begin with a rather small data set of your loyal customers. Those are the core base of people where you're actually doing a good job. Try to glue together what you have available now. This process may take time but has its value.
The pros and cons of automation
We can't get around it: automation is everywhere. From simple automation of high-frequency tasks such as reporting and pausing keywords to advanced machine learning for bidding or lookalike audiences, PPC marketers are using automation on a daily basis. This is a positive evolution as it allows marketers to kill boring tasks and focus on creating real value. It helps with granular decision making at scale (f.e. bidding), finding patterns in datasets, detecting anomalies in your accounts, and tailored messaging, …
Even though automation can do a lot, it is important to be aware of its downsides as well. And that is where this talk of Gianluca Binelli and Nils Rooijmans focused on. We believe most of you have seen examples of inappropriate ads in news articles or had ads disapproved for no reason at one point, but there is so much more to it than that:
"An AI optimizes towards the goals you provide, based on the input (data) you provide."
The 'you' in this story would be Google. As Nils pointed out, this is where the issue starts, because search engines have multiple stakeholders with different goals: users, but also advertisers, employees, and shareholders. In other words: Google's goals might not (always) match our goals.
Furthermore, it's good to keep in mind that automation and machine learning algorithms won't fix a bad process. Neither will they be able to tell you WHY they are making certain changes in your account. Whereas human people can use their common sense and understand that external events can have an impact on results, machines can only make use of data about the past. Anomalies, like the COVID-19 crisis we're dealing with right now, can have a huge impact on this data. When future predictions are then based on this biased data, you might see unexpected changes in your campaigns.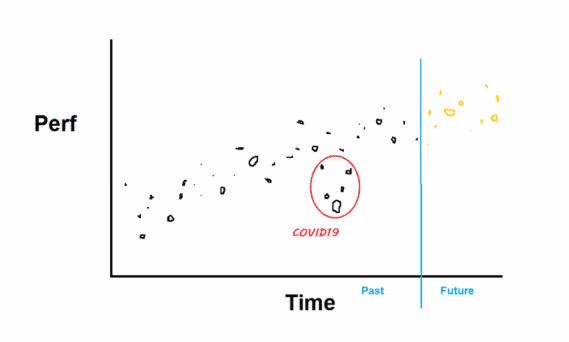 Some recent examples include the following:
Different states in the USA going out of lockdown at different times, messing up data for products like restaurant tables
Overdelivery on campaigns for a client that sells photos printed on plexiglass, because the demand for plexiglass screens increased. Machine learning matches those keywords as well, but this additional traffic is not of high quality.
What we can learn from this is that we shouldn't blindly trust machines, always be critical when adopting new AI features, and monitor changes in our accounts. For this, Nils has a tool belt full of Google Ads scripts, ranging from ad disapproval scripts to scripts to monitor trending search terms. He also suggests resegmenting your campaigns if performance shows significant differences between locations and product groups, … and using seasonality adjustments if you expect a short-term drop in conversion rate.
To finish with the words of Gianluca: "Feed the beast with better data and good creatives, but also rise above the beast by focusing on strategy." Automation may lower the barrier for people to create and manage their own campaigns, but this is how we can and should be adding value as experienced marketers.
Get our ramblings right in your inbox
We deepdive into hot topics across digital marketing and love to share.