To nobody's surprise, the 10th anniversary edition of Google Marketing Live largely focused on further unlocking AI possibilities and embracing privacy expectations. Looking ahead, Google aims to make its AI technology even more helpful for individuals and businesses. Below, you can find a summary of the key insights and announcements made during this year's Google Marketing Live.
Recognizing changes in consumer behaviour
Consumer journeys are now moving targets
On one hand, consumers have transformed into "product detectives" with an intense focus on research, evaluating their options more extensively than ever. Throughout this process, they utilize search engines, watch online videos, explore Maps, and more. Consequently, searches are becoming increasingly refined and specific.
On the other hand, impulse shopping has experienced significant growth over the years. For marketers, the "right message" in front of the right consumer at the right time is a constantly moving target.
Video viewing has exploded
Video consumption has seen a significant surge, encompassing both short-form and long-form content. Interestingly, seemingly contradictory behaviors have emerged in this landscape.
Firstly, the accessibility of video creation tools has empowered everyone to produce videos, exploding the creation of short videos. At the same time, there has been a notable increase in viewers engaging with long-form YouTube content on larger screens.
Highest bar ever for privacy and relevance
With around 80% of people concerned about their online privacy, they want to know what personal data brands are collecting and how they are using it. At the same time, regulators worldwide are pushing for unprecedented levels of privacy protection on the internet, potentially posing challenges that could disrupt the digital advertising model.
While users desire increased privacy and control, they also value advertisements that are relevant and useful to them. Google aims to strike a balance by providing the expected privacy standards for users and regulators while delivering the performance that is essential for the ads-based internet ecosystem.
Google promises that AI will help marketers to effectively adapt to the  speed, demands, and unpredictability of consumer behavior like never before.
Google's commitment to responsible advertising
Jerry Dischler, from Google, has emphasized their strong commitment to user privacy. Because of that, they assure that they will never sell users' personal information. Additionally, Google has introduced 'My Ad Center' to empower users to maintain control over the information used to personalize ads for them.
Furthermore, Google is making significant investments in Privacy Sandbox technologies and actively testing and integrating them into their products in preparation for the upcoming deprecation of third-party cookies in Chrome.
Google underscores the importance of leveraging first-party data, emphasizing that it should serve as the foundation for successful marketing strategies. However, they acknowledge the existing imbalance between the significance of first-party data and its actual integration in practice.
To address this issue, Google will simplify how marketers can manage their first-party data: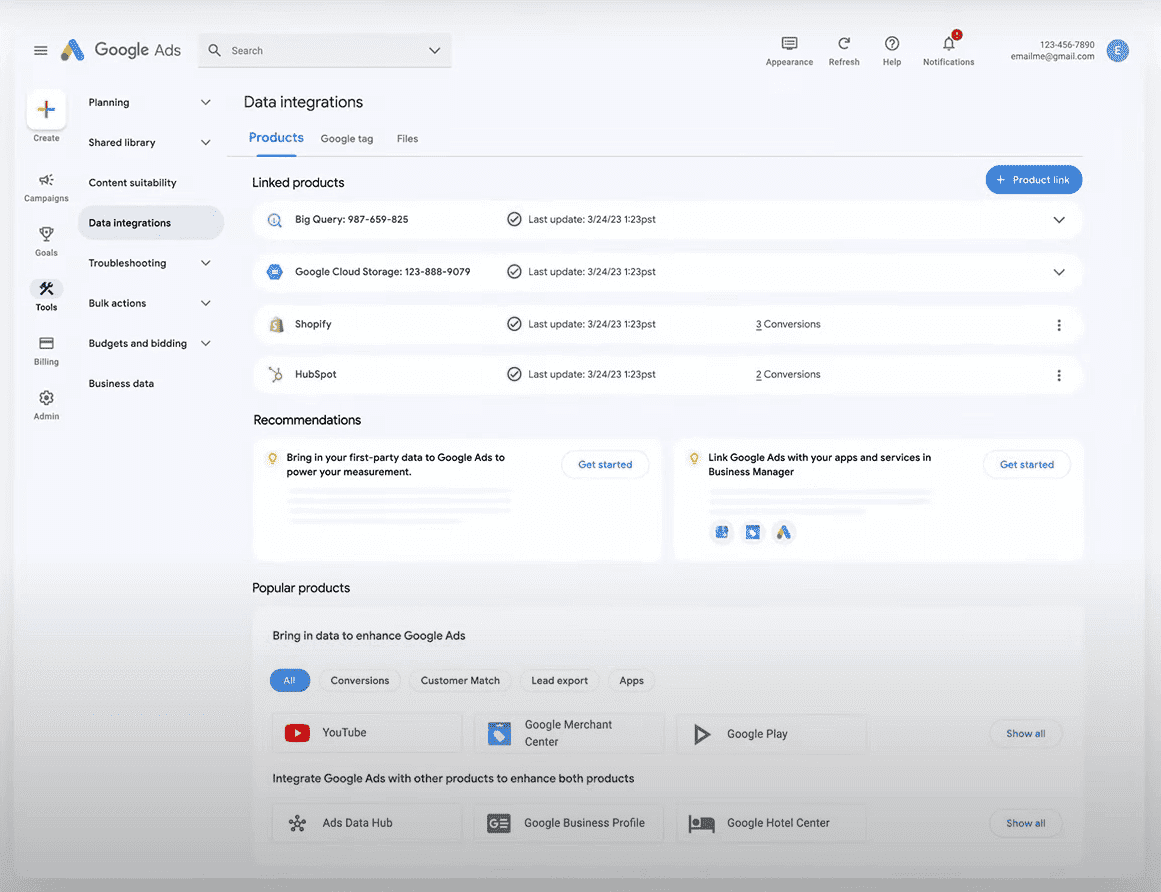 Soon, marketers will be able to securely connect data sources, translate data into insights, and enhance overall measurement accuracy.
AI in search
Imagine you're planning a trip to Hawaii and conducting research online. While browsing, you will still encounter search ads as usual throughout your search experience. However, soon, you may also come across a new section called 'Generative AI' positioned below the search ads.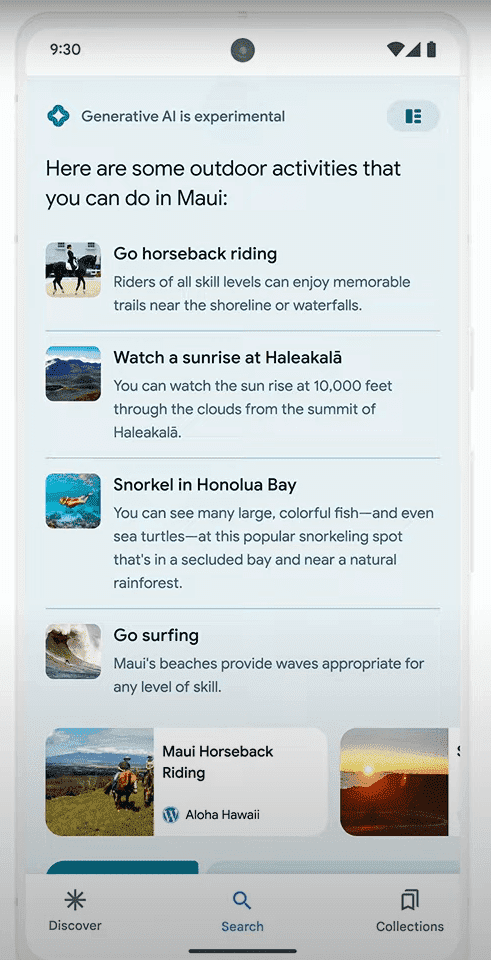 What's even more exciting is that you will have the ability to ask follow-up questions directly to the AI system.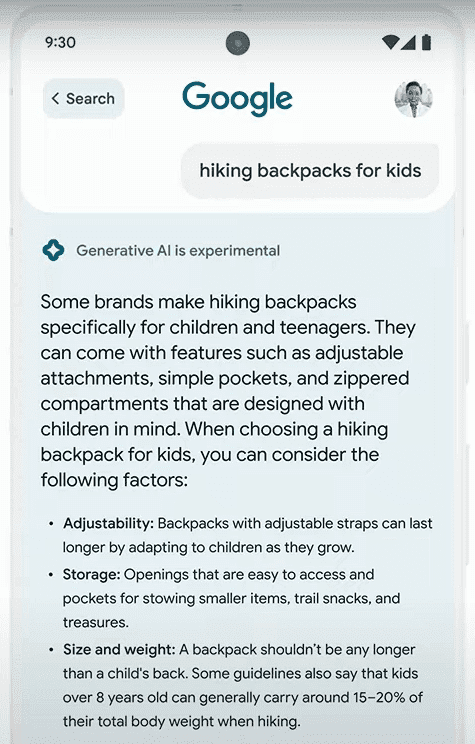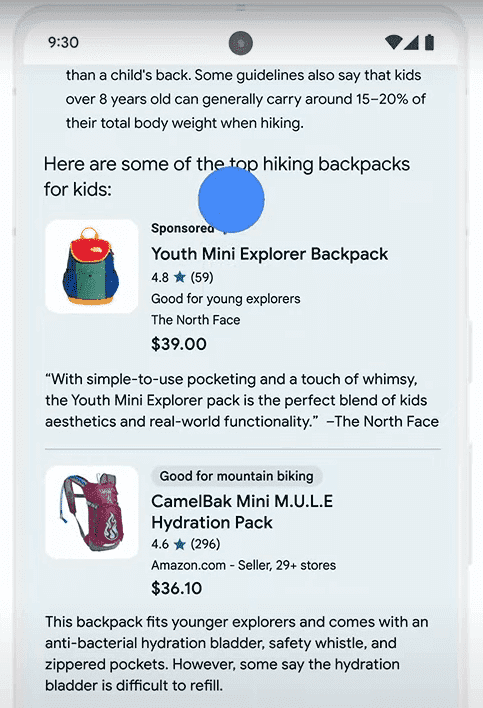 In the given example, the AI-generated response includes both key considerations for your purchase decision and relevant products from Google Shopping. Google takes pride in the advanced capabilities of their new solution, as it enables a deeper understanding of users' specific search intent.
But here's the best part! The context of your follow-up questions is carried over, meaning that the AI can comprehend queries like, "Is it easy for them to learn surfing" without explicitly specifying that "them" refers to "your kids" and that you're interested in surfing opportunities in Hawaii, for instance.
AI is at the core of Google Ads
For years now, AI has played a central role in Google Ads, powering various features such as Smart Bidding, Broad Match, App campaigns, Performance Max, and more.
Google is dedicated to driving a future ads experience that is AI-powered and privacy-first. The integration of Google AI aims to help in three key areas:
1) Customer connections: How to use AI to uncover new pockets of demand
2) Creatives: How to create high-quality ads that work for every customer
3) Confidence: AI-powered insights should give us the confidence that we are spending our money effectively
New conversational experience in Google Ads
Google Ads' new conversational experience aims to simplify the process of creating Google Ads campaigns. With this enhanced experience, you can directly communicate with Google Ads while creating your campaign. Through natural language conversations, you can receive assistance from Google Ads.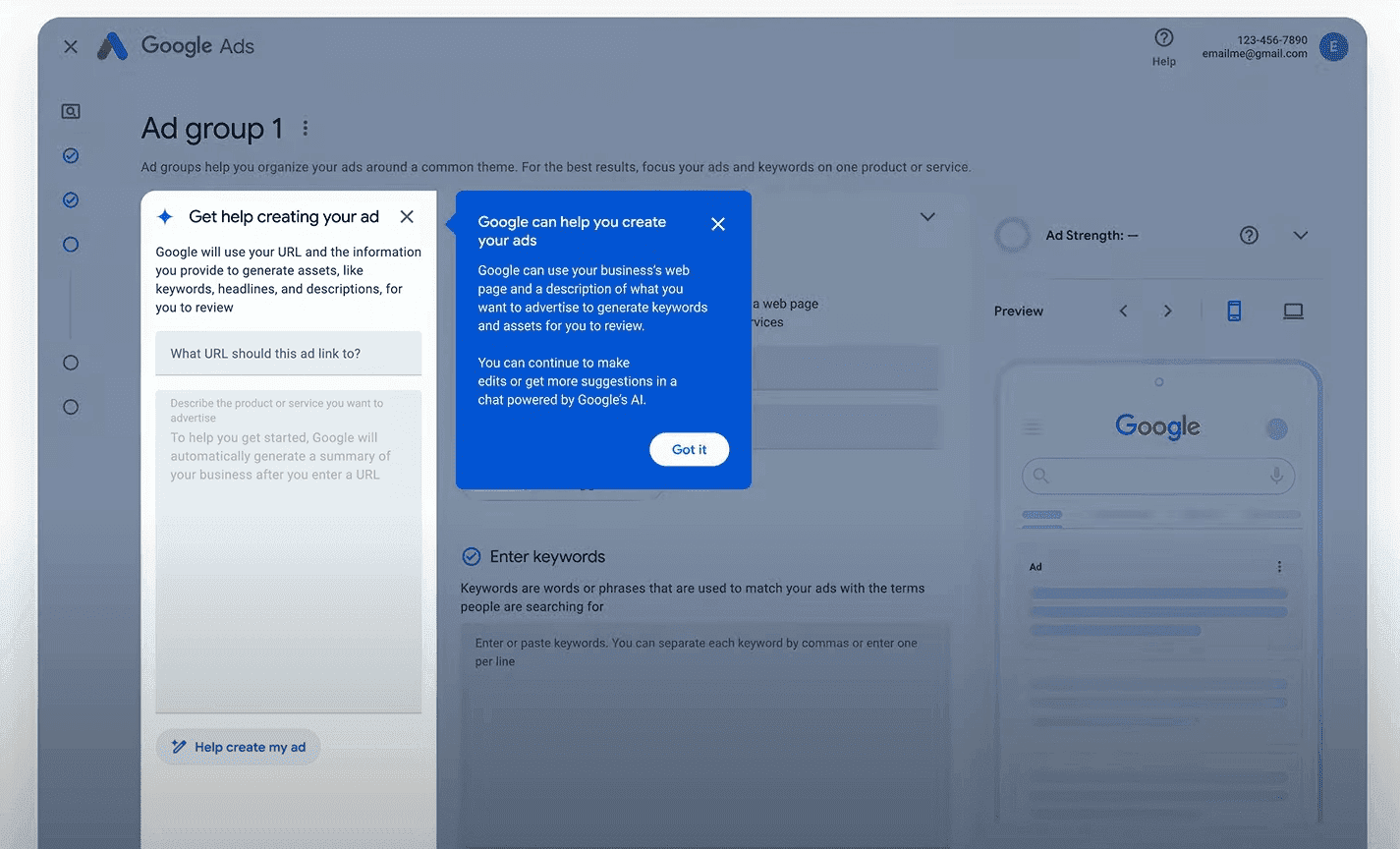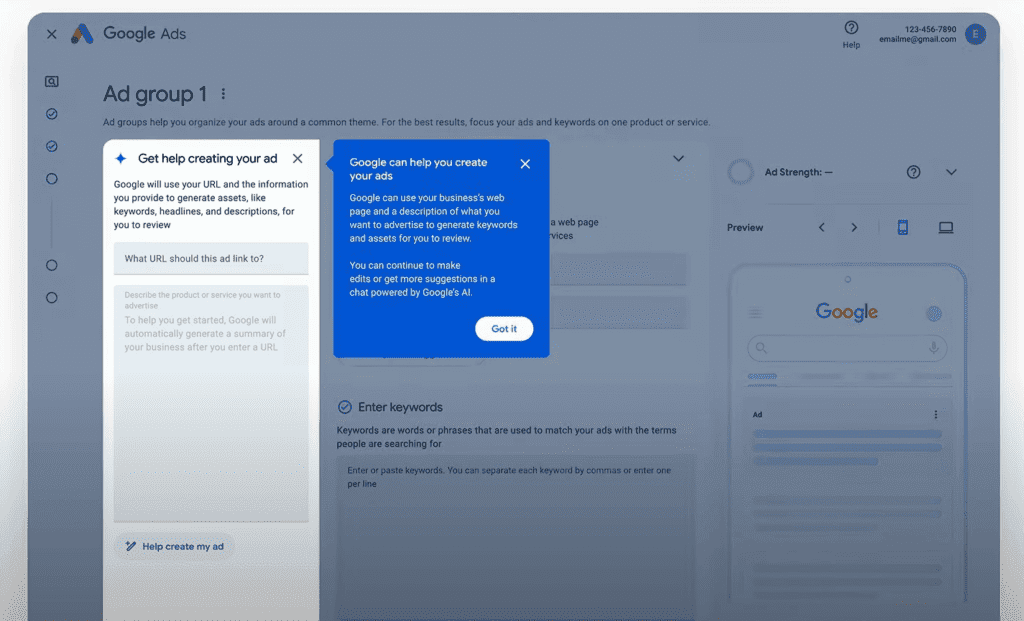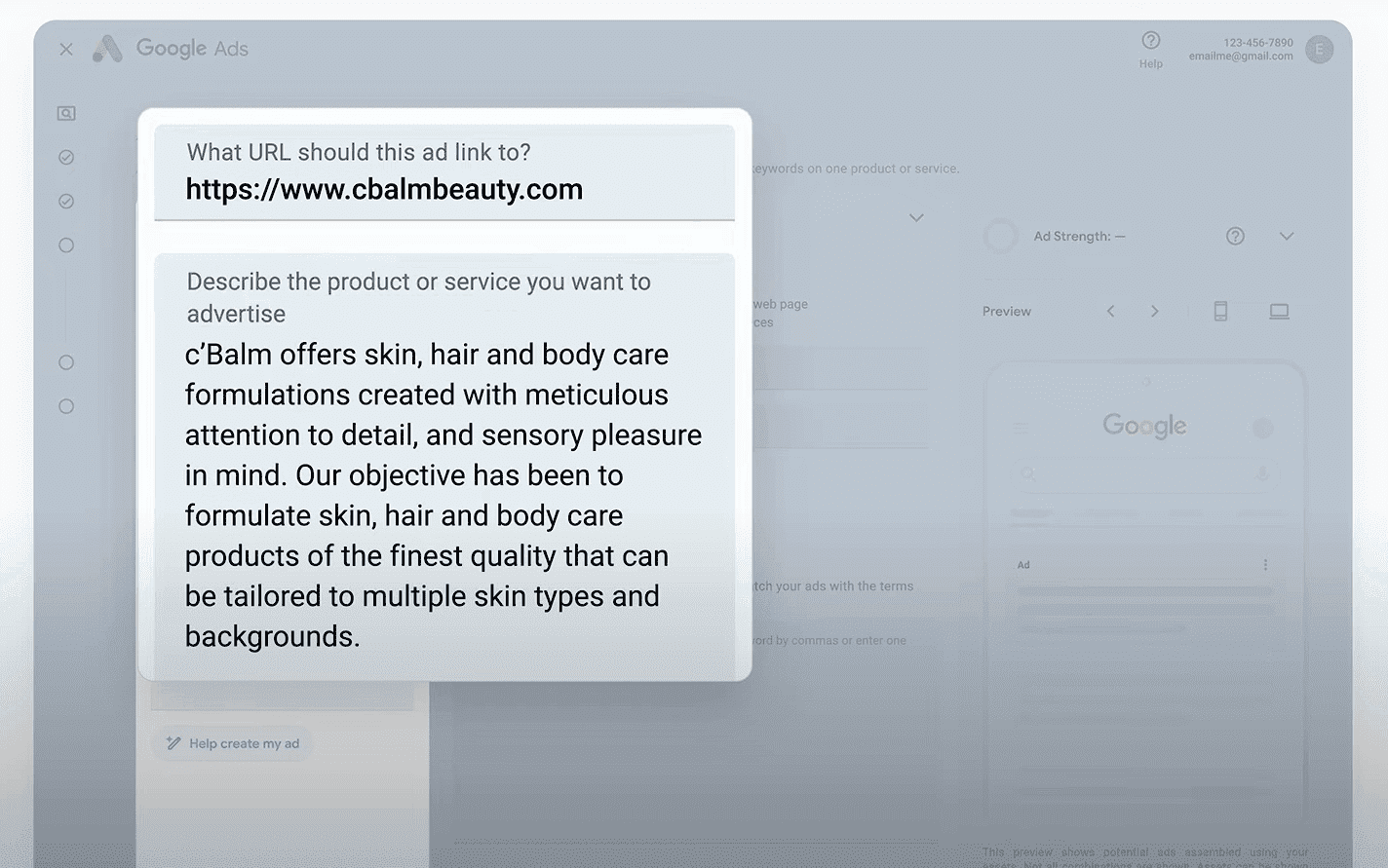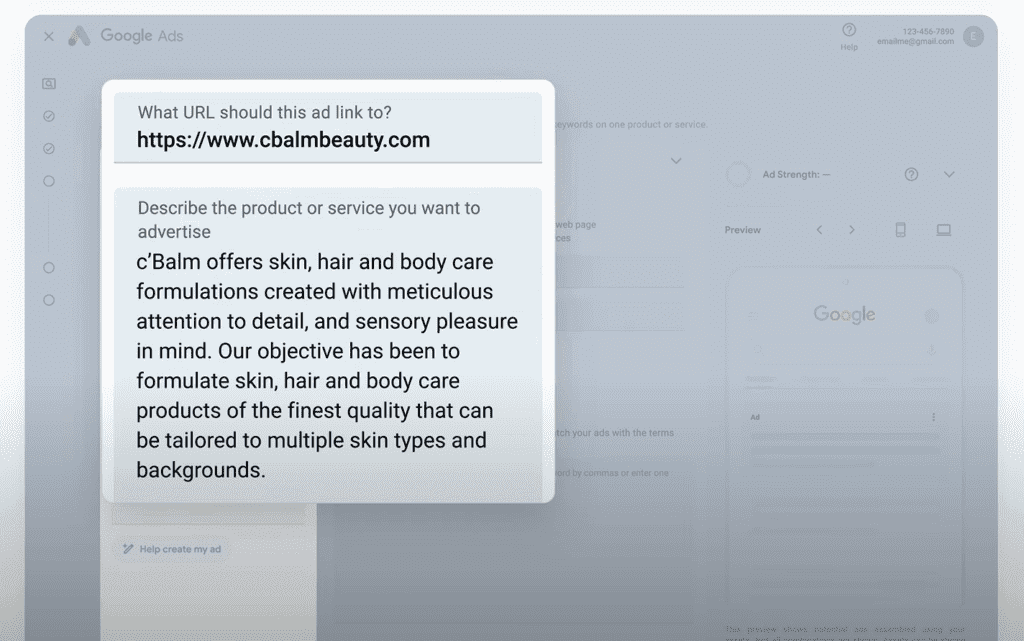 By simply providing a URL, the AI will generate descriptions for your business, product, or service. If desired, you can later edit the description to add additional details.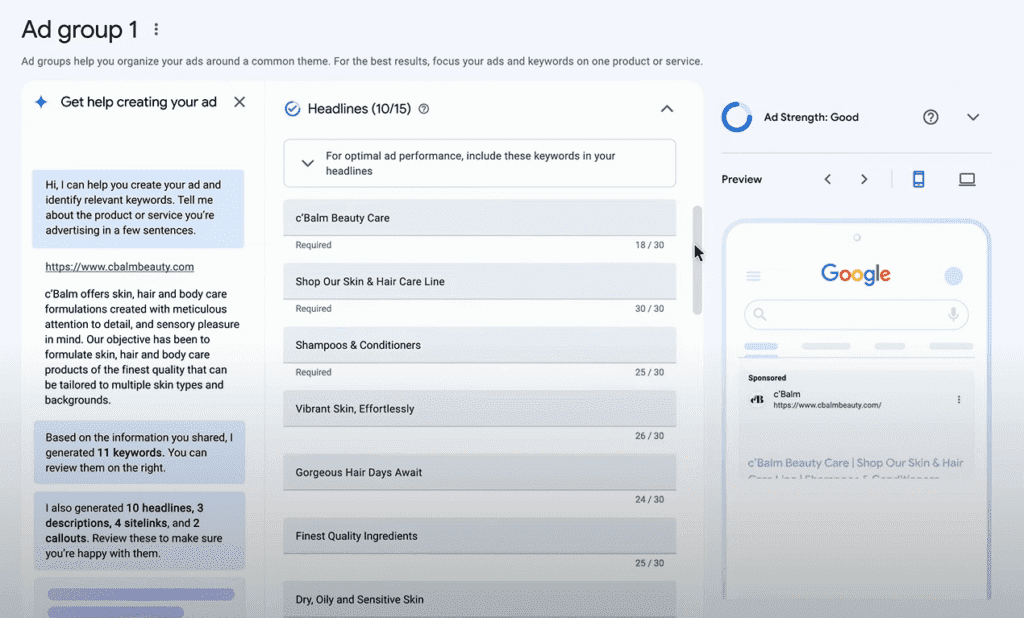 From there, the AI will generate various elements for your ad, including keywords, ad headlines, ad descriptions, ad extensions such as sitelinks and callouts, as well as image extensions featuring relevant stock images or website images.
If you want, you can even engage in further conversations to refine and optimize your ad.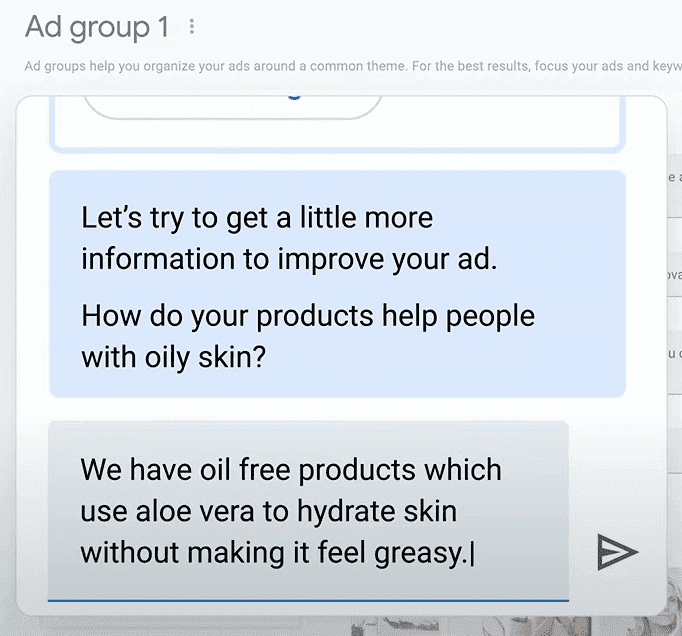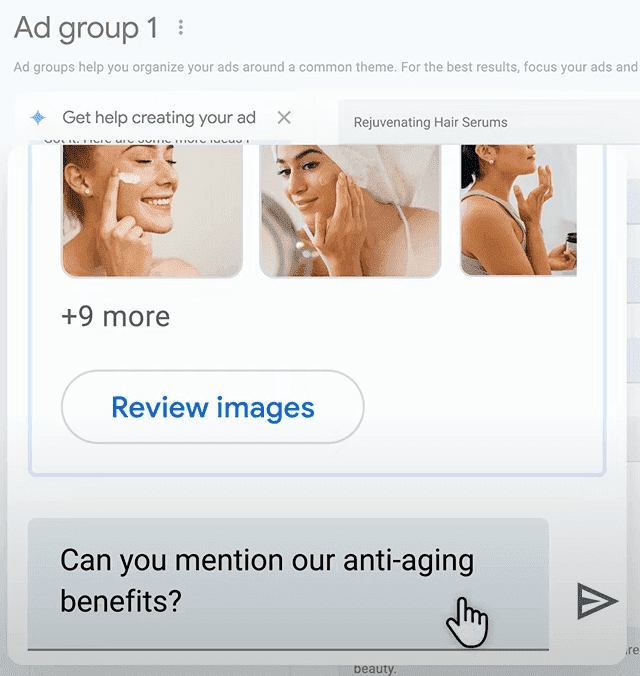 Google plans to begin testing this feature in July.
Automaticaly created assets using generative AI
In addition to generating text based on your landing page, generative AI has the potential to automatically create assets that are highly relevant to specific search queries.
For example: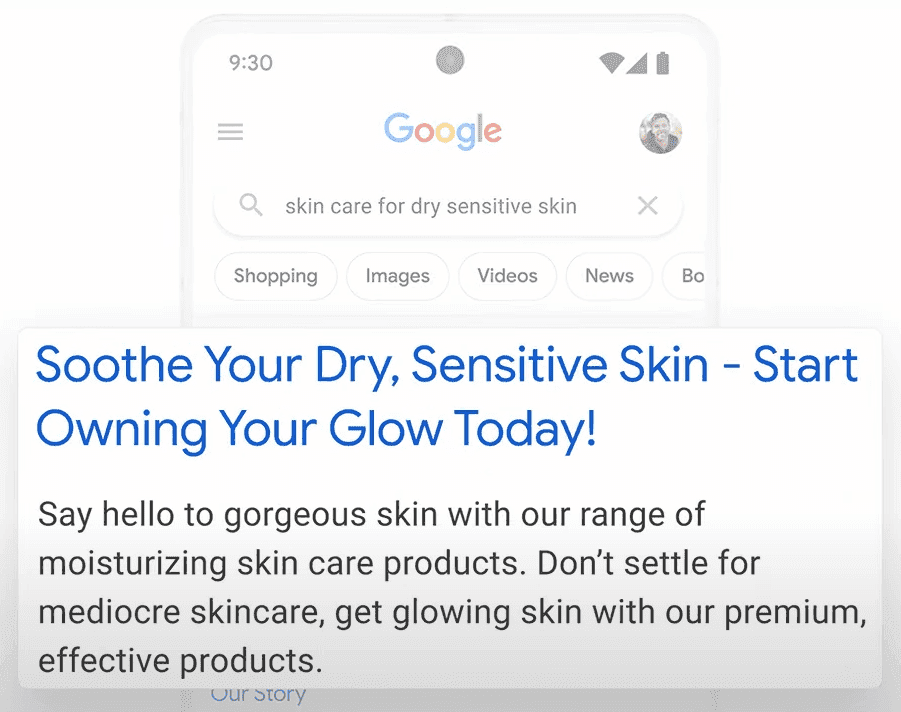 AI-powered solutions for every step of the creative process
Asset creation in Performance Max
Google has introduced an enhanced asset creation flow in Performance Max, allowing to create and curate top-quality assets.
You can now begin by simply typing in a URL, and Google will utilize this information to gain insights about your brand. Details such as your logo, product descriptions, and unique qualities will be extracted.
These gathered insights will then be leveraged to generate ads, extensions, and images. If desired, you can direct the AI to generate additional images in line with your creative vision. Importantly, you retain complete control over your assets throughout the entire process.
Product Studio for retailers
With the introduction of the new Product Studio, retailers will be able to enhance and create high-quality images, making it easier to showcase their products.
To begin, all you need to do is include a 'main image'. From there, you have the option to:
Generate a scene
Edit the background
Enhance the resolution
The background generation is based on a prompt that describes your desired look: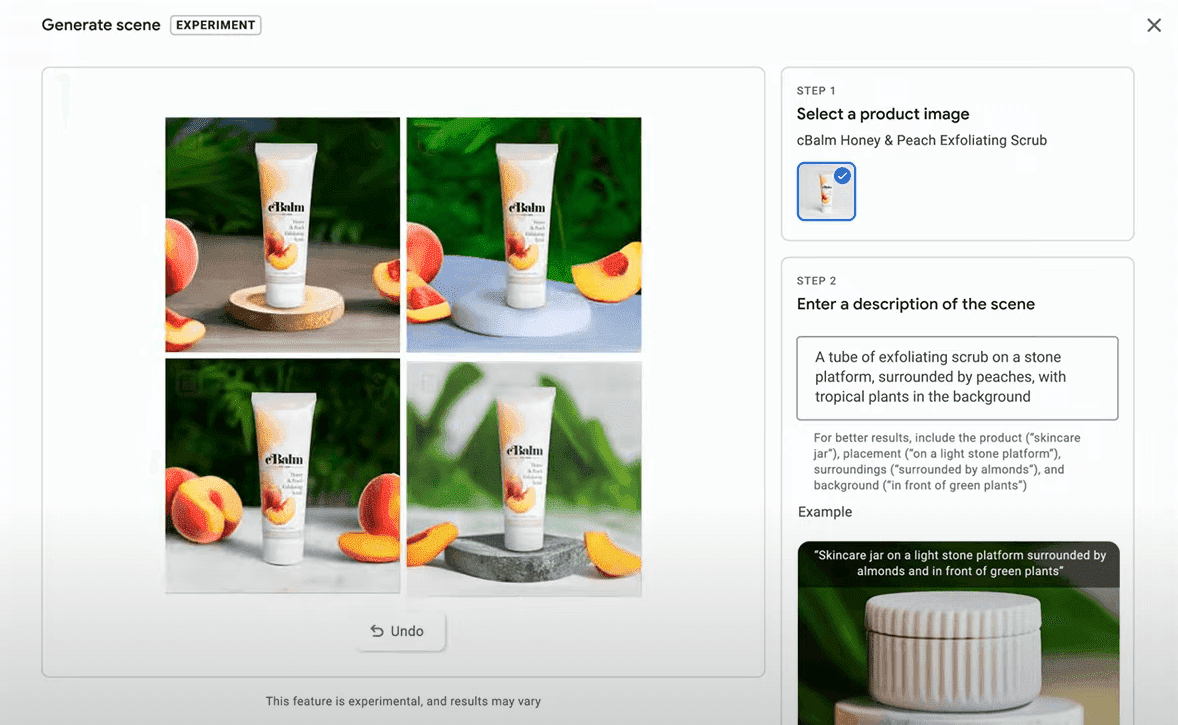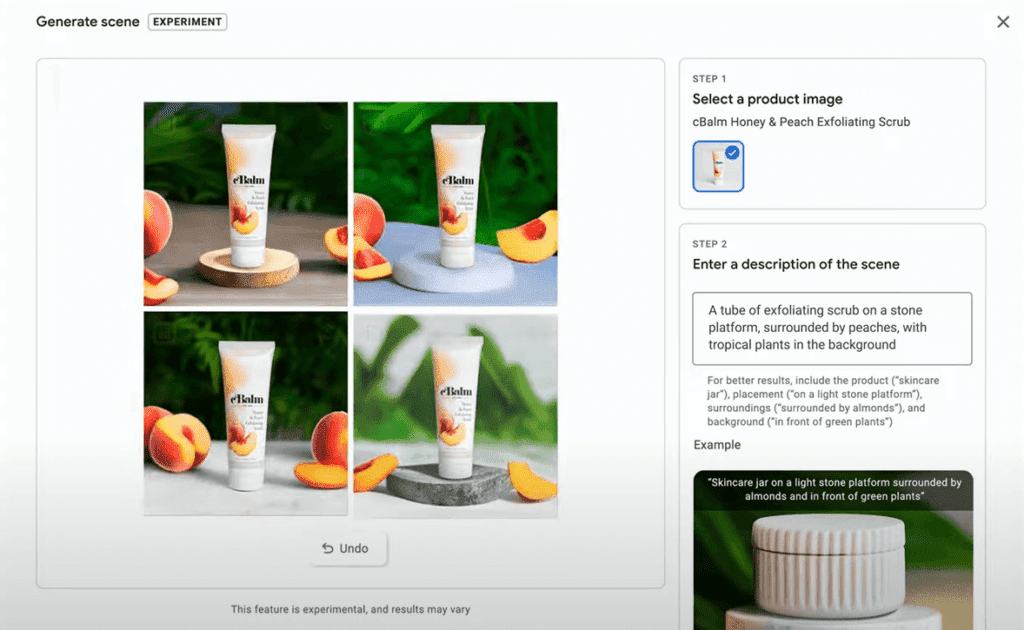 Simply clicking a box will be sufficient to add these new images to Merchant Center. Furthermore, it will be possible to download them for use on other platforms beyond Google. Currently, there are no limitations on the number of images you will be able to generate.
New AI-powered campaign types
Video view campaigns
Google is introducing video view campaigns, designed to maximize views on YouTube and therefore ideal for creating awareness among customers in the exploration phase. These campaigns are purchased based on a cost per view (CPV) model.
This campaign type combines the following ad formats:
In-stream ads
Feed ads
Shorts
Starting next month, marketers worldwide will have the opportunity to join this beta.
Demand Gen campaigns
Unlike video view campaigns, this new type of campaign should help marketers drive action among consumers with visual creatives. Its unique features are designed to cater especially to the needs of social marketers.
With this new campaign type, you can effectively reach users across YouTube, Discover, and Gmail by leveraging high-performing video assets.
During campaign setup, you will have the opportunity to generate new AI-powered lookalike audiences. Like that, you can tailor the creatives to the specific audience segments.
Changes to Performance Max
Broad-match brand controls in PMax
With the introduction of broad match brand controls, you can now expand your reach using broad match keywords while still ensuring that it aligns with all the relevant brand traffic. This feature allows you to incorporate up to 10 brand lists, providing greater control over your advertising campaigns.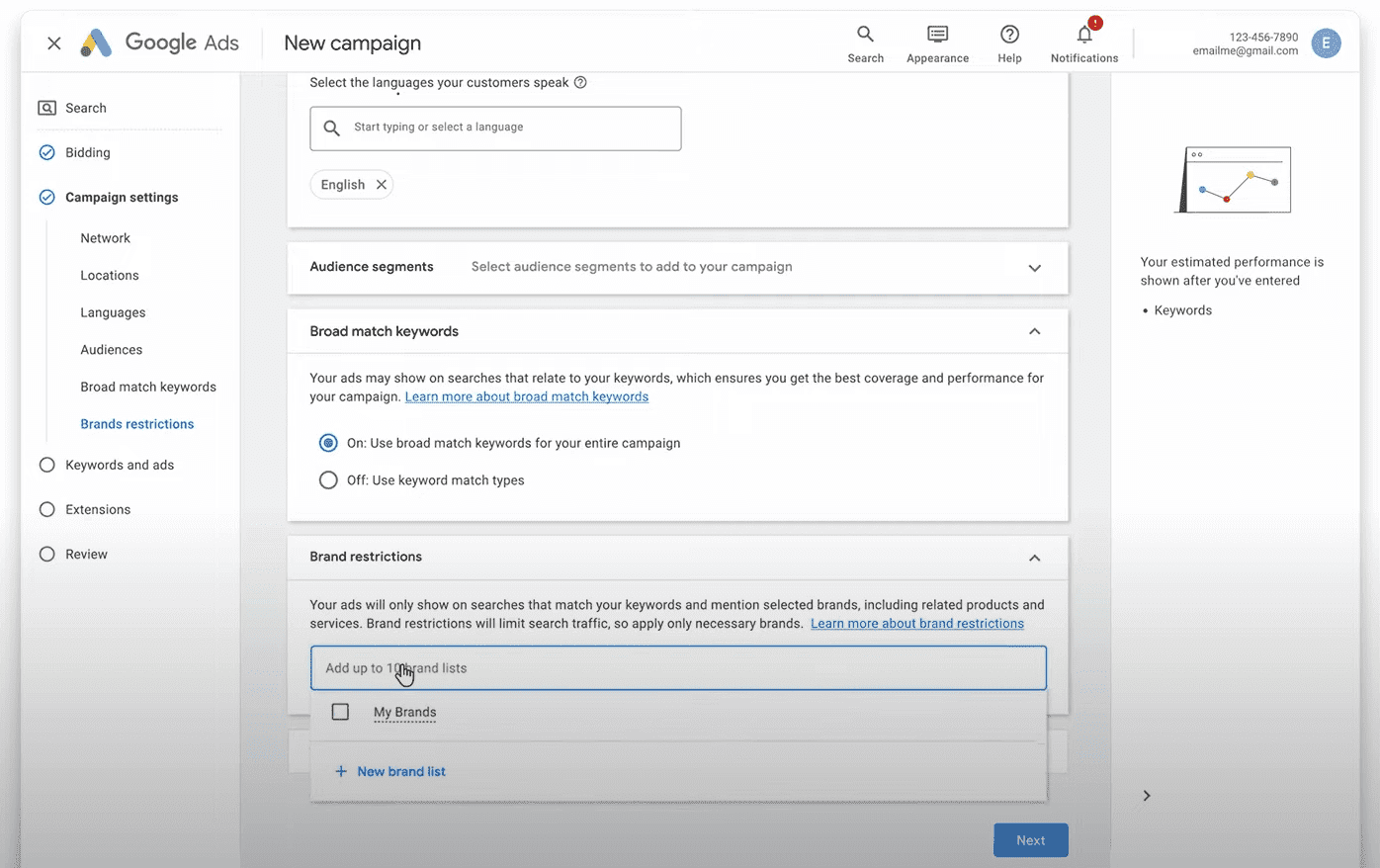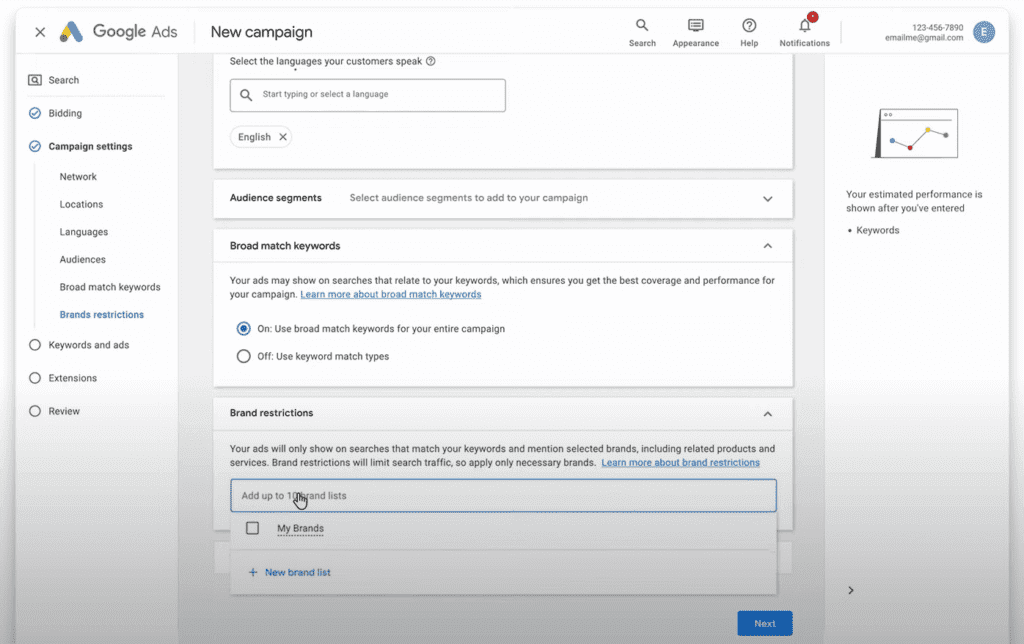 New optimization goals in PMax
Alongside this, Google has also unveiled two new optimization goals:
1) Acquiring customers with a high lifetime value
2) Re-engaging customers who have shown less recent engagement
These optimization goals enable you to instruct Google AI to prioritize bidding more aggressively for one or both of these categories. However, it's important to note that this functionality relies on value-based bidding, so make sure to assign values to your conversions first.
Improved search term insights
With the revamped search term insights, you can get a better understanding of how Performance Max is responding to your changes and adapt accordingly: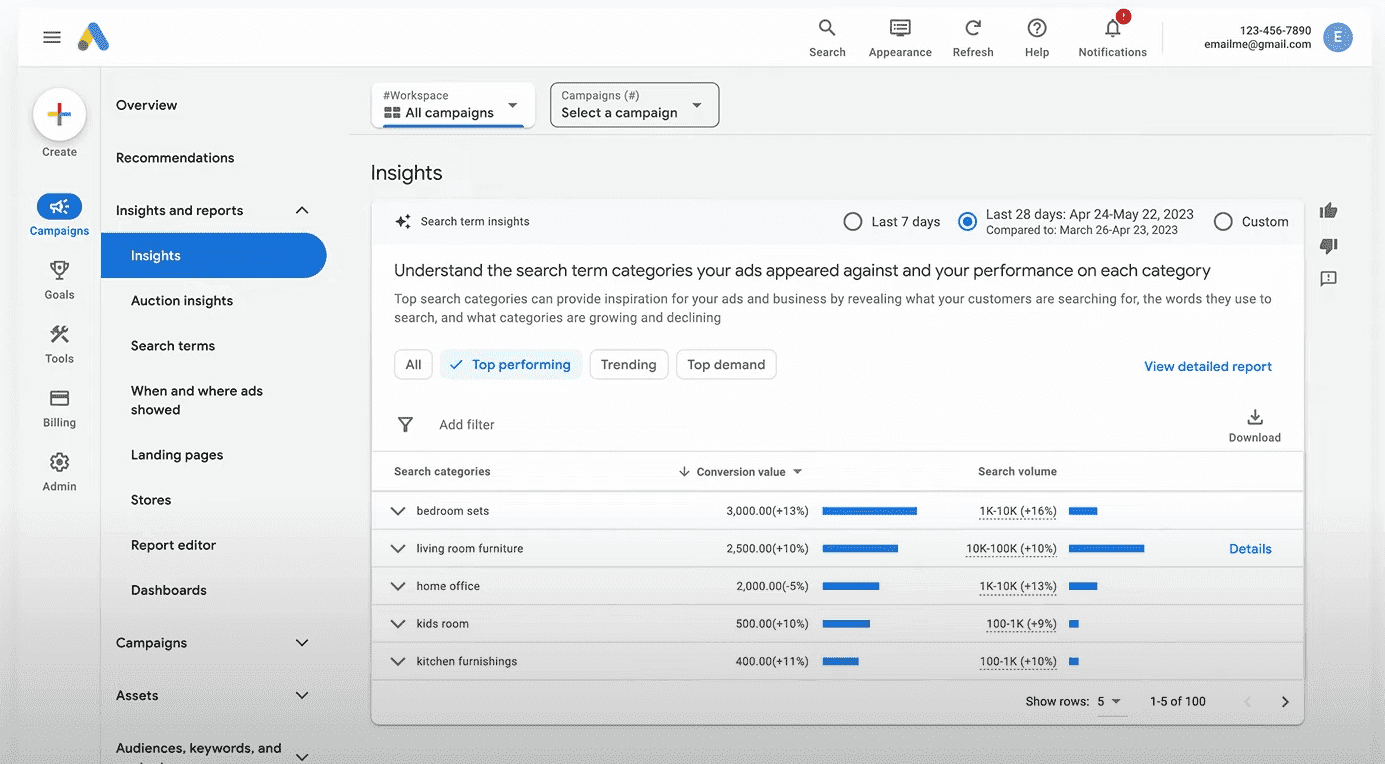 Google Merchant Center Next
As a retailer, you want to make sure that people can find your products online. The first step towards reaching consumers is through the Merchant Center, followed by utilizing AI-powered ad solutions to effectively promote your products to potential shoppers.
However, managing inventory can be a time-consuming task. That's why Google came up with the new 'Google Merchant Center Next' experience. This simplified platform allows users to connect product information from their website without the need to manually upload a feed.
Furthermore, this new tool will provide valuable insights, including:
Top-selling products on Google
Pricing benchmarks
Understanding the competitive landscape
Google Analytics 4 audience builder
Soon, we will be able to build audiences from Google Analytics directly into our Ads accounts, making campaign creation a lot faster. Moreover, the audience builder incorporates predictive audiences that leverage the power of Google AI.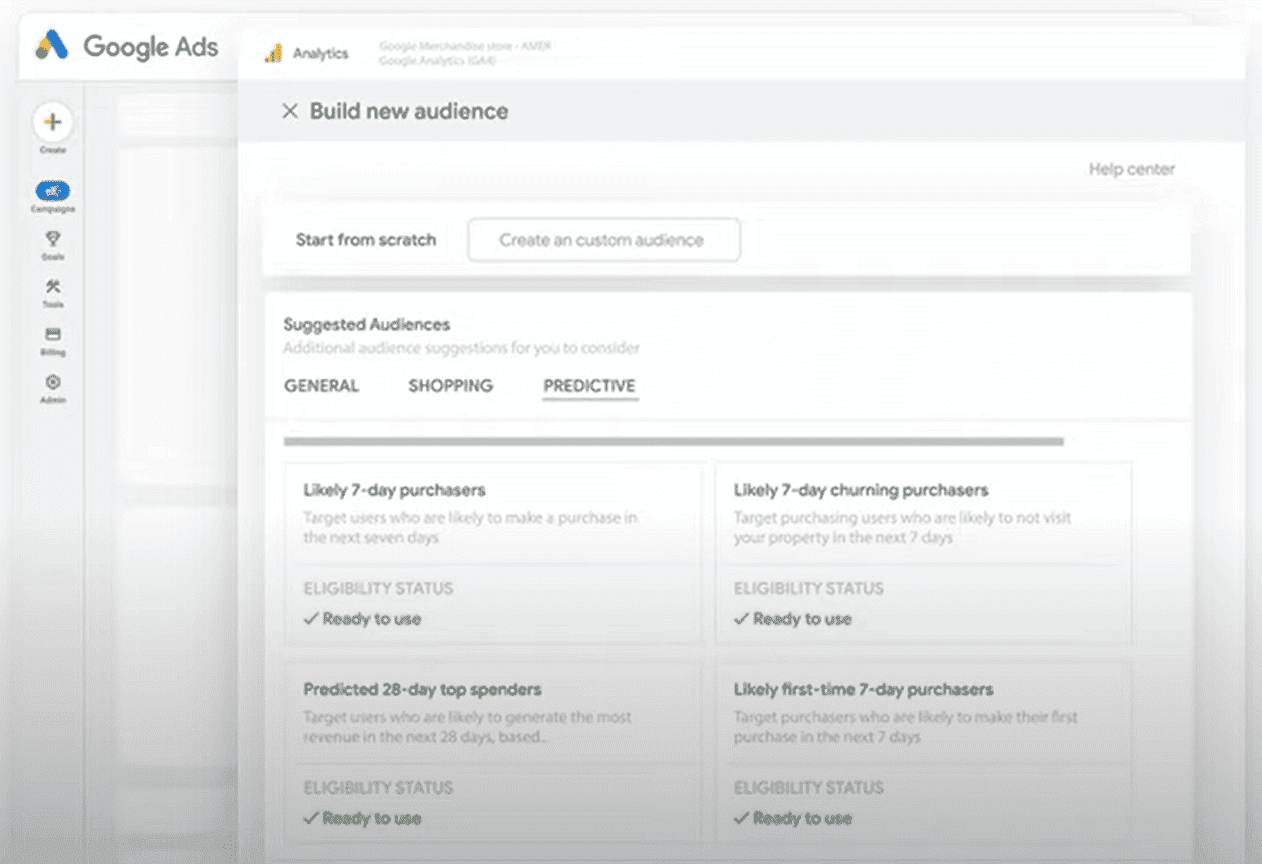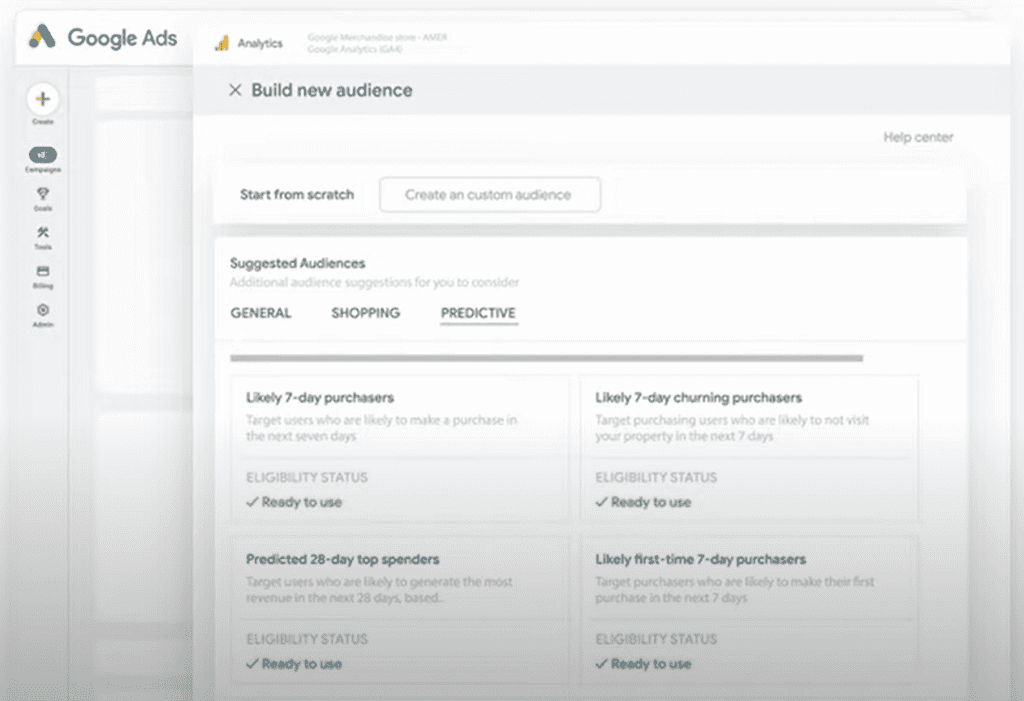 Google Ads AI Essentials checklist
If you're interested in preparing for the upcoming changes, Google has provided a comprehensive checklist called "Google Ads AI Essentials."
Foundations that fuel AI
To ensure that AI optimizes according to your specific needs, it's crucial to establish a strong data foundation:
Establish sitewide tagging with the Google Tag
Set up enhanced conversions
Assign values (f.e. revenue or profit) to your conversions
Upgrade to Google Analytics 4 by July 1
AI-powered campaigns
Maximize conversions by combining the power of Search & Performance Max
Drive business outcomes with value-based Smart Bidding
Increase efficiency with new Search Ads 360 (if relevant)
Improve performance with strong creative inputs
Mindset for success
To fully benefit from AI, adopting the right mindset is crucial. Consider:
Maximize agility
Create a culture of experimentation
While it may initially feel uncomfortable to work with AI, remember that you're not competing against AI itself. Instead, you're competing against other marketers who are also utilizing AI, as Vidhya Srinivasan explains.
Get our ramblings right in your inbox
We deepdive into hot topics across digital marketing and love to share.