On March 15th and 16th, my colleague Benjamin Nyonkuru and I had the opportunity to attend the SMX Munich conference. It's safe to say that ChatGPT was on everyone's lips, as the new tool developed by OpenAI has had an impact on our industry.
As of the introduction keynote given by Lily Ray (for the SEO part) and Inna Zeyger (for the PPC part), the tone was set with the first slide: "AI chatbots will not replace search…"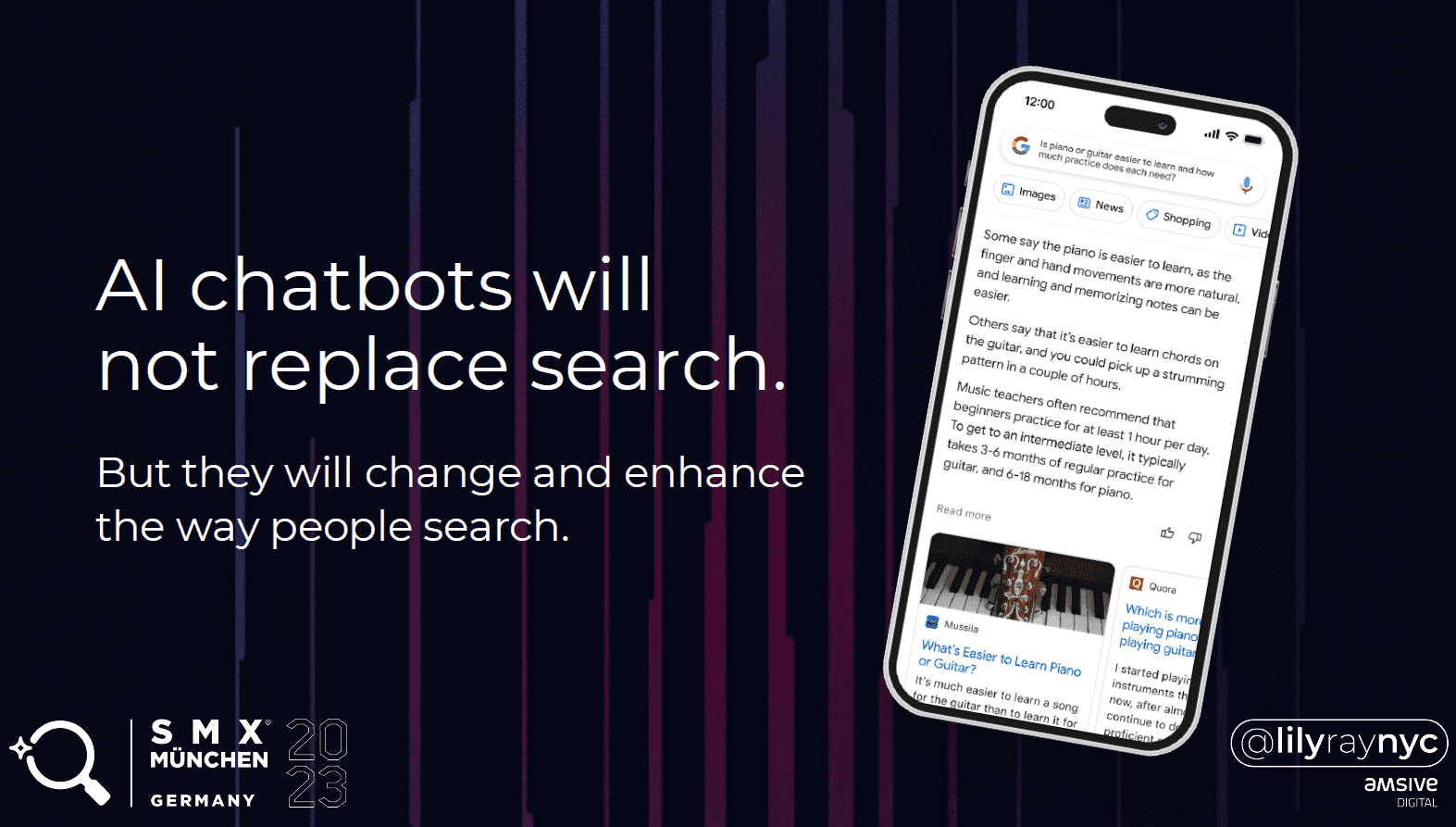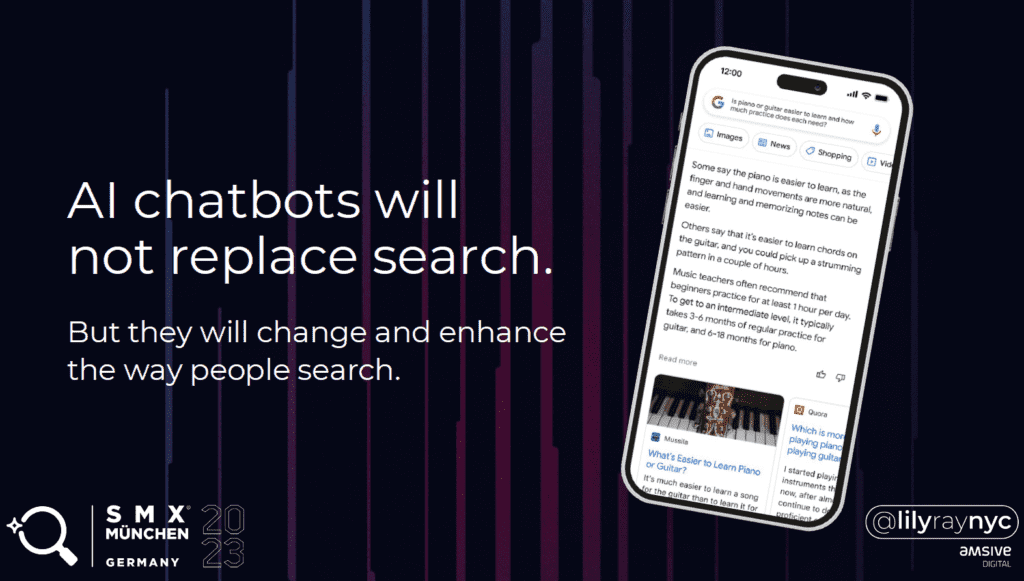 And on the following slide: "But SEOs should learn how to use AI". These two ideas alone summarize quite well most of the SEO presentations I attended during these two conference days. In this article, I will share with you in more detail the main learnings and takeaways of the SEO presentations I had the chance to attend during SMX Munich 2023.
SEO, PPC, + AI in 2023 & beyond | Lily Ray & Inna Zeyger (Amsive Digital)
As mentioned in the introduction, Lily Ray kicked off the conference. Her presentation was essentially a status report on SEO in 2023.
Among the major trends that have impacted SEO in 2023, here are the most relevant pieces of information that I retained:
The use of AI chatbots
Google and Bard
Taking the words of Bard's product lead (Jack Krawczyk) – "I just want to be very clear: Bard is not search" – Google's positioning regarding artificial intelligence is very clear. Conversational tools and search are two separate things. For Google, Bard is merely a "creative companion" that helps boost creativity and curiosity. There is no doubt that Google is seeking to clarify the proper use of AI in order to protect its interests and revenue.
Behind the scenes, Google is going even further and has started penalizing content generated by artificial intelligence, as evidenced by the graph below.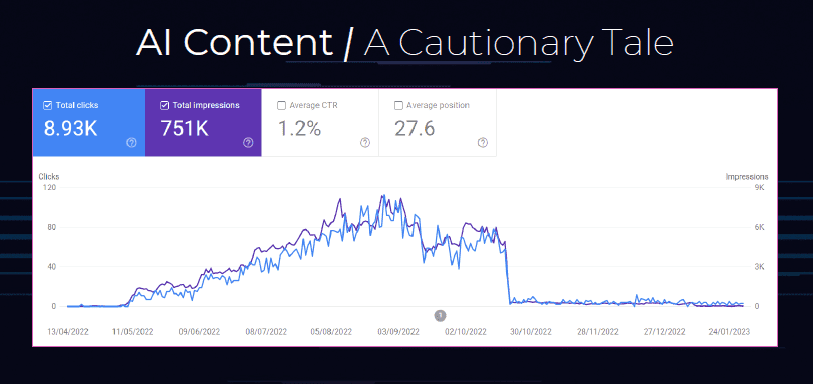 How to use ChatGPT for SEO
To conclude on artificial intelligence, Lily Ray presented some examples of how she uses ChatGPT to be more effective in SEO on a daily basis. Among these examples, we find:
help in writing useful Excel formulas for creating URLs
dedicated queries to summarize content
fact-checking
requests related to regex commands
…
Main Google updates
During her presentation, Lily Ray also took the time to detail two important Google updates regarding organic search engine optimization, namely: Helpful Content and Product Reviews:
The Product Reviews update
In a nutshell, this means Google will display informative product reviews at the top of search results while "thin content that simply summarizes a bunch of products" will rank lower.
For instance, product reviews that focus on product specifications, discuss how it helps, and include the pros and cons of the item will be prioritized over product reviews that only talk about how "good" or "bad" the product is.
The Helpful Content update
The helpful content system in Google search generates a signal used by automated ranking systems. Its aim is to ensure that users have access to original and useful content in search results. The Google update aims to favour sites that publish helpful content and penalize those with a lot of content created specifically for search engines. In this context, Lily Ray lists the things not to do in order to make your content "helpful."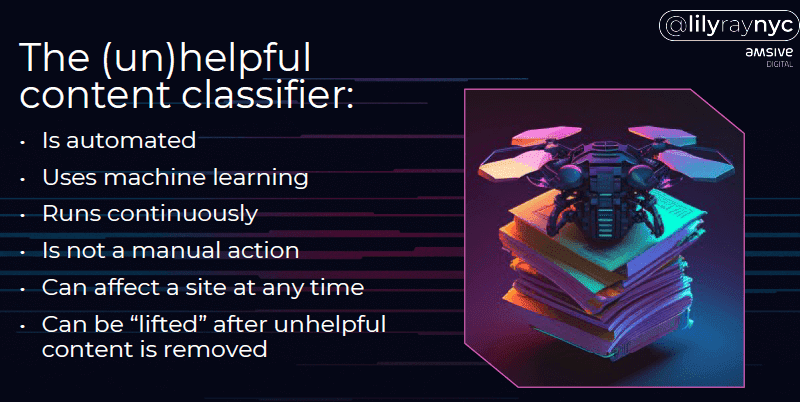 State of Search. From a Data Perspective | Marcus Tober (Semrush)
As the title suggests, Marcus Tober's (Semrush) presentation provides a numerical overview of the search trends and behaviours over the past few years. The idea is to have a more aerial view of the evolution of these trends.
Trend 1: fewer searches in 2022
Search volume experienced a decline in 2022 (compared to 2021) but returned to normal in Q4 2022. The post-COVID period had an impact on the number of queries, but this trend seems to be only temporary.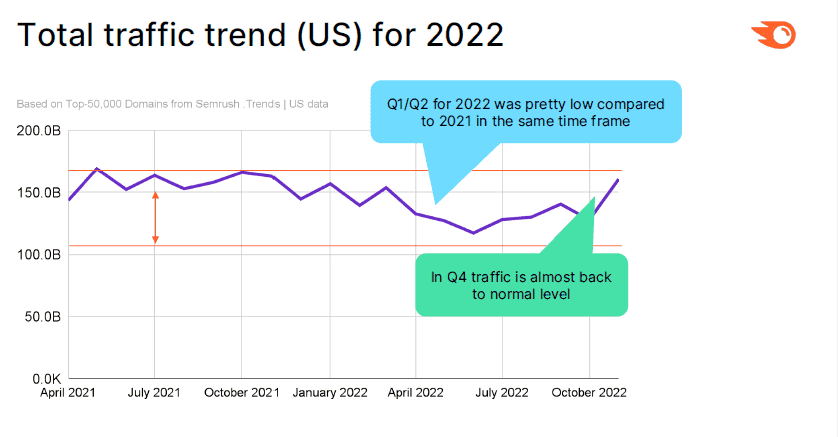 Trend 2: more and more Google updates.
The number of major Google updates continues to grow each year. These updates affect content, technology, and, increasingly, spam detection.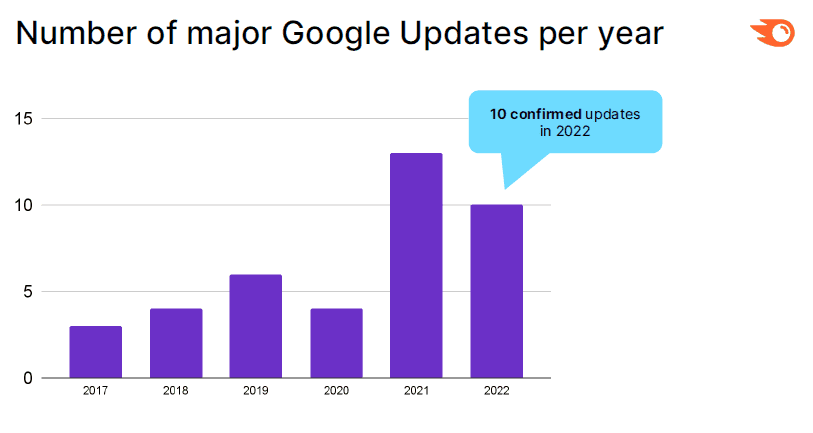 Although there are more updates, their impact on search results is becoming less significant.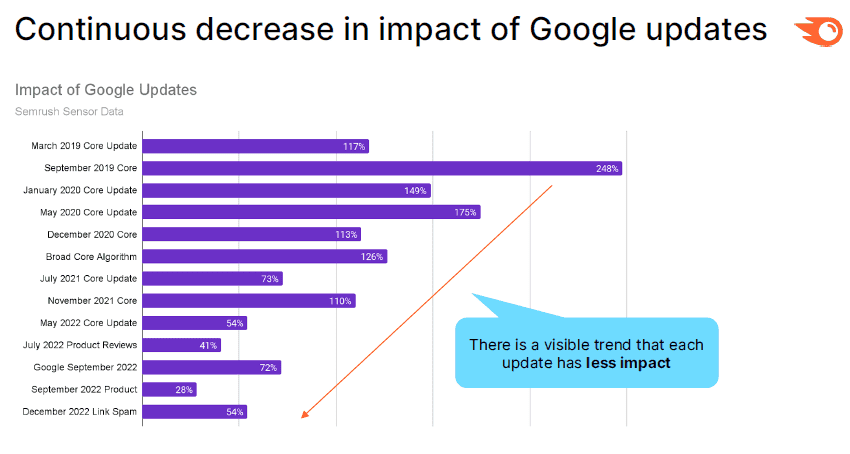 Trend 3: Popular Products
For those who don't know, Popular Products is an unpaid and organic display of Google Shopping product listings. It searches for popular products from sellers and shows them in a single window in the Google SERP. It is a carousel of products related to your search term. Since Google wants to compete more and more with Amazon and Zalando, this feature will be increasingly highlighted according to Marcus Tober.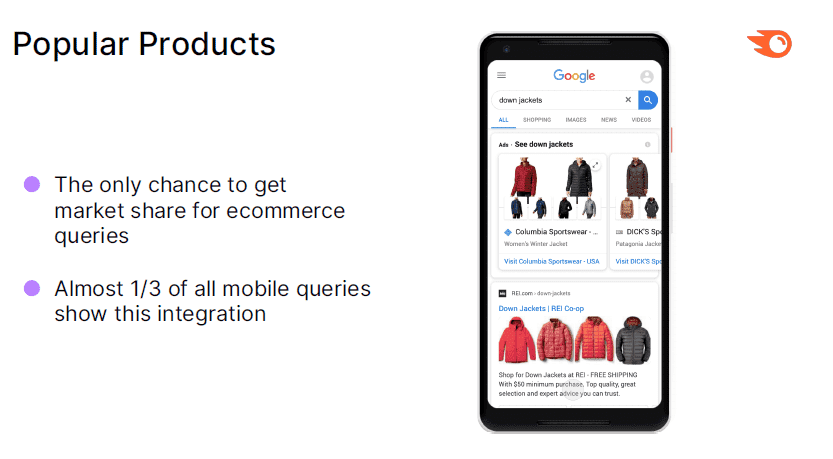 New features
To conclude his presentation, Marcus Tober lists the new features available in organic search results, namely:
Short Video Carousel: in order to give more visibility to short videos and compete with TikTok
Things to know integration: appears almost exclusively for informational searches
Buying guide integration: appears almost exclusively for commercial searches
Advanced Tips for Leveraging Google MUM in Your SEO Strategy | Cindy Krum (MobileMoxie.com)
Before diving into the content of Cindy Krum's presentation, it is important to understand what Google MUM is and its implications for organic search results.
MUM stands for "Multitask Unified Model." It is an algorithm developed by Google to provide more relevant answers to complex user questions. As its acronym suggests, Google MUM is multimodal, meaning that it understands and extracts information simultaneously from different types of formats: Text, Image, Video, and Audio.
In addition to analyzing different types of content, the new algorithm will understand your queries from text, image, video, and sound.
Google MUM can also multitask and perform several tasks simultaneously to instantly provide the best answers to queries.
For each search launched by a user, the algorithm takes into account several parameters to display results that it finds relevant. This includes factors such as language, location, and format.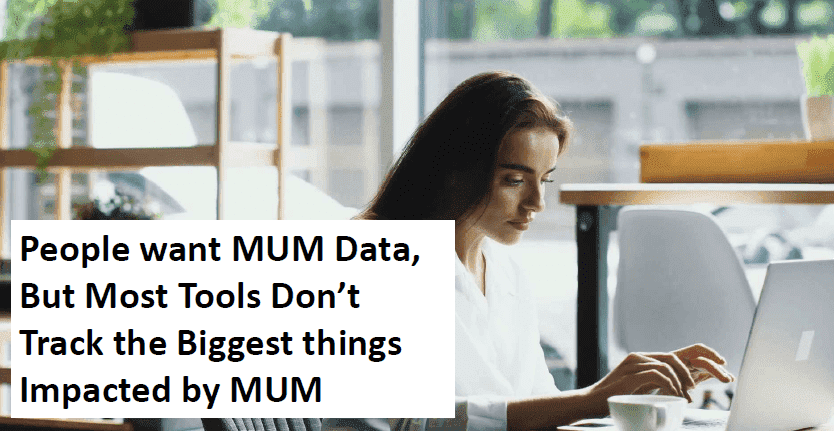 In her presentation, Cindy Krum points out the implications of MUM on organic search engine optimization.
For example: While the BBC occupies the top organic position for the keyword "football," a significant loss of traffic was observed during the World Cup.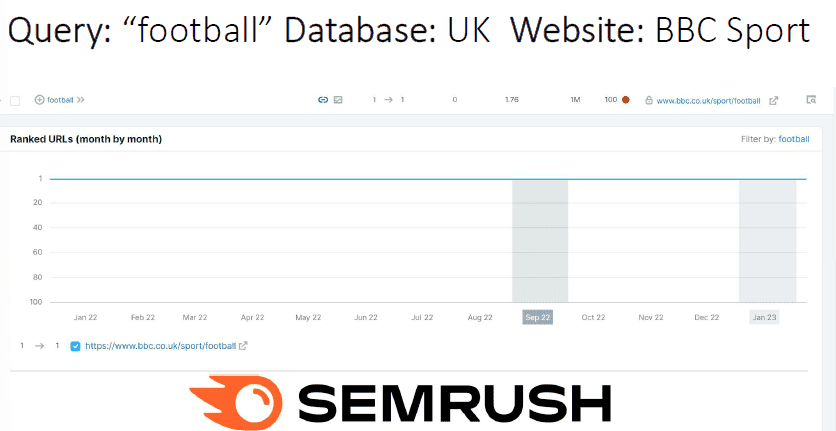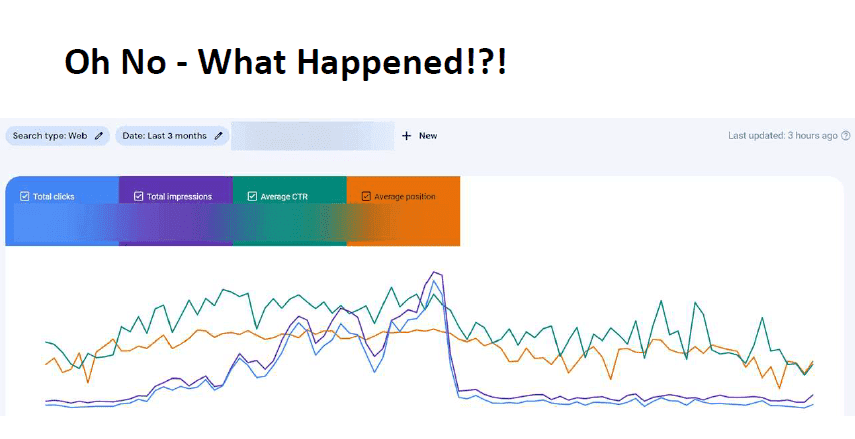 The cause of this loss of traffic is the appearance of a new box generated by Google MUM that occupies the top of the SERP.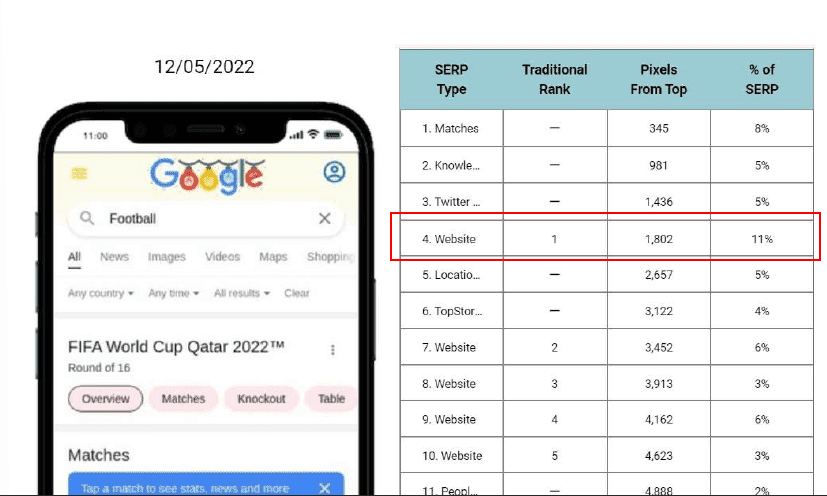 The other examples cited are numerous and do not only concern the world of football. As these new types of results are unpredictable and occupy a significant portion of the SERP (especially on mobile), it is essential to monitor the traffic generated by a keyword/page and not just its position.
Here is a non-exhaustive list of tips proposed by Cindy Krum to optimize your SEO while taking into account MUM:
Publish quality content
Quality content will likely be best ranked by Google, as it is considered expert answers. Ensure that your content accurately and precisely answers the search intent of your target audience. Also, make sure your content is readable and free from errors.
Create an exhaustive semantic field
In addition to quality content, you can enrich it by creating a semantic field around the keywords you are targeting.
Optimize your images, videos, and podcasts
Google MUM will likely favor visual content as it attracts more attention and provides better understanding to the reader. Additionally, this algorithm will understand the information contained in your videos and podcasts and use them to provide answers to users. Include images, videos, and audio in your content, optimize their size to improve page load speed, add transcripts to your videos, and fill out Alt tags.
Optimize your site for voice search
Over a billion voice searches are made each month, something that Google intends to encourage with MUM.
Ontvang onze inzichten rechtstreeks in je inbox
We duiken regelmatig in actuele onderwerpen op het gebied van digitale marketing en delen onze inzichten graag met jou.