We attended the SMX Next webinars on the 15th & 16h of November 2022. Various speakers presented interesting topics tailored towards the evolution of SEO & SEA marketing in the coming cookieless environment. Below you can find our main takeaways.
SEO Takeaways
E-A-T
EAT (Expertise, Authority & Trust) has been a major concern in 2022 and will continue to be in the coming year. E-A-T is to be understood as a sort of meta-evaluation of a publisher. It means that Google evaluates the relevance of each individual piece of content in line with the search query and its search intention. It can be said that Google assesses a publisher's quality through E-A-T and relevance through classic methods such as text analysis combined with machine learning innovations.
E-A-T can be thought of as a layer applied to a score-ordered list of search results. Based on the relevancy signals, Google evaluates the indexed content and then uses the collected quality signals to verify the expertise, authority and trust of the sources. As a result, a ranking bonus or downgrade occurs on search results previously sorted by relevance.
That said, bear in mind that important ranking factors such as page speed, UX & mobile experience have always been crucial. This is not going to disappear all of a sudden. Optimizing your homepage, category pages and links (internal linking ánd link building) will always benefit your SEO strategy.
Creating qualitative content
In order to keep driving performance through SEO, content creation is unquestionably a must-do but prioritising quality over quantity is critical if you want your target audience to see you as an expert. That's also how you build trust somehow. In the long run, this will help you build your image as an industry leader and become an authority in your field.
Because of the EAT context & continuous algorithm changes, other things need to be taken into account when it comes to creating new content. Additional research or resources might be needed. Being more diverse & inclusive with the content you promote is necessary as we now know that people tend to react better if they recognize themselves in your content. You should also think of creative ways to create content that can be used on multiple channels.
Setting priorities and working more efficiently
This doesn't mean that you need to spend more time on SEO. To be effective, you need to prioritise and do what matters most. In simple words, put the focus on what has the highest impact. You probably already acknowledged that identifying SEO issues is surely one thing but actually implementing the fixes is sometimes even more difficult. Because of all the different stakeholders & decision-makers, it can sometimes be challenging to decide how you should tackle different kinds of issues. Here are a few tips that might help:
1) In order to implement SEO fixes quickly, being pragmatic is surely a must. In that way, aligning with all teams involved and creating a timeline, deadlines and putting the right person in charge will already be impactful. At CLICKTRUST, when we do an SEO audit, we usually make a Trello project defining the priorities and responsibles. Like this, we also ensure that everything is stored somewhere so that we can track the evolution of the project. This is not going to reinvent the wheel but it helps.
2) Keep being curious & train your staff. Who has not seen an e-commerce platform for which certain points remain "on hold" for months because of the simple fact that the developers & the marketing team do not have the same sense of priority? If you can simply ensure that everyone on board understands the purpose of SEO, don't you think it will speed up the process?
PPC Takeaways
The need for more automation
It is true that digital marketing has turned more & more towards automation in recent years. In the global context of user privacy concerns, the increase in regulations & complexity of the customer journey, performance marketing & measurement are surely evolving. Some say that the shift to automation is needed to face all these questions.
Algorithms are now doing a lot of things that PPC marketers used to do in the past. This raises several questions: Could we leave everything in the hands of algorithms and are we still needed as digital performance marketers? How do we prove our worth? How can we add value in this automated environment?
We know that our work as digital marketers is changing. It's needless to say that we spend less time manually optimising campaigns than we did 10 years ago. However, this gives us more room to focus on elements with greater impact, such as:
Deep diving into consolidated data to identify insights that can be brought back to the business.
Testing new opportunities such as paid voice advertising or visual searching
Focusing on cross-channel KPIs instead, integrating different channels or even backend data.
Performance Max
Getting back to testing opportunities, we have all heard about the Performance max campaigns that Google rolled out earlier this year. This campaign type is running through all Google networks. Earlier this year, we wrote an article on our thoughts on Performance Max campaigns in Google Ads.
As discussed in the article, Performance Max raised a lot of questions regarding
Placements
Data accessibility
The possibility to put exclusion
Brand safety
Incrementality
Today, this type of campaign is still a "Black Box" that is hard to optimise for a lot of marketers.
During her presentation, Ivana Dukic from Smec proposed an interesting approach. According to her, Performance Max campaigns work very well to get good results on products with a significant amount of Data. Especially thanks to the ability to advertise throughout the whole funnel.
Results tend to be more disappointing when looking at lower-performing items and items for which there is not a sufficient amount of data.. Comparing Performance Max to a classic shopping campaign, they found out that Performance Max tends to spend more budget on non-converting products than regular shopping.
That being said, most advertisers are either running:
A single Performance Max campaign containing all products OR
Multiple campaigns based on product categories or target groups
How to set up a successful Performance Max campaign?
That's why it's crucial to know how to set up a Performance Max campaign that actually drives results.
The image below shows the difference between the set-up of classic shopping campaigns and Performance Max campaigns: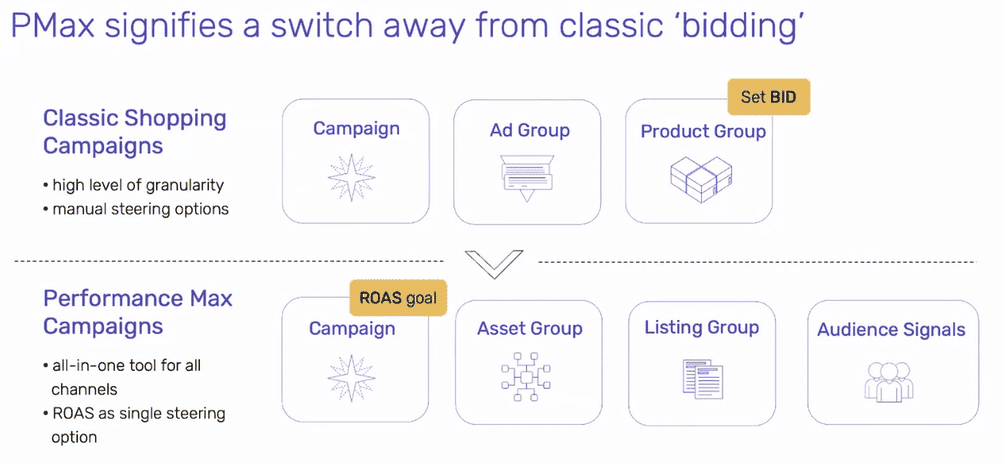 The only leverage you have in the Performance Max campaign is changing the ROAS and/or your assets. Here comes the importance of the campaign's structure. You need to decide which products deserve to have their own campaign to be able to take full advantage of Performance Max.
There are a lot of advertisers that can't simply rely on conversion value to define their profitability for a number of reasons. In this case, replacing it with metrics that are more relevant for your business (profit margin, new customer acquisition, CLTV…) is definitely something you should consider.
The importance of qualitative data input
If all advertisers had only one PMax campaign running with the exact same set-up, the one with the best data input is more likely to get good results.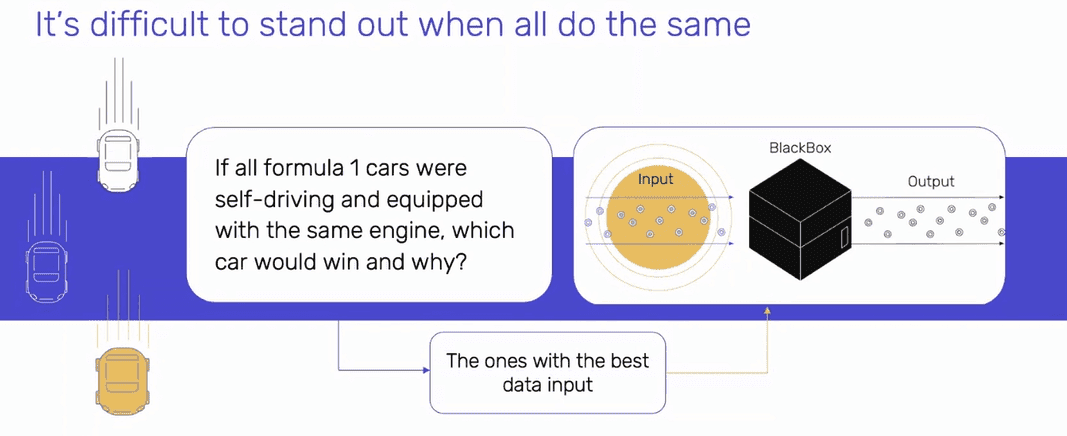 How to win the Performance Max race?
In order to maximise your chances of winning the Performance Max race, you should think differently and keep these basics in mind:
Conversion value: Based on your goal (either actual value, basket margin, NCA, CLTV…)
Use of customer insights & CLTV for audience signals.
Focusing on high-quality assets (images, videos, updated prices on a daily basis…)
The ideal Performance Max campaign structure
How do you make a good structure? How to select the products that deserve their own campaigns?
Based on the ROAS of the past 30 days, create one campaign for top products, one for mid performing & a last one for low performing products.
Based on inventory parameters: consider your margin, stock availability & new releases or promotions instead of performance
Based on competitive analysis: compare the price of each item ID you have and compare it with the competition. This will allow you to be more aggressive for products that are less competitive or that you are selling cheaper than others.
Based on website behaviour insights such as people buying multiple products.

Using a hybrid approach
As she explained that Performance Max doesn't give the best results for low-performing products, we should consider having a hybrid approach combining Performance MAX & classic shopping combined. This would allow you to scale up your best-performing areas while still being able to adjust bids & pacing on mid and/or low-performing items: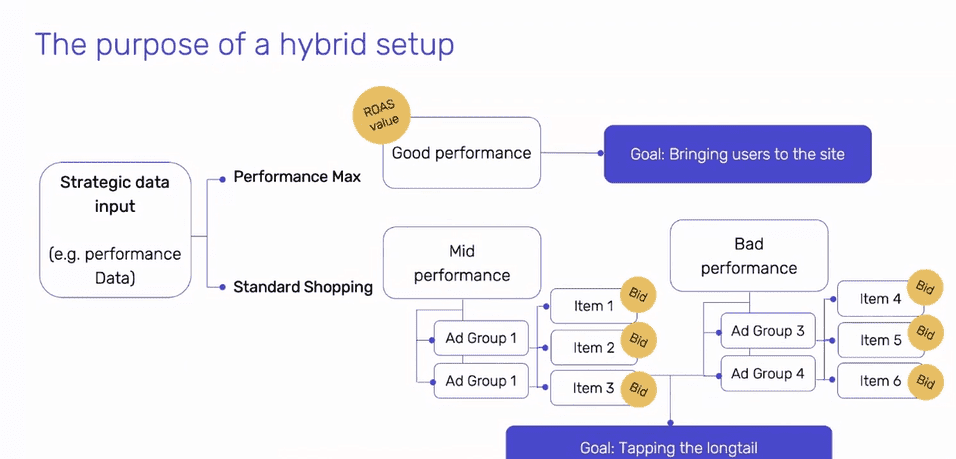 Optimizing your Performance Max campaigns
Once the structure is defined, you need to make sure that you have an automated process to ensure ongoing optimization.
If you have campaigns based on competitor prices, you'll have one campaign for the items that you sell cheaper, one for the ones that you sell around the same price & the last one for the items that you sell at a higher price.
First, you need to check your own & your competitors' prices for every single item you have. Then, you need to categorise and assign a tag to decide in which campaigns you should place your item. In the second phase, you need to check if the item is highly competitive or not and set another tag accordingly.
As soon as the price changes, the tags need to be adapted the same way and this needs to be automatically applied to the campaign structure.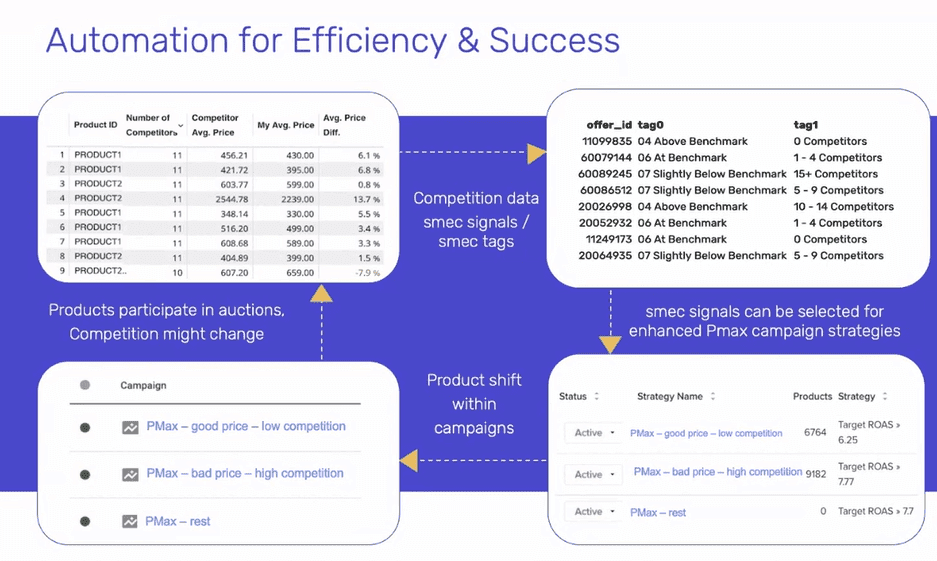 Now that you have collected and segmented the data, you can actually create your campaigns and assets group.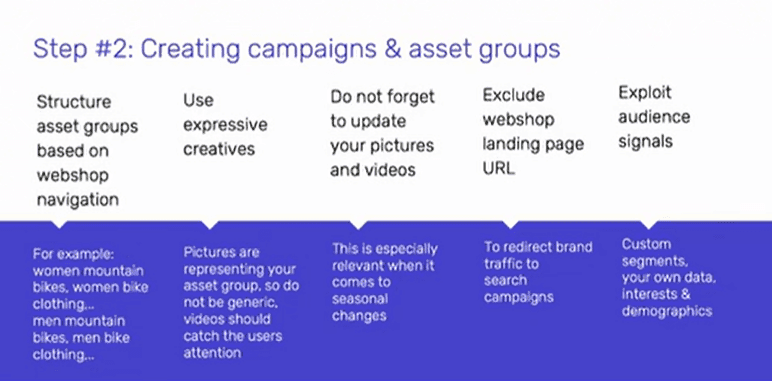 How to evaluate the performance of your Performance Max campaign?
Evaluating performance is one of the major concerns of Performance Max. You cannot have a view of all metrics as you could for a classic search or shopping campaign.
However, using Google Ads scripts will allow you to export the data to a spreadsheet and then build reports. You won't have the complete view but this will already let you know how your asset groups are performing, what is the asset group quality score and also what is the cost distribution between the different channels.
Ontvang onze inzichten rechtstreeks in je inbox
We duiken regelmatig in actuele onderwerpen op het gebied van digitale marketing en delen onze inzichten graag met jou.