The challenge
As a nonprofit organisation dependent on donations from both current and new donors,
UNICEF
has consistently managed a balance between recurring and one-time contributors, while also emphasising the need to instil confidence in their tangible actions.
In response to this, they introduced HappyPack several years ago. A HappyPack is a gift that you can purchase for a child in need. On the HappyPack website, you can choose to buy school bags, pencils, balls, and more, all of which UNICEF will distribute to children worldwide. HappyPacks play a crucial role in UNICEF's fundraising efforts.
The challenge arose from the fact that most Happypacks were being purchased by UNICEF's existing donors (both recurring and one-time), largely due to their previous emphasis on an email-based strategy targeting the donor database.
In order to grow this product and expand the donations, it became imperative for UNICEF to acquire new clients through HappyPack by leveraging a global digital approach.
Our solution
Digital strategy
Google Search Ads
Social Media Advertising
DOOH
1. Creating a global strategy & channel mix
Create campaigns organised in waves leading up to various seasonal events such as Black Friday, Christmas, Valentine's Day, Mother's Day, Ramadan, and more. Position HappyPack as an appealing alternative to traditional gifts, perfect for these specific celebrations.
Shift focus towards the upper funnel to reach a new audience, while keeping in mind UNICEF's target ROI (return on investment). Meta campaigns were initiated, employing a combination of top-of-funnel (TOF) and middle-of-funnel (MOF) strategies.
Maintain a presence in the lower funnel with an SEA campaign, utilising a Google Ads Grant account, allowing full media budget investment in other channels to engage new clients.
Continue to use email marketing to target the database of previous donors.
Paused or relaunched certain seasonal events from one year to another to understand the incrementality generated by the paid campaigns.
Add additional channels: test new channels in the upper funnel such as DOOH
2. Developing the audience approach
Prospecting: paid search campaigns targeting seasonal gift keywords and paid social campaigns on Meta based on interests that are relevant to the seasonal event of the wave. Use look-alike audiences of the existing donors and look-alike audiences of people that previously bought a HappyPack.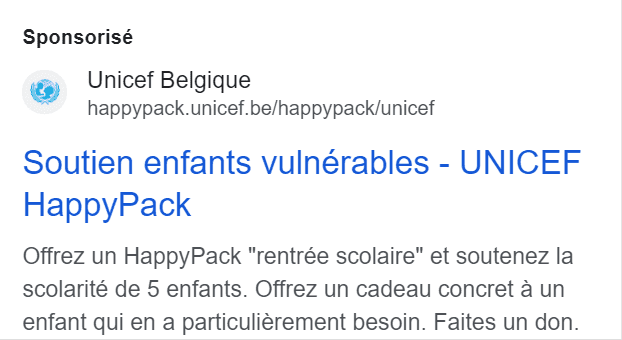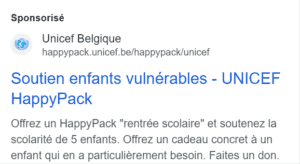 Retargeting: retarget existing clients, website visitors and any user that has interacted with our prospecting ads.
3. Testing new creatives
Make happyPack products match the seasonal events: For example, show bags and notebooks for back-to-school campaigns. Identify which products to use, thanks to back-end data and never take products that have the same price.
Prospection phase: focus the creatives and the ad copy on the seasonal event. Use in-feed Meta Image Ads and Meta Video Ads to create awareness around HappyPack and to show the seasonal product. Video Ads allow us to retarget people that have viewed a certain percentage of the Video Ad or that have interacted with it.
Retargeting phase: use a product-driven approach that directly shows the products.
4. Improving the customer experience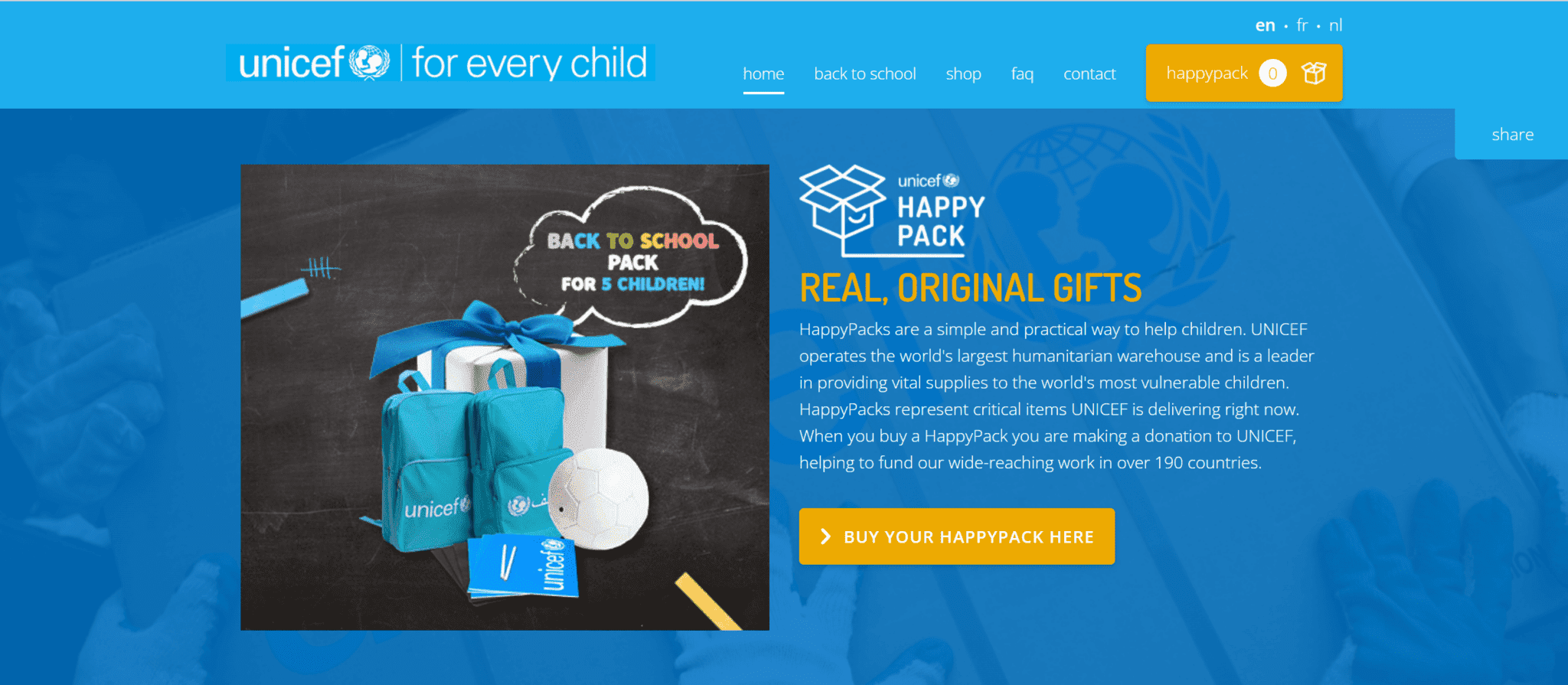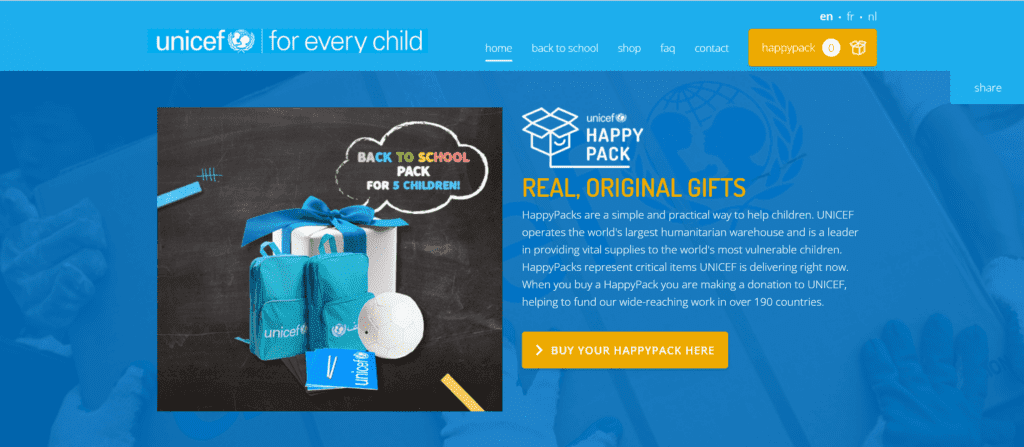 Refine website content: customise the homepage to align with the seasonal events highlighted in the campaigns, and establish a dedicated subcategory showcasing products relevant to each seasonal event.
Enhance purchasing efficiency: introduce bundled choices (pack) at different price levels to streamline the customer's buying journey, reducing the need for them to spend excessive time browsing individual products on the website.