The challenge
Zuny is VOO's enfant terrible. Their mission is to offer an unbeatable and 100% digital internet offer to a new connected generation that loves freedom, autonomy and zero constraints. Their ideal audience consists of people below 40 years old that are digitally active and looking for the best service at the best price.
After a successful reintroduction of the brand in 2021, Zuny collaborated with CLICKTRUST and LYKTA to continue to grow its brand in a very competitive market, dealing with seasonality.
The goal was to grow the number of sales by 25% while cutting the campaign budget in half. At the same time, we were dealing with the fact that cookies are dying and no longer allow us to have a global understanding of the impact of our investments, both online and offline. This forced us to look beyond the traditional attribution models to correlate sales to media investments.
Our solution
Global digital strategy
Dashboarding
Analytics
Marketing Mix Modeling
CRO
Google Ads
Programmatic
Social Media
SEO
Affiliation
DOOH
Marketing Mix Modelling
We developed a Marketing Mix Model together with LYKTA, which we combined with traditional attribution and micro conversions for cookieless media insights:
Attribution for a real-time view of how channels impact sales, which is flawed due to cookies
Micro conversions that allow us to have a real-time view of how channels impact upper-funnel actions
While Marketing Mix Modeling is traditionally a tool for offline media planning, this case shows that it can be very effective for online media as well. It required a long-term commitment in which we had to move from a flat, always-on approach to an approach that included different tests, variations on budgets, …
Concretely, we combined all the offline and online data to create statistical models that gave us a better view of the contribution of each channel to sales.
Creating statistical models per channel
We also generated statistical models per channel. Like this, we got a better understanding of the impact per channel, the incrementality, the cost per lead, the saturation and the maximum investment to use.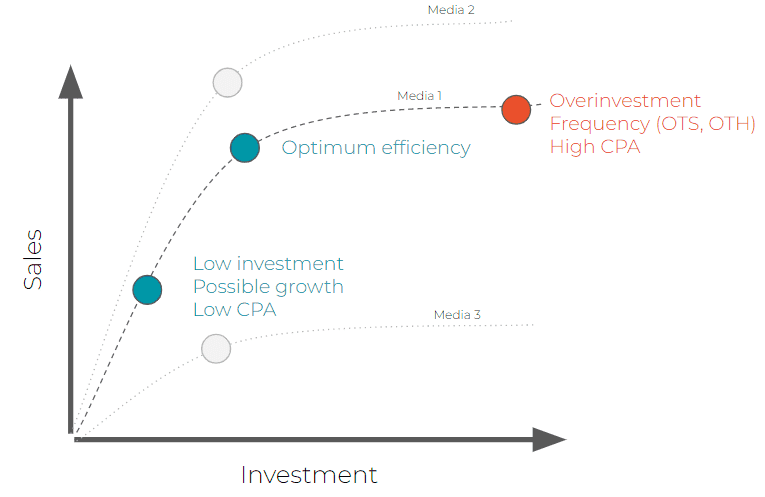 Based on these insights, we were able to:
Review the media plan
Define a specific budget split per channel
Pause certain channels (Google Display & Video 360)
Reactivate some channels
Test new channels, such as TikTok, Twitch, Spotify, RTL Play, Digital out of Home
Predict the number of sales
Identify the global max. cost per sale
Finally, LYKTA's statistical models gave us insights into TV performance, such as the number of waves necessary, the long-term effect of those waves and the incrementality.