After an undisputed reign for over 10 years, Universal Analytics is in its final months and will definitely shut down in July 2023. Who are the candidates to succeed? Google Analytics 4 seemed to be the designated heir, but is struggling to convince its subjects. The reason? The changes made to the interface and the new dimensions/metrics are causing a bit of confusion among Universal Analytics users.
But it is particularly the non-compliance with the GDPR regulation that could cost Google Analytics 4 a lot. Despite the addition of new privacy-focused features, GA4 is still in the sights of European regulators. What is the deal with Google Analytics and GDPR?  My colleague Bert developed the topic in a dedicated chapter at the bottom of this article.
In this double context, users' trust in Google Analytics is being undermined and we see new challengers emerge. In this article, we will briefly review 4 of them that seem very promising: Plausible Analytics, Heap Analytics, Piwik Pro and Matomo. We won't cover GA4 since it was the subject of 3 of our previous articles : Google Analytics 4 vs Universal Analytics, "Upgrading to Google Analytics 4" and "Google Analytics 4: One year later". What are the advantages and disadvantages of each of these tools and which one to adopt in 2023? This is what we will cover in this article.
Plausible Analytics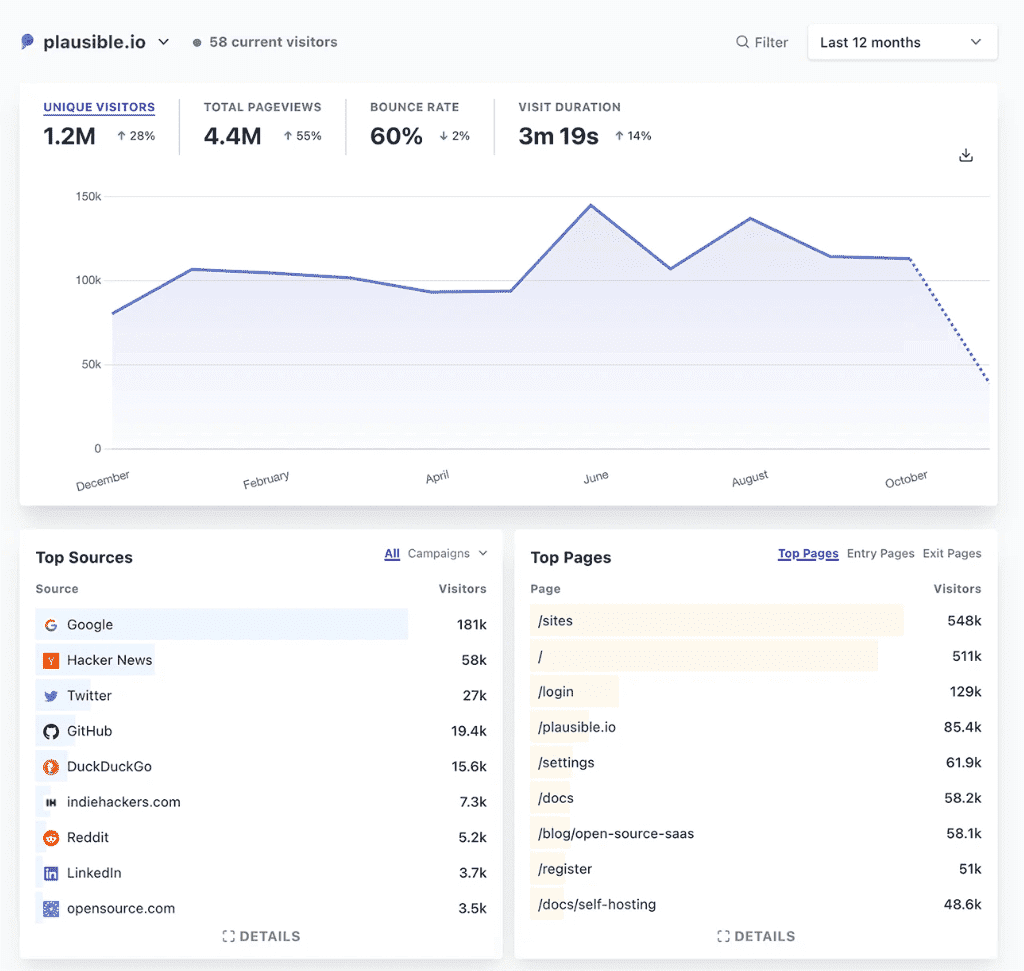 Plausible is an open-source website analytics platform, made and hosted in the EU. The good thing with Plausible is that its script weighs less than 1 KB, so tags are triggering fast which is an asset, especially if your website is already a bit slow.
Implementation
Plausible works by using a simple JavaScript snippet that is added to the website's code. In our case we implemented this script via Google Tag Manager and so were the different events. Implementing is, in the end, as easy as Google Analytics.
Features
In terms of functionality, Plausible offers all the basic features you would expect from a web analytics tool. It can track page views, unique visitors, referral sources, conversions and more. It also has a clean and user-friendly interface, making it easy to understand and interpret the data. Nevertheless, since there are no dedicated e-commerce events or reports, we wouldn't recommend Plausible for e-commerce.
Privacy
Plausible is fully GDPR-compliant as it does not use cookies or track personal data, and it only collects the minimum amount of data necessary to provide useful analytics. This makes it a good choice for websites that prioritize their visitors' privacy.
What we like about Plausible
As easy to implement as Google Analytics
Basics statistics are all there
Open-source and great community
Privacy-friendly and fully GDPR-compliant
Simple and clean reports
What we dislike about Plausible
Limited integrations with other tools
Affordable but not free (starting at €9 / month)
No dedicated e-commerce tagging
Heap Analytics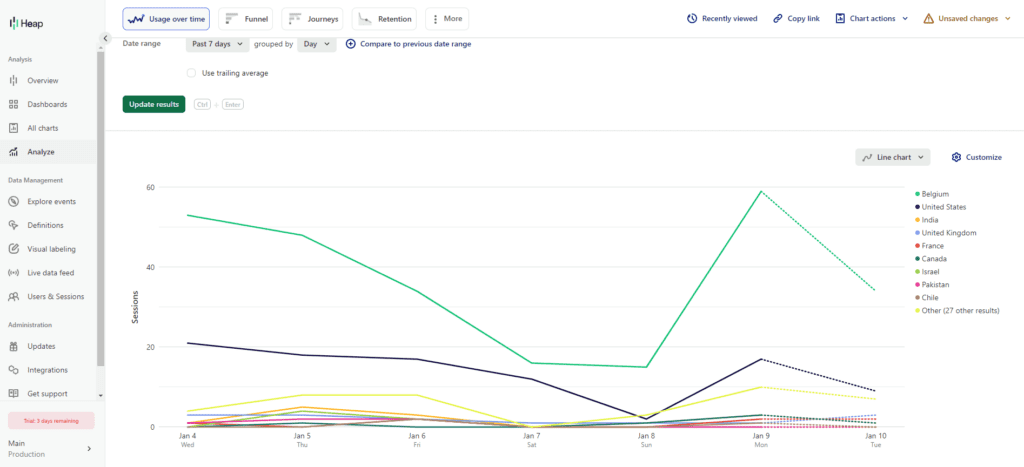 Heap Analytics is a tool that allows businesses to track and analyze user behavior on their websites and/or mobile apps. It provides valuable insights on the customer journey and how users interact with their products, enabling businesses to make data-driven decisions and optimize their user experience.
Implementation
As for Plausible and Google Analytics, to get started, you'll need to add Heap's JavaScript tracking code to your website. The tracking code is a small snippet of JavaScript that you can add to the head of your HTML pages.
Features
One of the best features of Heap is its automatic event tracking. This means that you don't have to manually set up tracking for specific events on your website. Instead, Heap automatically captures all events and allows you to analyze them later such as page views, clicks, form submissions… This is a huge time-saver and makes it easy to get insights into visitor behavior.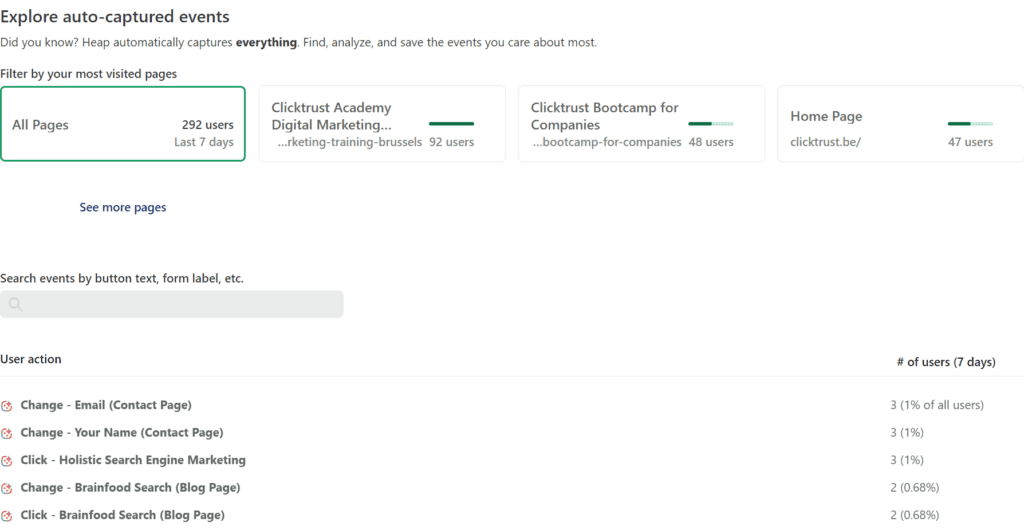 Events can also be easily customized to track specific actions that are important to your business. Thanks to their live-tagging tool, you can directly browse your website and manually tag the actions that matter, which is very handy and doesn't require a lot of technical skills.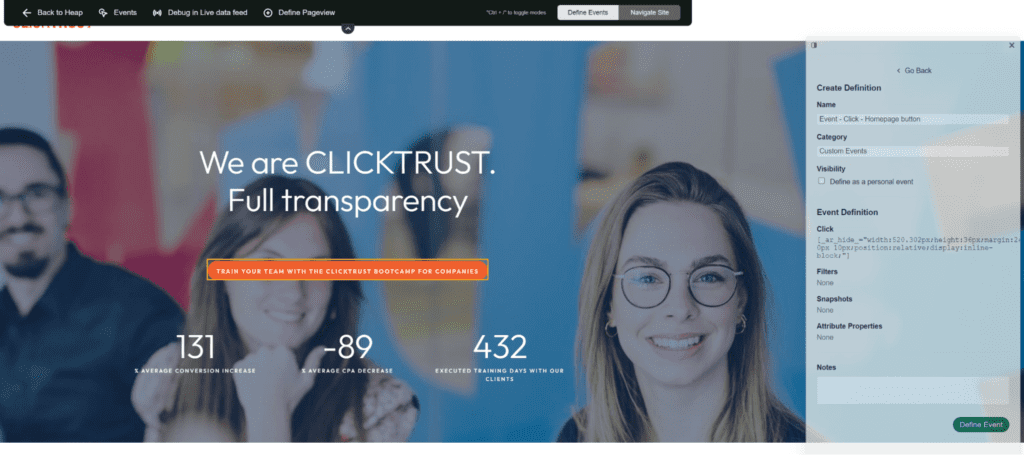 On the other hand, the potential downside of Heap Analytics is that it can be overwhelming for businesses with large amounts of data. The large volume of data collected by Heap Analytics can make it difficult for businesses to identify and prioritize the most important insights.
Another strong point of Heap is its integration with other tools. It can be easily integrated with a variety of tools such as e-commerce platforms, A/B testing, data warehouses… The list of integrations is quite exhaustive and can be found here.
Overall, Heap is a powerful and feature-rich analytics tool that is well worth considering for website owners who want a comprehensive view of their website's performance and visitor behavior. Its automatic event tracking and integration with other tools make it a convenient and efficient choice. However, the price may be a deterrent for some users.
What we like about Heap Analytics
Auto-captured events is very handy
Live tagging too
GDPR and CCPA compliant
Free version available (up to 10.000 sessions/month)
Large range of integrations
Great view of the customer journey
What we dislike about Heap Analytics
Interpreting the data can be complicated considering the amount of data
Affordable but not free
No pre-built dashboards
Piwik Pro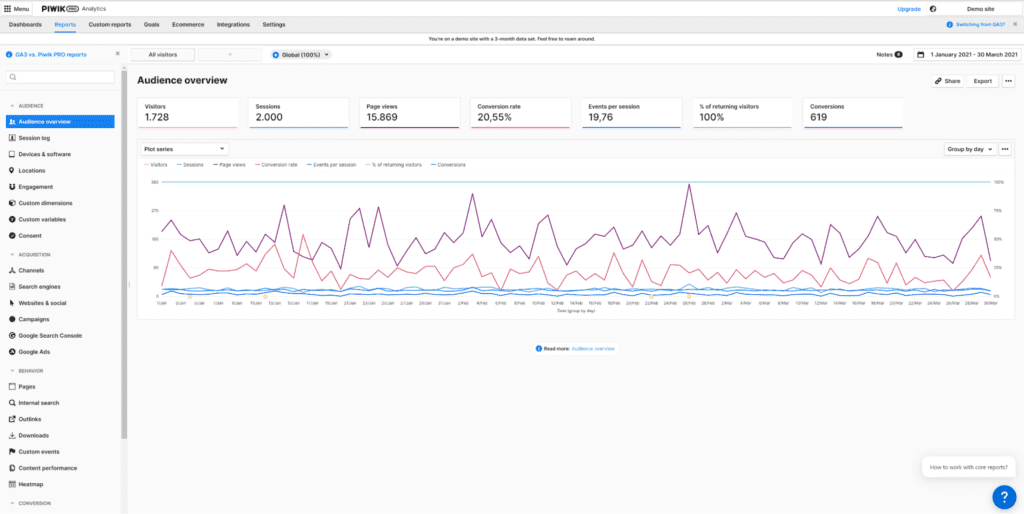 Those who are familiar with Google Universal Analytics will have an easy time in the Piwik Pro interface. There is roughly the same menu structure (Audience, Acquisition, Behavior, Conversions) as in Google Analytics, as well as very similar reports, with the added bonus of a section dedicated to video analysis.
Features
In terms of features, Piwik Pro is very complete, as it has its own tag management system, consent manager and even a Customer Data Platform. On its own, Piwik Pro is capable of replacing the entire Google Suite. Piwik Pro is not only a web analytics tool, but a complete package that covers almost all digital analytics needs.
Privacy
One of the standout features of Piwik Pro is its commitment to privacy. While European privacy regulators are cracking down on US-based analytics tools, Piwik on the other hand, is completely in the clear and fully GDPR-compliant.
One potential downside of Piwik Pro is its price. It is more expensive than some other analytics tools on the market, which may not make it the best choice for small businesses or websites with a limited budget.
Overall, Piwik Pro is a solid web analytics tool that offers a range of features and a commitment to privacy. It is a good choice for website owners who want a comprehensive view of their website's performance and who value their visitors' privacy.
What we like about Piwik Pro
Complete analytics solution including tag management, cookie management, Customer Data Platform, heatmaps.
GDPR and CCPA compliant
Free version available
Direct integrations with Google Ads and Search Console
What we dislike about Piwik Pro
Pricing is hard to evaluate at first glance.
Dedicated data layers are required for e-commerce implementation
Matomo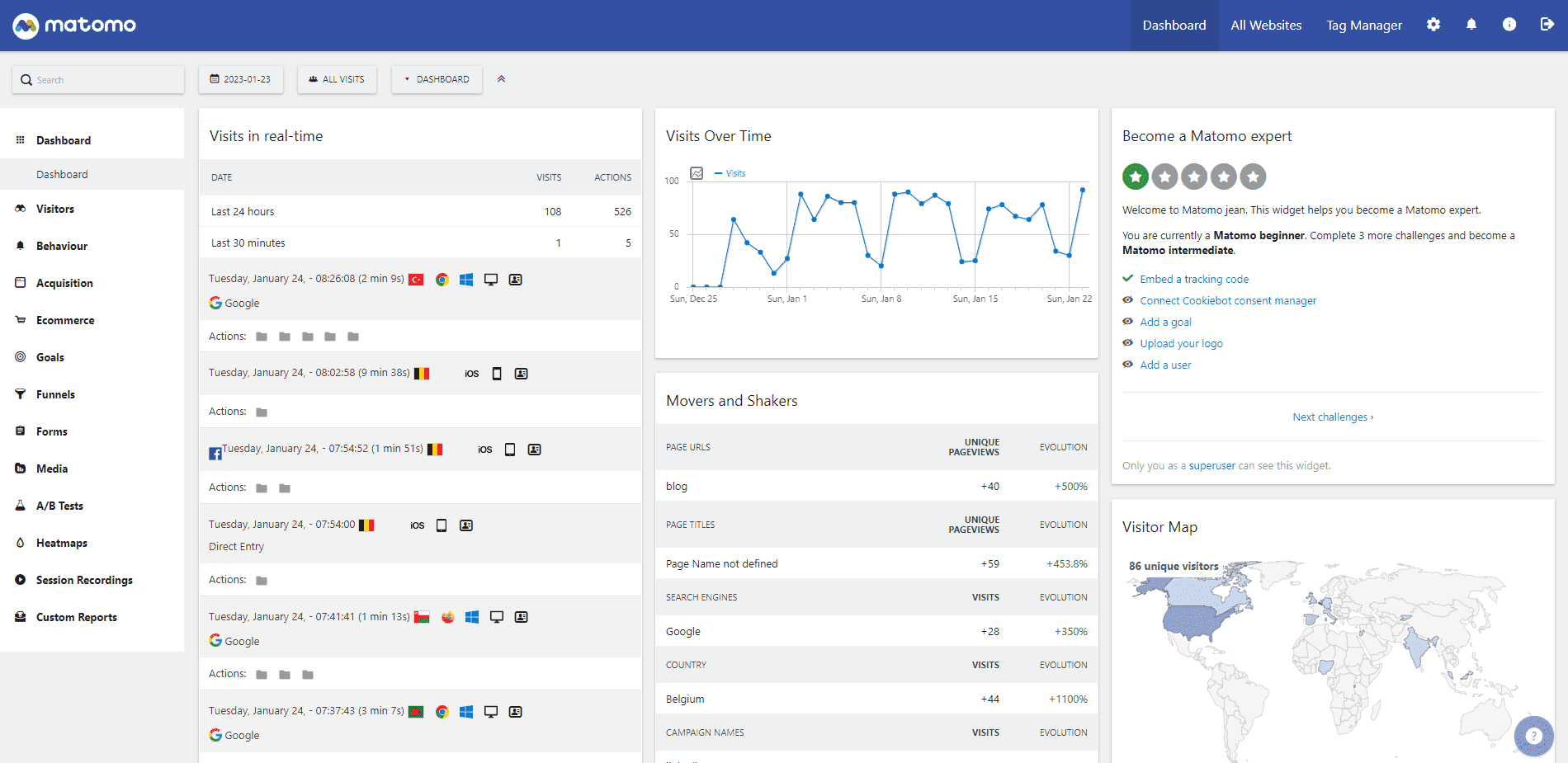 The link between Matomo and Piwik Pro is very tight since both tools originate from the same open-source project: Piwik founded in 2007. But since 2016, Matomo and Piwik PRO have been operating as separate business entities and maintained a different product vision and positioning. While the core functionality of both Matomo and Piwik Pro is similar, there are some key differences between the two.
One of the main differences between Matomo and Piwik Pro is that Matomo has remained open-source, meaning that users can access and modify the source code as they wish.
Privacy
Another key difference is that Matomo is a self-hosted solution. Your Matomo Analytics data is 100% yours to own, with no external parties looking in. Matomo is therefore fully GDPR compliant. Unlike Google Analytics which uses your data to serve its advertising platform, Matomo users can safely use analytics without worrying about data being used for marketing or any other purposes.
Features
In terms of features, Matomo has roughly the same reports and tools as Google Analytics and Piwik Pro. Matomo has its own Tag Manager, its own Heatmap but unlike Piwik Pro, Matomo does not have a CMS (Cookie Management System).
In any case, Matomo also allows to completely get rid of Google suite with the added advantage of being able to import historical data from Google Analytics. Which Piwik Pro doesn't offer.
What we like about Matomo
100% data ownership
Open-source and complete documentation
User-friendly menu and exhaustive list of native reports
GDPR and CCPA compliant
Free version and trial available
Direct integrations with Google Ads and Search Console
Possible to import Google Analytics historical data
What we dislike about Matomo
Self-hosted, so users will need to have the technical know-how to set up and maintain the platform
No native integration of Campaign Manager or DV360
No cookie management tool
Dedicated data layers are required for e-commerce implementation
Our pick: Piwik Pro
Plausible and Heap Analytics each have their own advantages and will satisfy most users who want to have a view on the performance of their website. However, Piwik Pro's services are nevertheless much more exhaustive and are suitable for all digital businesses.
Additionally, Piwik Pro has the undeniable advantage of being able to entirely replace the Google Analytics suite without disrupting Universal Analytics users, as the natively available reports are very similar. As an agency, we can only recommend the adoption of Piwik Pro Analytics in 2023 to all Universal Analytics users who have not yet made their transition. Their offer is complete, high-performing, and fully compliant with GDPR regulations.
Bonus: What is the deal with Google Analytics and GDPR?
In July 2020, the Privacy Shield legal framework that allowed for data transfers of EU-citizens' personal data to the US was invalidated by the Schrems II ruling. Like a lot of other marketing tools, Google Analytics stores data on servers in the US. Under GDPR, the definition of personal data is quite broad, it's "all data related to identifiable individuals". This includes numerical data that would allow for the identification of an individual when combined with other data sets. In the case of Google Analytics, numerical personal data in the form of IP addresses, session IDs, user IDs and client IDs are being stored on US servers. Google can combine this data with other data sets and identify individuals, as they have some of the best data engineers in the world and tons of other massive data sets available to them. Think for example of things like time stamps from clicks in the search engine, or location data from Android. So, in our opinion, privacy regulators are right to consider Google Analytics as not lawful under GDPR.
To make Google Analytics GDPR-compliant, Google could offer options to store data on-premise or on a private cloud, just like some of their competitors do. But they don't, not even in the Google Marketing Platform. Sure, there is the "anonymize IP" option, but IP addresses are only part of the problem. In Google Analytics 4, Google also says to drop the IP address at the first point of reception, which would be the St. Ghislain data centre for Belgium, so it never gets transferred to the US. But given the fact that Google has been fined several times already for GDPR violations, we just can't take their word for it
There is a sparkle of hope though for Google Analytics. In 2023, we should see a new legal framework for EU-US data transfers. The new version of the Privacy Shield will be called The Framework, and the European Commission is currently in the process of making an adequacy decision and has already published a draft decision. This might seem like good news, but we're quite sceptical and can already see a Schrems III ruling on the horizon that would also invalidate this new framework. After all, the US Congress isn't in the process of changing any of the legislation that is at the core of the problem, like changes to the Cloud Act or Patriot act. Max Schrems has already published a statement stating exactly that, and we would honestly never bet against him, as he has very recently also won his case against Meta for personalized ads.
Ontvang onze inzichten rechtstreeks in je inbox
We duiken regelmatig in actuele onderwerpen op het gebied van digitale marketing en delen onze inzichten graag met jou.