In 2021, Google Chrome was still the most used browser by far. As a digital marketer, Google Chrome has a wide range of tools, plugins, and extensions designed to make your life easier.  Today, we are going to cover our top easy-to-use chrome extensions that can help you save time and increase your efficiency. We have split up all mentioned extensions in SEO, Analytics, e-mail marketing, and other browser extensions.
SEO browser extensions
SEO Peek
SEO Peek allows you to take a quick look at the on-page SEO factors of any page on your or your competitor's website. A good thing to mention is that you don't necessarily need to be familiar with HTML source code to make it work.
The extension gives you a lot of information such as headings, meta tags,  canonical tags, hreflang tags, … in one simple overview. This browser extension is definitely a good pick for anyone working in SEO.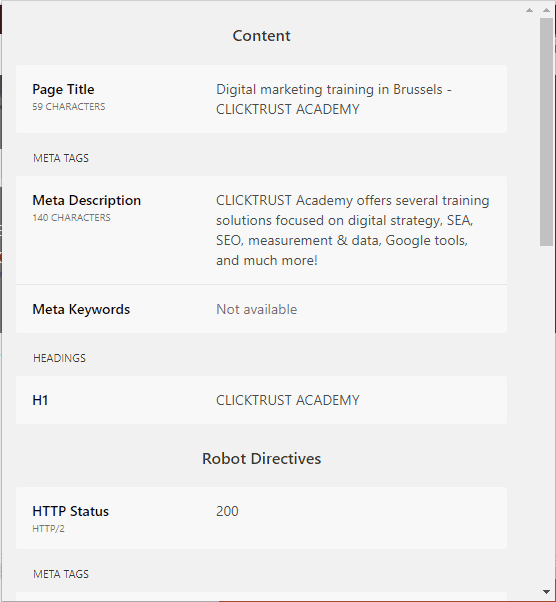 META SEO inspector
META SEO inspector is a similar extension that allows you to quickly check the metadata on a specific page without opening the source code. This is a great ally for anyone that plans to evaluate metadata & HTML tags on any page of their website.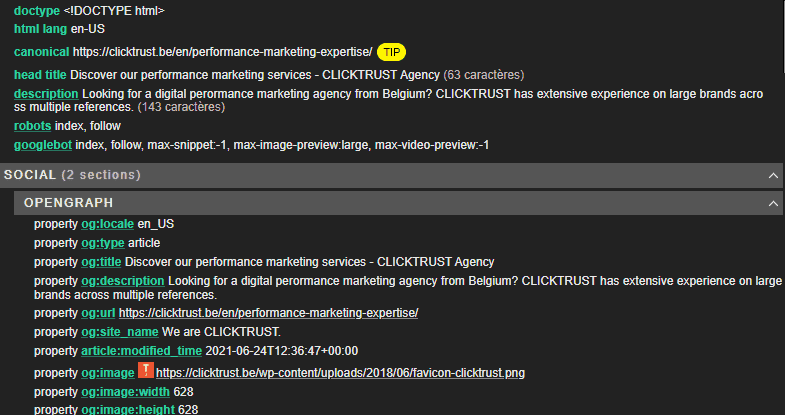 All the metadata information, such as the length of the title or meta descriptions, is displayed on a dashboard that you can access by simply clicking on the chrome extension icon. It also gives you information on robot directives, such as canonicals and meta robots tags.
On top of that, META SEO Inspector shows you some data that SEOPeek doesn't. For example, it gives you an overview of the heading structure, the links and anchor texts used on the page, information on the images used, …

SEO Quake
SEO Quake displays various SEO ranking factors for any webpage. It can highlight a lot of information such as nofollow links and text density on a page. You can also compare a website to another based on the URL. This plugin also provides other useful tools including an SEO audit or social metrics.
SEO bar: You can enable this feature in the settings to give you specific parameters for any landing page you navigate to. If for some reason, you realize that your competitor recently uploaded a brand new landing page, just use the SEO bar. It will give you great insights. It is a fast and easy way to deep dive into it.

Panel: The SEO bar isn't necessarily convenient for everyone or it can simply not be what you are looking for. By clicking the SEO Quake icon, you will notice that a popup appears in your browser also providing a lot of relevant information. This information is broken down into different parameters: Alexa rank, Google index, Bing index, SEMrush ad rank & link domain.
The parameters are split up into subsections.
1. Page: specific parameters to the given landing page
2. Domain: the same parameters but specific to the domain rather than the page.
3. Backlinks: this section includes information about both the landing page and domain.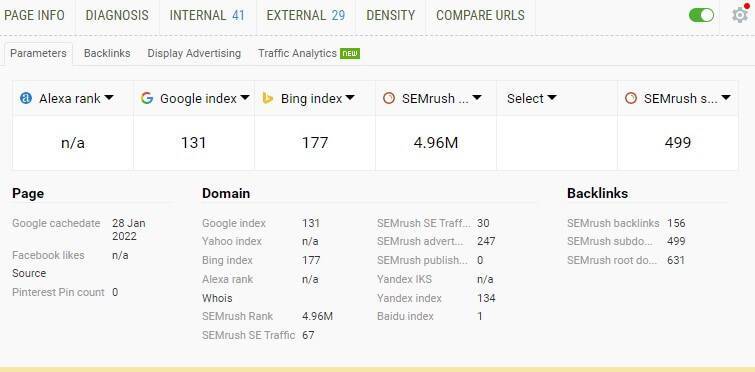 SEO Quake has endless functionalities such as SERP overlay, page SEO audits, KW density, internal & external links, SEMrush integrations  & much more.
Ubersuggest
Ubersuggest is the perfect match if you are looking for a joker when performing keyword research. This extension can be customized depending on your location/language and provides you with the search volume associated with any search query, such as the CPC, estimated traffic & competition data.
In addition to that, this extension contains information on backlinks and has several other interesting features such as graphs & trends. They break down the monthly search volume on desktop & mobile devices.
The extension can give you not only works Google but also on other sites such as Youtube, Amazon & more. Once the extension is installed, you just need to go to one of these sites and enter a query in the search bar. At this point, you'll see the data around the search terms as shown in the example below.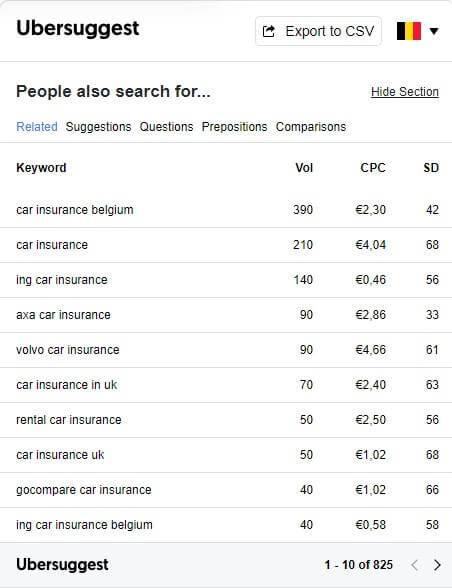 If you need more details, you can click on 'view all' to access even more search queries & SEO insights.
Trends Everywhere
The extension Trends Everywhere is probably the easiest way to track search trends for data-driven marketers. The extension displays a trends chart for every search you make on the web. Using this, you can easily keep track of market trends and be aware of potential new opportunities.
If keeping an eye on current internet trends is important in your daily job, we definitely suggest you install this extension.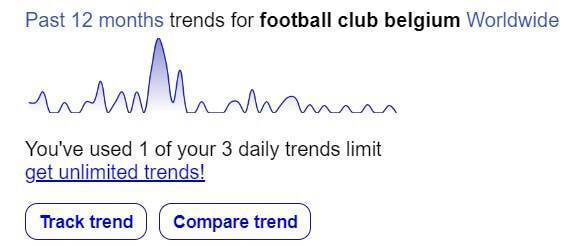 Mozbar
Mozbar is a browser extension that shows you all the main SEO metrics such as page authority, domain authority, spam score, and much more for any given domain or SERP.  You can access all these metrics and information while viewing any page or SERP.
Using Mozbar, you can also create custom SEO searches based on the search engine, the city, the country… and test the difficulty in ranking for a specific keyword.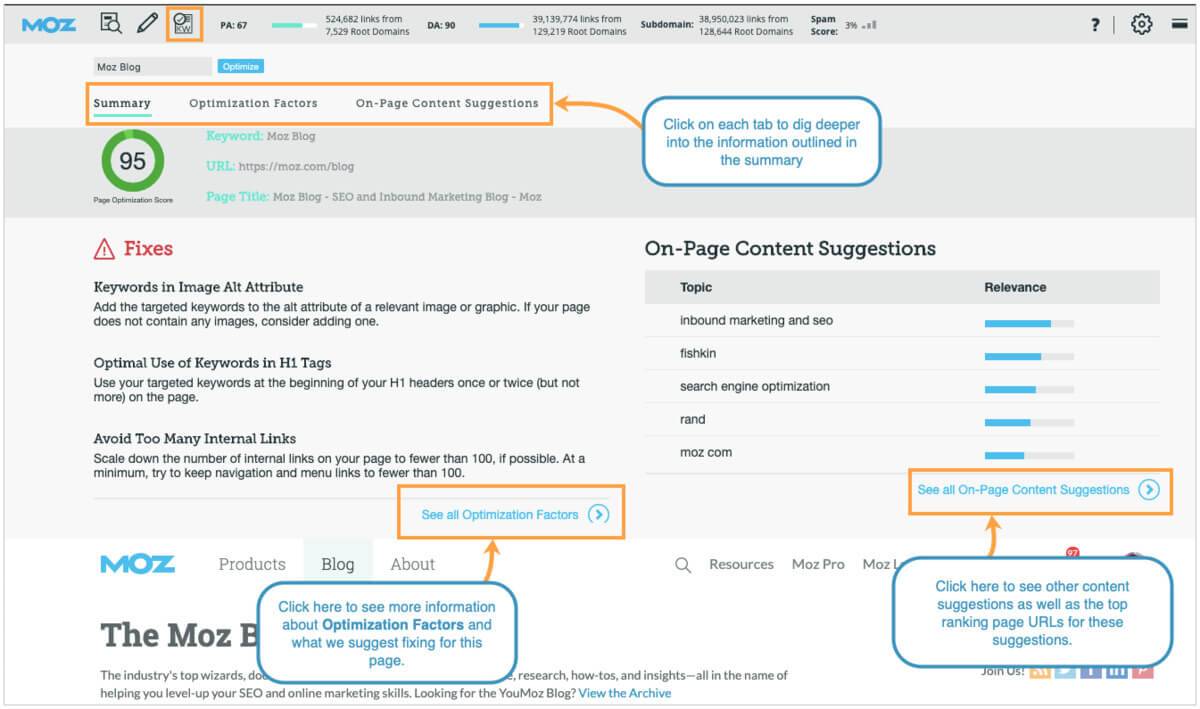 SeeRobots
SeeRobots conveniently displays the meta robots information of the website you are viewing. Depending on this information, the colors in the browser bar will change.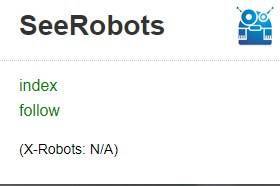 1. If it turns out to be green, this means that the page has  'index, follow' as robots attributes. This is the case in the example above.
2. If the fields are all red, this means that the page you are browsing has 'noindex, nofollow' as robots attributes.
3. If the SeeRobots field is green on the left and red on the right it means that this page has "index, nofollow" as robots attributes.
4. If the SeeRobots field is red on the left and green on the right it means that this page has "noindex, follow" as robots attributes.
Headline Studio
As the name suggests, Headline Studio uses extensive data to analyze your blog headlines and suggest better words and phrases to improve your SEO. It does not matter what platform you utilize, from WordPress to Wix, Headline Studio has you covered.
By clicking on the Headline Studio button on any website, the extension will automatically open up and allow you to write and analyze your headlines side by side. As you can see below, Headline Studio provides an easy-to-understand overview of your headlines and provides some data-backed suggestions to optimize your score.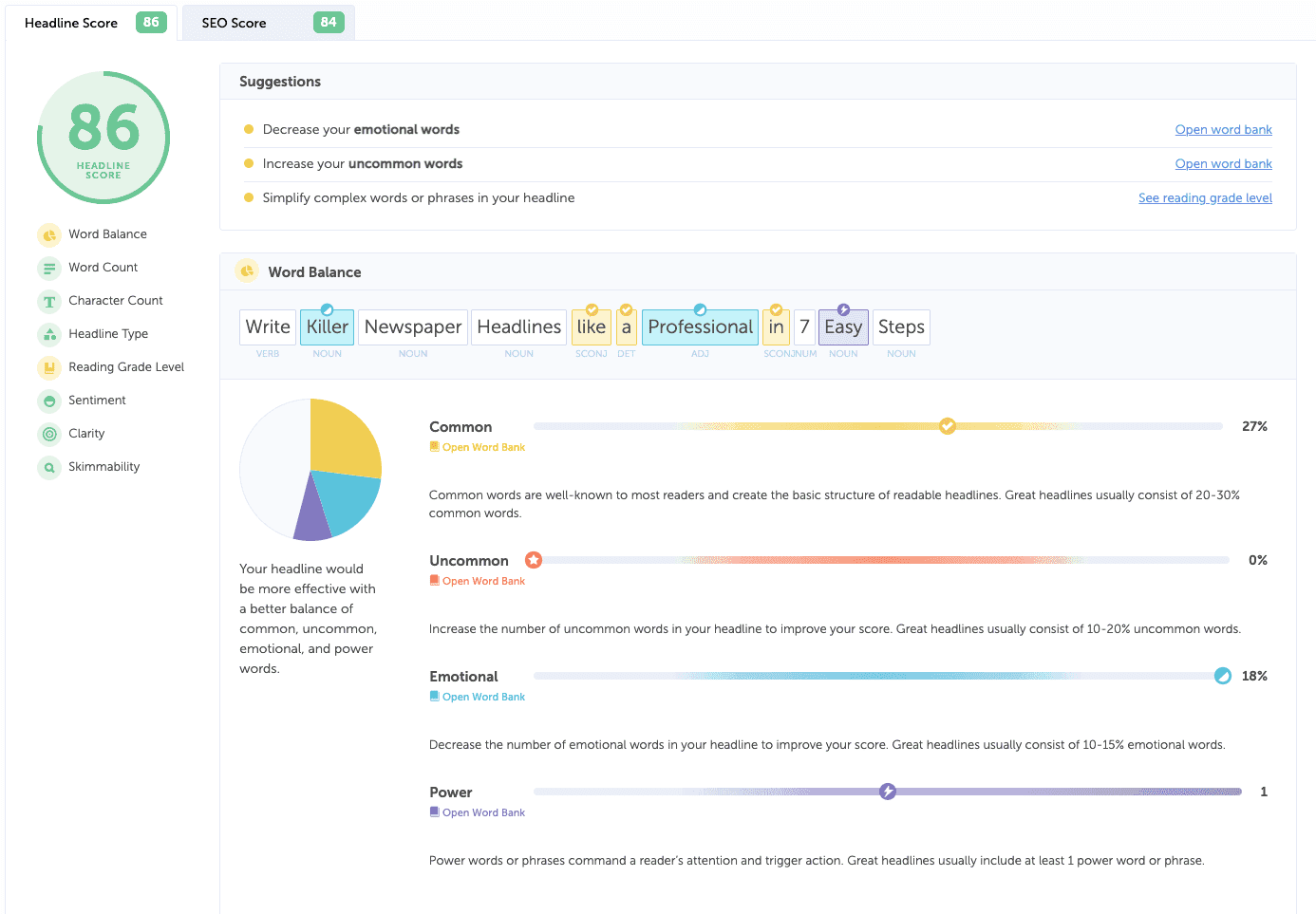 Keywords Everywhere
Keywords Everywhere is a free Chrome extension designed to help you with keyword research. It gives you important metrics such as average search volume, estimated CPC & competition data. It also shows you the keywords that a web page or domain ranks for in the SERPs.
As most of us have probably struggled with keyword research at some point, Keywords Everywhere proves to be a great tool to easily find new keywords. You only need to type your seed keyword in the Google search bar and it will automatically display a list on the right-hand side of the page of the long-tail keywords, their trends, and the related keywords as shown in the image below.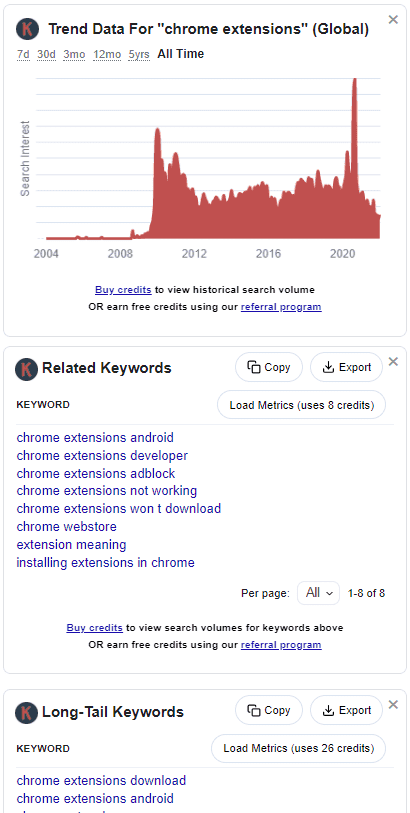 Redirect Path
Redirect Path is a free tool that can be used to check the individual redirect path of a specific URL. As the name of the tool suggests, it will flag 301, 302, 404 and 500 HTTP status codes.
Not only redirects, but you can also see other information in the HTTP headers like cookie data or server details. This can be really helpful if you are looking to fix performance issues such as page load time.
This is a great tool when working on a website migration project or technical SEO audit.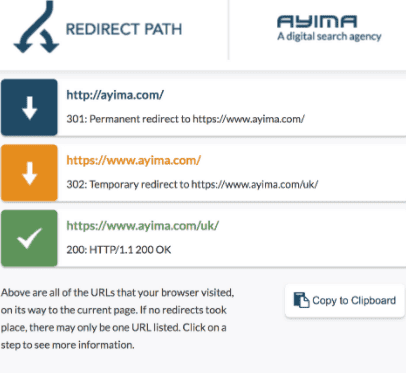 Check My Links
Check My Links is the perfect tool for link builders and content editors. With just one click, you can instantly see all the links to a specific web page and see how many of these are broken or redirected.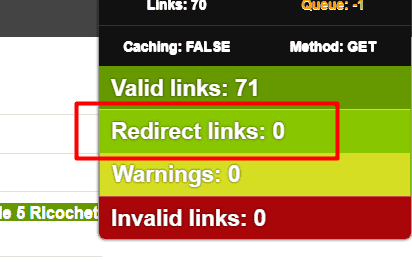 Ryte Structured Data Helper
The Ryte Structured Date Helper is a plugin that lets you validate your page's schema markup in a quick and efficient way. It highlights syntax errors, missing required properties, and displays all nested data in one location, so that you never need to leave the page.
Structured Data is a good way to feed explicit contextual information to Search Engines. Its presence not only allows you to be eligible for Rich Results that stand out in SERPs and aim to drive numerous and higher quality clicks, but it also gives us the tools to demonstrate meaningful connections within the content & the data.
How to use the Ryte Structured Data Helper:
Install the plugin on your browser
Visit any landing  you want to check
Open the extension
All item types are highlighted and labeled in blue
Expand an item type to view all nested types and properties
Errors are flagged in red when a required property is missing
Warnings are flagged in orange when a recommended property is missing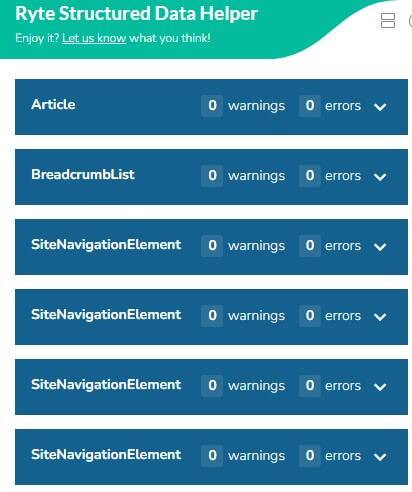 Security-Header-Extension
As the name of this extension suggests, Security-Header-Extension is built to check the presence & accuracy of security headers.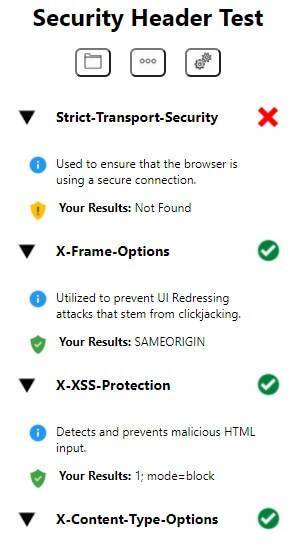 Browser extensions for analytics & tagging
Google Tag Assistant
Let's start with the basics. Google Tag Assistant is a free browser extension that lets you troubleshoot your tracking issues in real-time and helps you ensure that all the tags in your GTM container are working properly. Using this extension, you can modify your tags and directly check if they are firing as expected.
You can crawl any page of your website and Tag Assistant will inform you of all the tags that are on the page. You'll get a report of any error found and also suggestions to improve your tracking.
Using Google Tag Assistant, you can directly see whether your GTM tag is properly implemented and whether Google Analytics & Google Optimize are accurately linked to your website. Below you can find an example: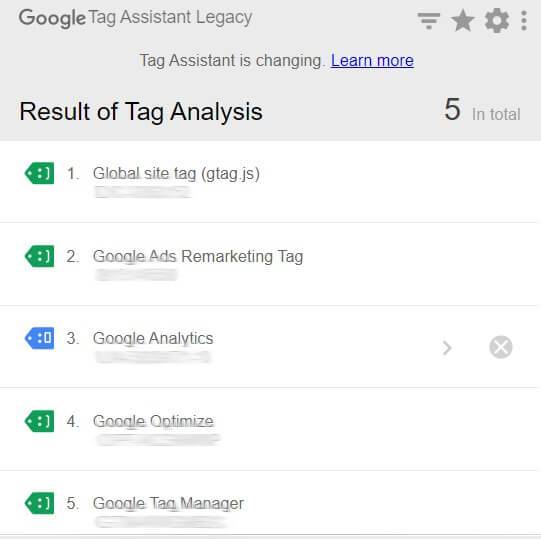 There is also a very complete tutorial on Google Tag Assistant best practices that will help you go further if needed.
Google Optimize
Google Optimize is a free website that helps you increase your conversion rate by testing different combinations of content for your website. Thanks to this extension, you can customize your website (for different types of visitors) without the need to go through the development team.
With this tool, you can test or adapt any element that exists as HTML code (or Javascript) on a specific page of your website including CTA, fonts, headlines, copies, forms, and more.  It allows you to do some A/B testing and test different variations of web pages and see how they perform against a specific objective. It can be used at different stages of your conversion funnel.
This extension works alongside Google Analytics. Using this, you can easily make changes to your website without direct access to the website builder.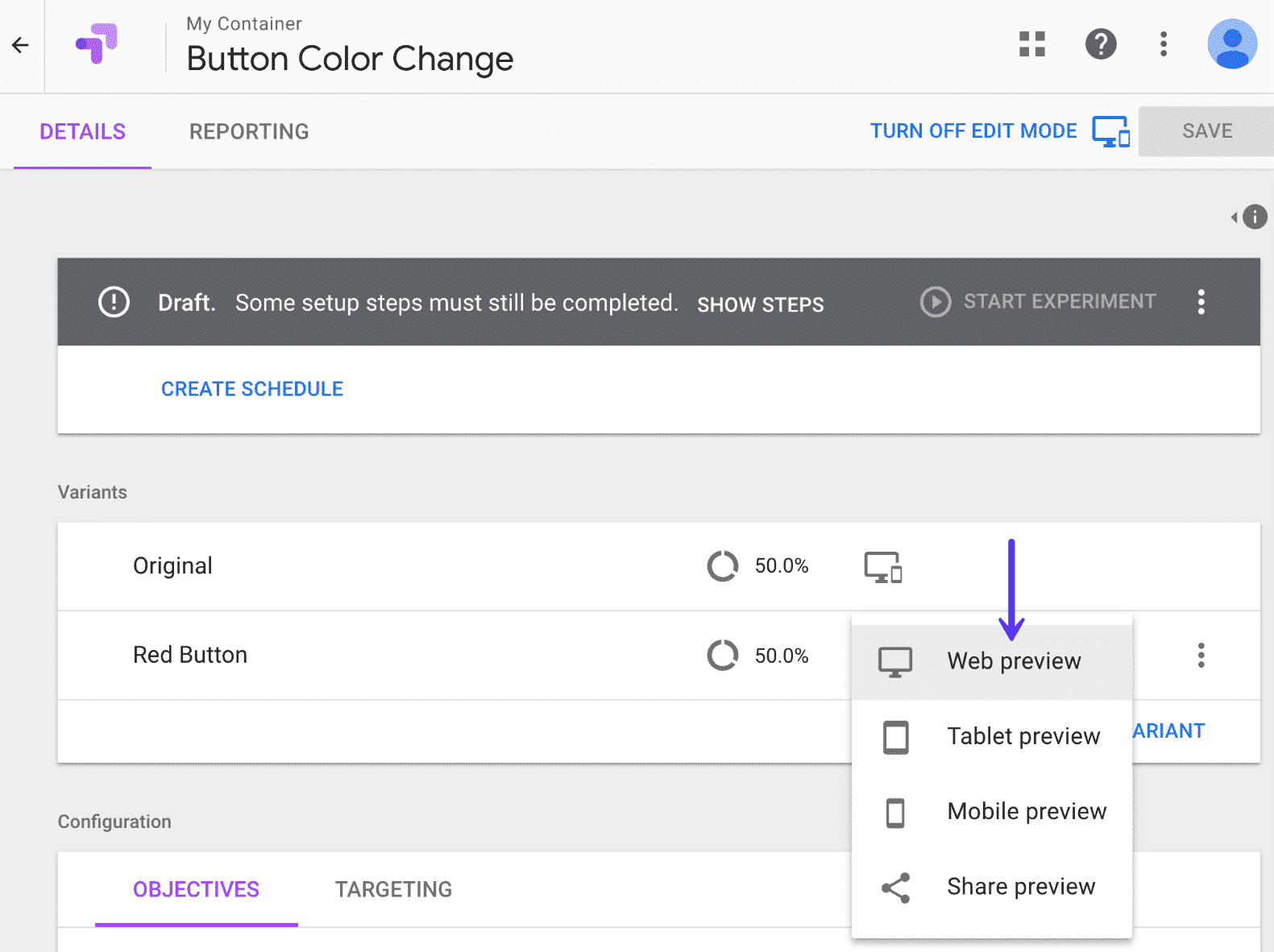 Facebook Pixel Helper
Facebook Pixel Helper is a troubleshooting tool that helps you find out if your Pixel is working correctly or not. Once you have installed this extension, you can see if the pixel is properly implemented on a website, check for eventual errors, and see the events for which your pixel is firing.
The Pixel Helper works in the background to provide real-time feedback on the implementation. By clicking on the icon, you'll access a panel that shows you a detailed overview of the pixel including warnings and errors.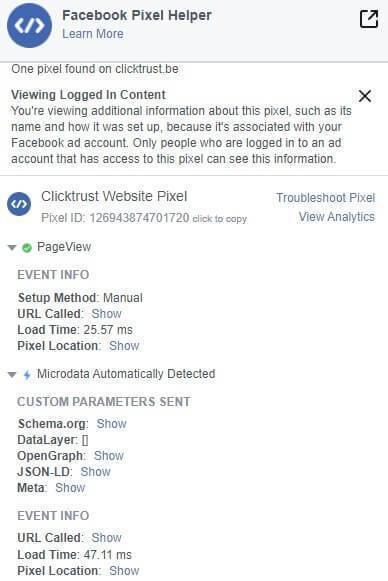 Datalayer Checker
Using Datalayer Checker is the easiest way to debug and check the data layer implementations without having to use the browser console.
This extension is super useful for e-commerce websites as it can give you a clear view of your e-commerce flow and all the data related. You can define clear KPIs like add to carts, checkouts and then verify all the data such as product name, quantity, price… are matching correctly.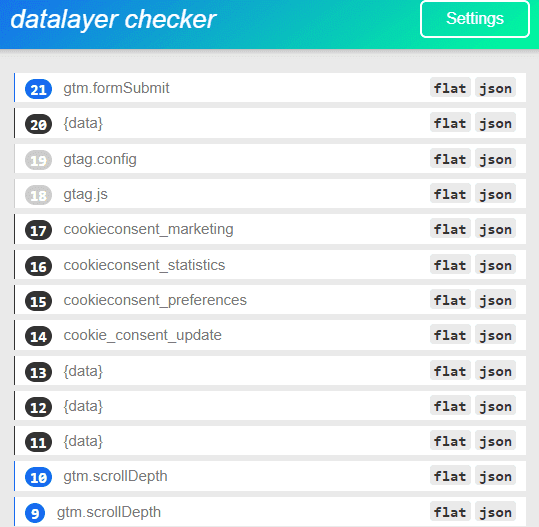 ObservePoint Tag Debugger
ObservePoint Tag Debugger is a free chrome extension for troubleshooting analytics and marketing tags such as variables or on-click events on your website.
By using this, you ensure the data you are collecting is accurate so you can make more informed decisions.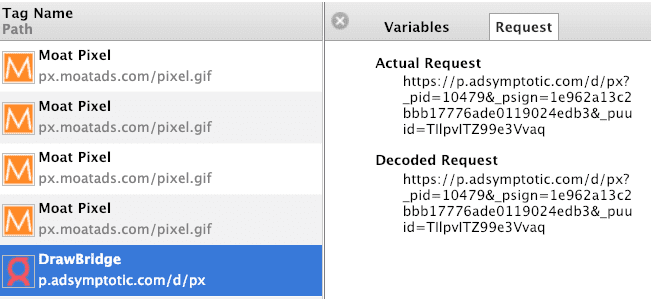 CSS Selector Capture Pro
CSS selector makes finding the right CSS selector on a web page much quicker and easier than digging through the HTML. With this tool, you can find the unique CSS selector for a specific item on the website. This unique CSS selector can then be used in Google Tag Manager to fire tags or grab data that is on the page.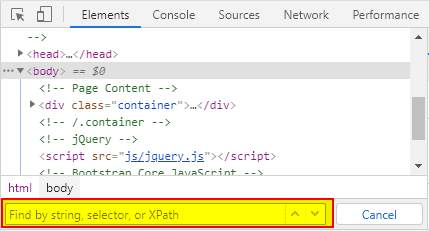 ChroPath
ChroPath generates and validates CSS selectors with a single click. It allows you to verify all xpaths in a single shot. It is very useful for tracking CSS actions in GTM as well as editing, extracting, and evaluating Xpath queries on a webpage. This extension is available on several browsers such as Chrome, Firefox, Edge, and Opera. To launch the ChroPath extension into Chrome, right-click on the page and select "Inspect". Once the Developer options appear on the right side of your screen (as shown below) simply click on the ChroPath button

Using your mouse, you can now select any UI element on the page and the XPath Expressions and CSS Selectors locators will auto-generate.
EditThisCookie
EditThisCookie is an open-source multilingual cookie editor extension that can be used in both Chrome and Opera. This extension allows you to make any cookie-related changes, including adding, editing, searching, protecting, and blocking your cookies. It is a very straightforward and simple-to-use extension. If you wish to edit a cookie you simply need to click on the edit button as shown below.
Once you click on the "edit this cookie" button, you will see a similar table as shown below. In the table, you can see the cookies stored within your browser in the current tab. All you need to do is select the cookie you wish to edit and change the values.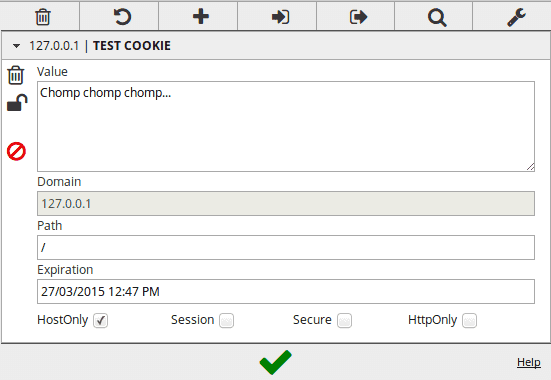 GTM Sonar
GTM Sonar is a Chrome extension that can be used to debug your page with GTM auto-event listeners. GTM Sonar allows you to test the performance of different elements with the three GTM listeners shown below without actually having to set up a real GTM listener. It is extremely useful for debugging, as it is possible to easily test your markup before even preparing listener tags in GTM. This feature comes really handy when you do not have access to the container.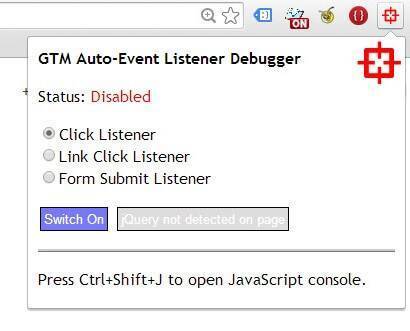 Omnibug
Omnibug is a browser extension used to decode and display outgoing digital marketing tool requests. Omnibug was designed to ease developing and simplifying the QA requests. It is capable of recognizing most Analytics and UX testing platforms and is constantly adding new ones. Omnibug displays the decoded URL in the DevTools panel whenever it matches an outgoing request with a pattern and shows the details of the request.
This extension, like most, is rather simple to use. Once you have installed it, simply access your Dev Tools by inspecting a page. In the image below, we have navigated to the official Omnipage where you can see the outgoing requests of Google Analytics and Microsoft Clarity.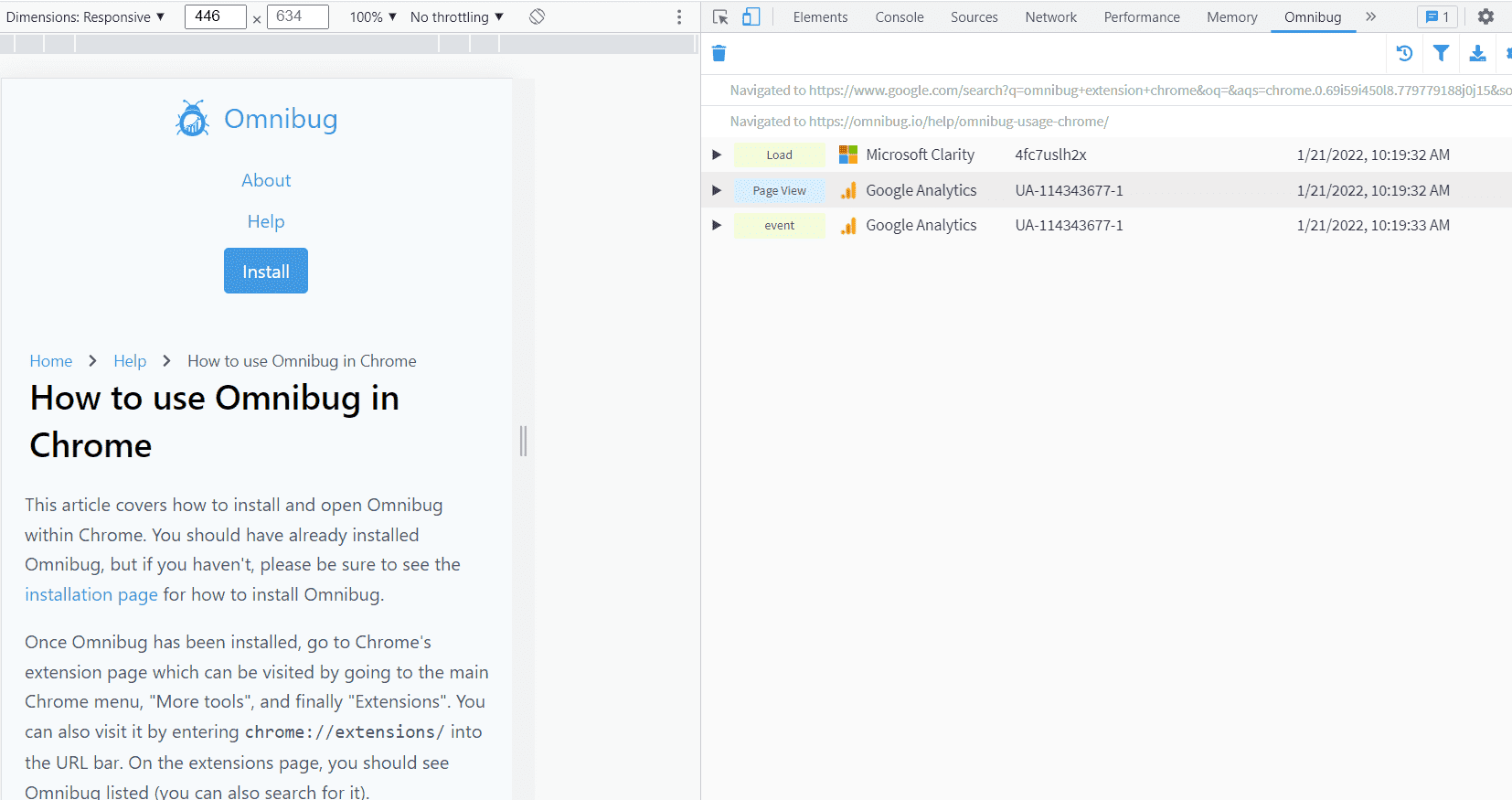 As shown below, after clicking on the specific request, Omnibug will display the details.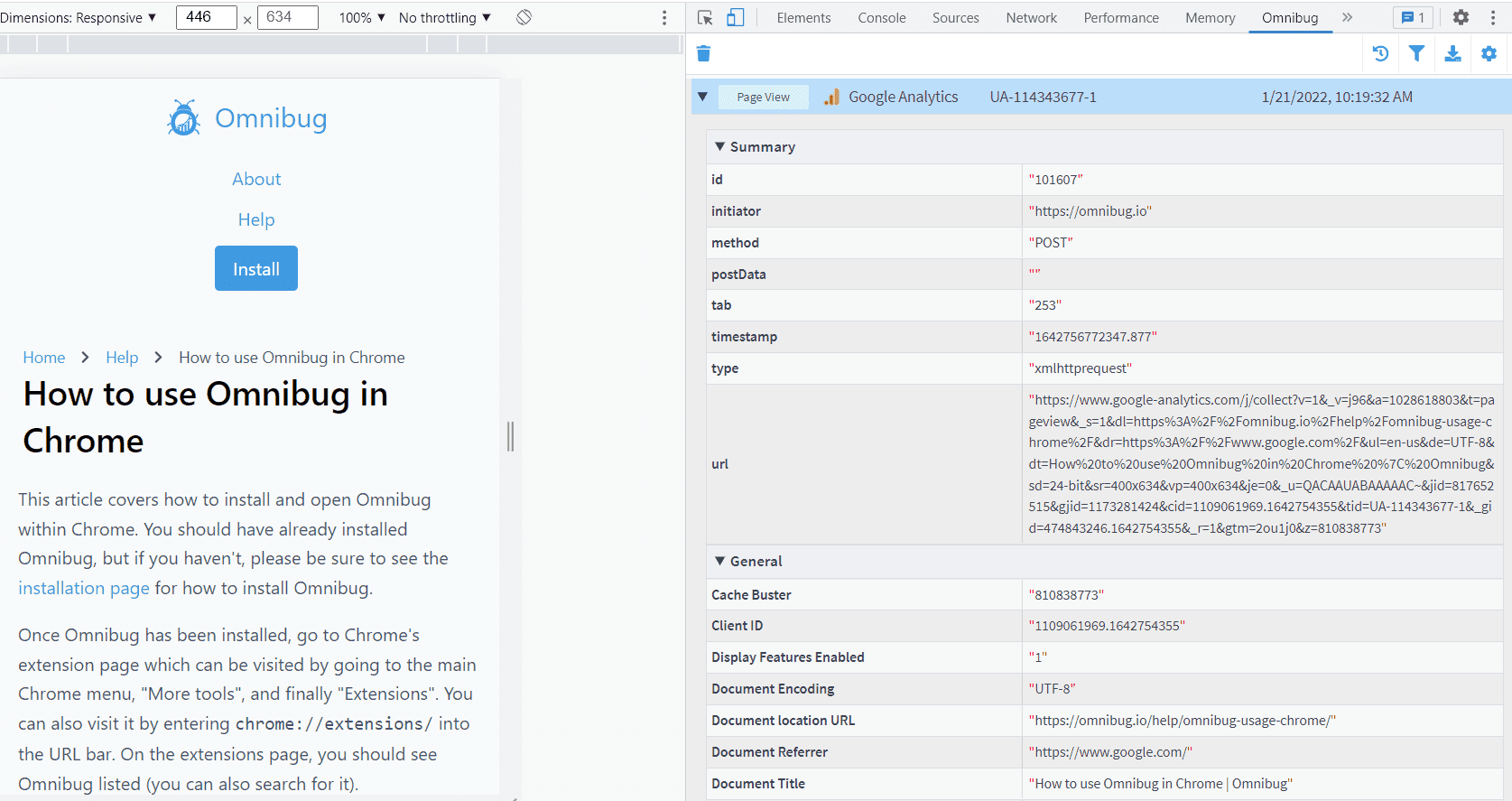 Davinci Tools
Davinci Tools is a Supermetrics Google Marketing Platform that provides useful enhancements to Google Analytics, Google Tag Manager, Google Ads, and Data Studio. For Google Analytics, for instance, among its numerous features, it creates a table heatmaps, highlights high/low points in an overview graph, pins a default segment instead of "All Users", remembers the last report you were on, etc.
When it comes to GTM, Davinci allows you to create a new Tag/Trigger/Variable from the Overview panel, easily turn off the specified container, pause/Unpause tags directly from the Tags tab, and much more.
Browser extensions for email marketing
Hunter
Hunter is very useful if you are planning emailing campaigns. It has direct connectors for the most used CRMs such as Salesforce, Hubspot & much more.
Once logged in, you can directly create your campaign. The interface is very user-friendly and easy to use and allows you to directly upload your template.
When you are ready, you can choose whether you want to include an unsubscribe link in the emails, track the number of emails open, … Some options are only available with the premium plan, but, depending on your needs, I believe the free version can definitely do the job.
As you can see in the example below, this extension also gives you the possibility to find email addresses just using a name or a domain name. From there, you can enter websites or company names and get a list of people you can contact. As simple as that.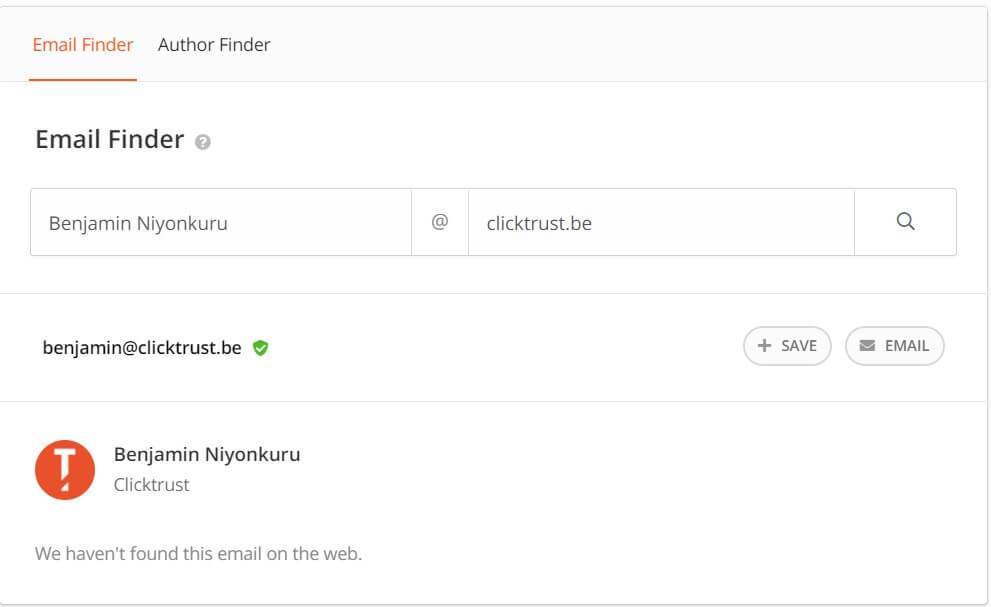 Yesware
Do you want to get more insights on a mailing campaign? Then Yesware is for you. Yesware is a leading sales engagement software built to help drive more revenue through email outreach.
The extension shows you who is opening your emails, sends notifications when your emails are opened or clicked, and tells you what device was used. But it doesn't stop there, it also shows you which links are clicked and which attachments are viewed.
To start using this extension, start by installing the extension on your Gmail/Outlook. Then, invite your colleagues & add them to your team.

And finally, start tracking!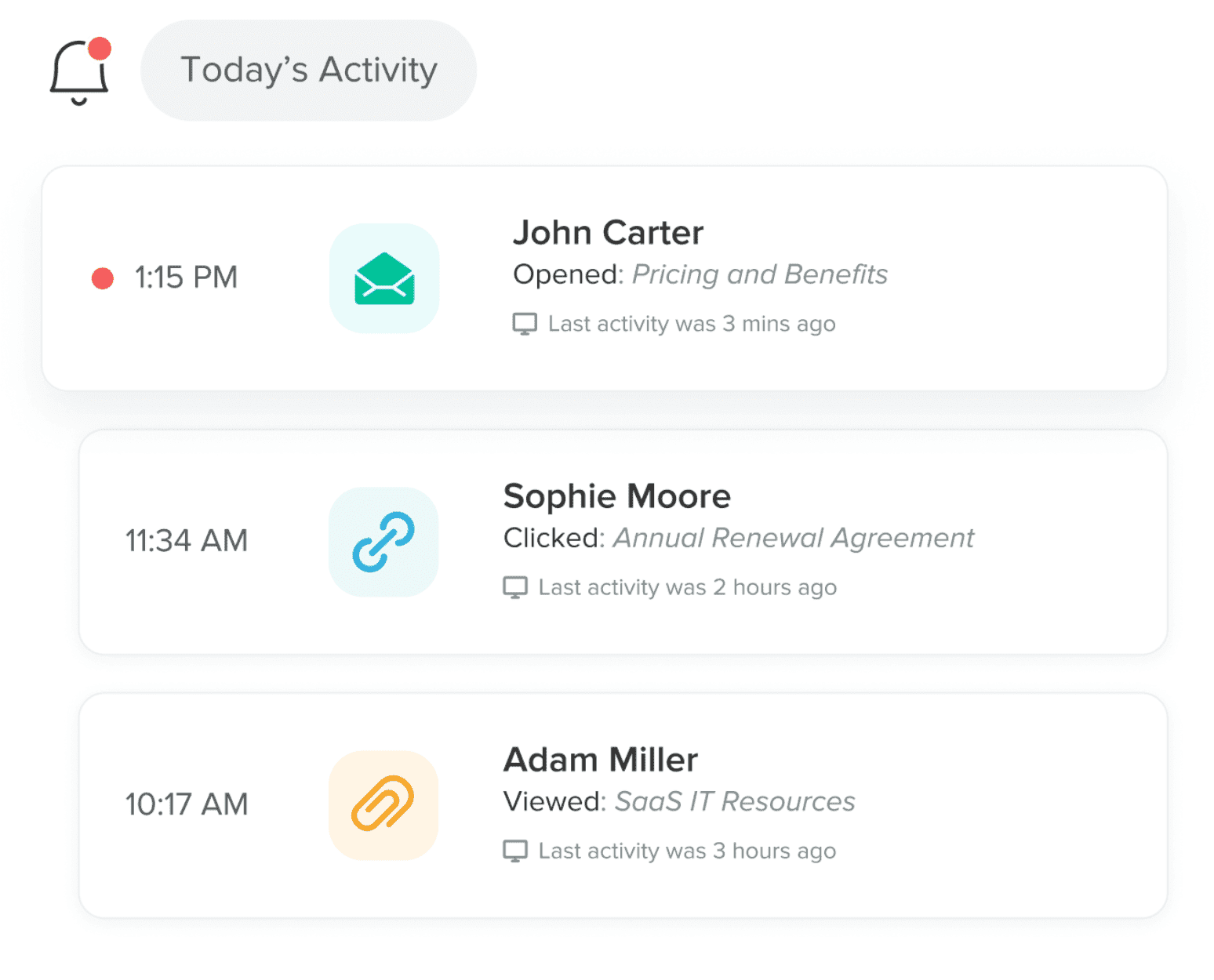 Other browser extensions for digital marketing
Eye Dropper
Eye Dropper allows you to pick colors from any website. You can save them in your personal history and reuse them to develop eye-catching presentations or dashboards.

Coolors
Coolors is a simple app that you can use to quickly generate color schemes for you or your company. All you need to do is press the spacebar to get a selection of color schemes. You don't like it? Alright, just press the spacebar again to get a new one straight away.

Mobile Simulator
Mobile simulator creates an environment that mimics the configurations of a real mobile device. Do you need to know what a website looks like on mobile or tablet? Or do you need to test a mobile responsive website?
With this extension, you can do exactly that while staying on your desktop. This mobile simulator allows you to display smartphones (both Apple & Android) & tablet simulators with various models and resolutions.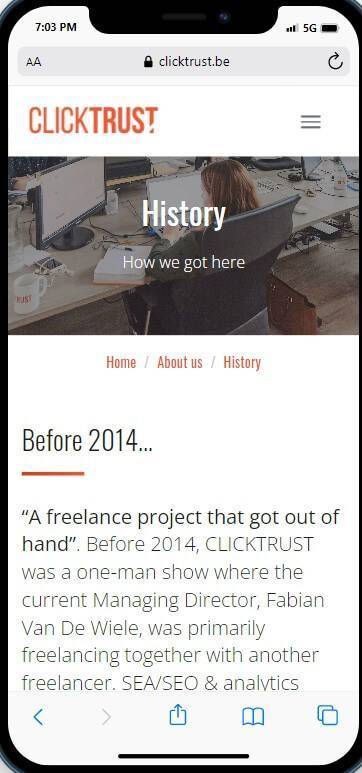 BuiltWith
As its name suggests, BuiltWith is an extension that helps you find out what a website is built with.
BuiltWith is very easy to use: all you have to do is click on the icon button. Upon looking on the page, BuiltWith returns all the technologies it can find.
Using this extension, you have access to a lot of different information such as the implemented analytics & tracking tools, widgets and plug-ins, the frameworks used to build the website, the content management system used, and much more. In addition to that, you can also have metadata & redirect information if you agree to sign up (for free), making this tool a very complete extension.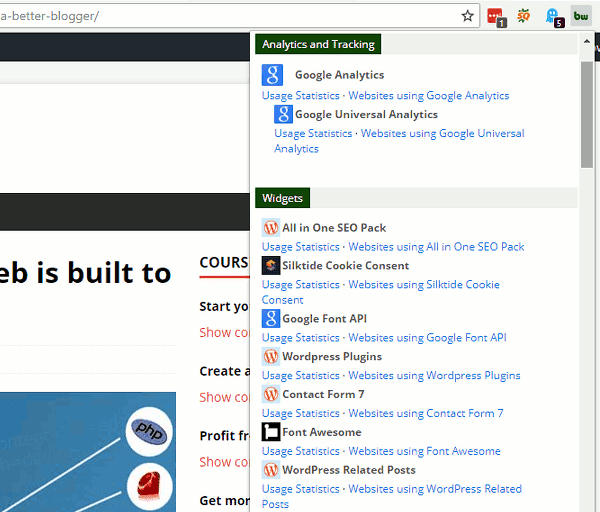 Wappalyzer
Wappalyzer is very similar. Just like BuiltWith, this browser extension is able to uncover the various technologies used on a website. It detects content management systems, e-commerce platforms such as Shopify, web servers, javascript frameworks, analytics tools, and many more.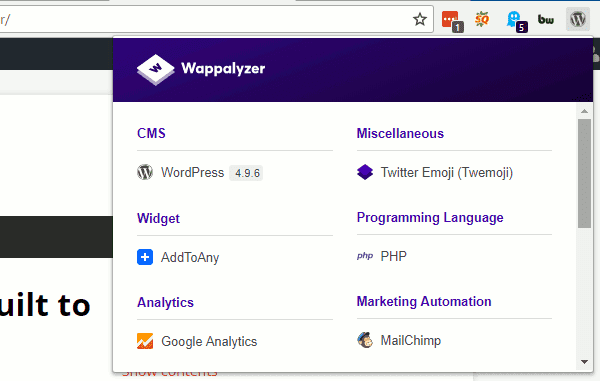 Similar Sites
Similar sites shows you a list of websites similar to the one you are currently browsing. Your best friend when doing competition analysis.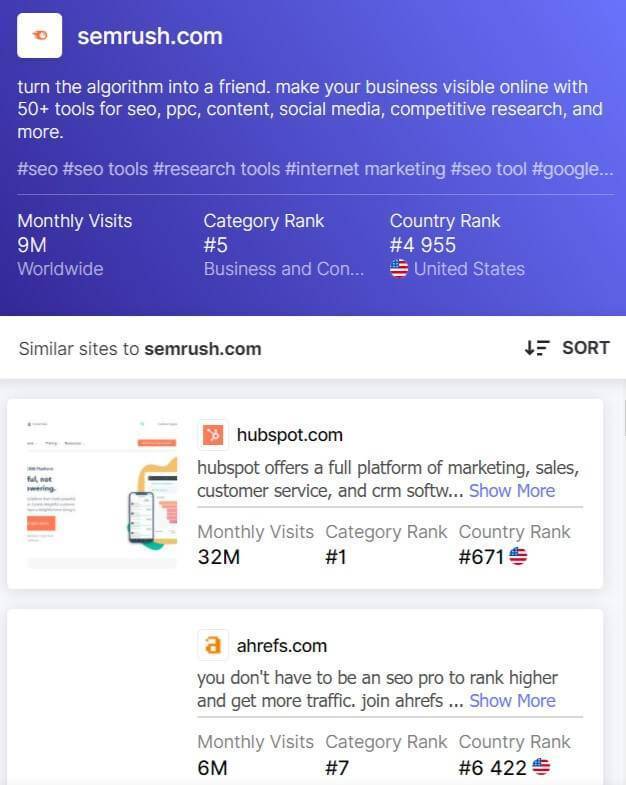 This extension can help you find high-quality content, conduct keyword research, or maximize your potential growth areas by analyzing your business needs.
Furthermore, Similar Sites can give you a different perspective on your own shopping habits. If you are used to buying a product from the same website, using similar sites helps you find similar ones that might be cheaper or more convenient in terms of payment method, shipping, client assistance… It will definitely provide you with some new shopping ideas when looking for the perfect gift.
Grammarly
If you have to write a lot on your computer, Grammarly is a real gift. This extension has the potential to prevent you from making writing errors. The algorithms flag potential issues and automatically give you suggestions to help with different things such as grammar, wordiness, style, tone, spelling, usage, and much more.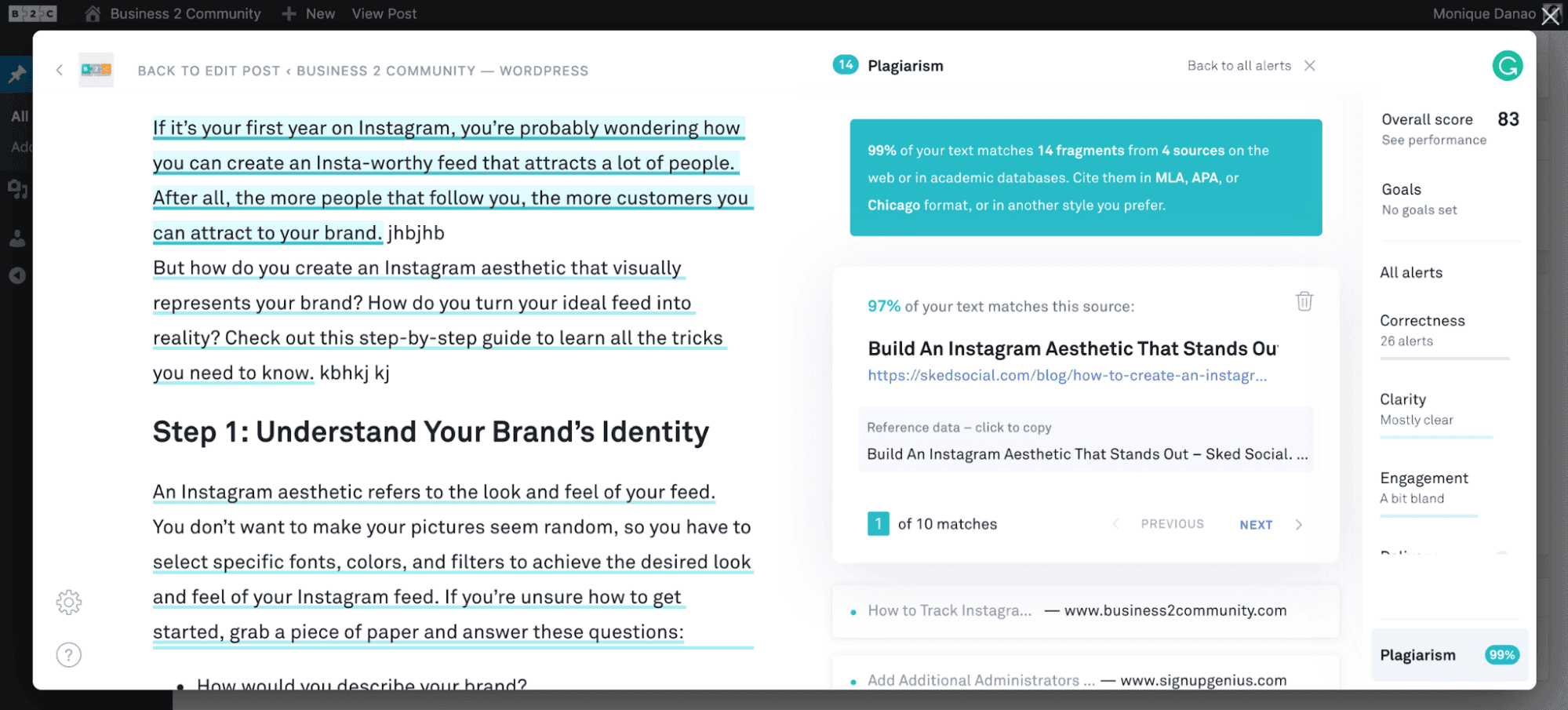 Awesome Screenshot & Screen Recorder
Awesome Screenshot & Screen Recorder is a must-have for home working. This extension allows you to record your screen and has a very useful function that allows you to add annotations while recording or even edit the video after recording.
There are several options for recording. You can either record your entire desktop, a selected tab only, or just your camera. You can also include a voice-over using the microphone option or include your face using your webcam.
There are different options to save your recordings. You can save them on your local disk, on your online account, or directly download them.
If you need images instead of videos, there should be no problem as this extension also offers you the same possibilities with screenshots.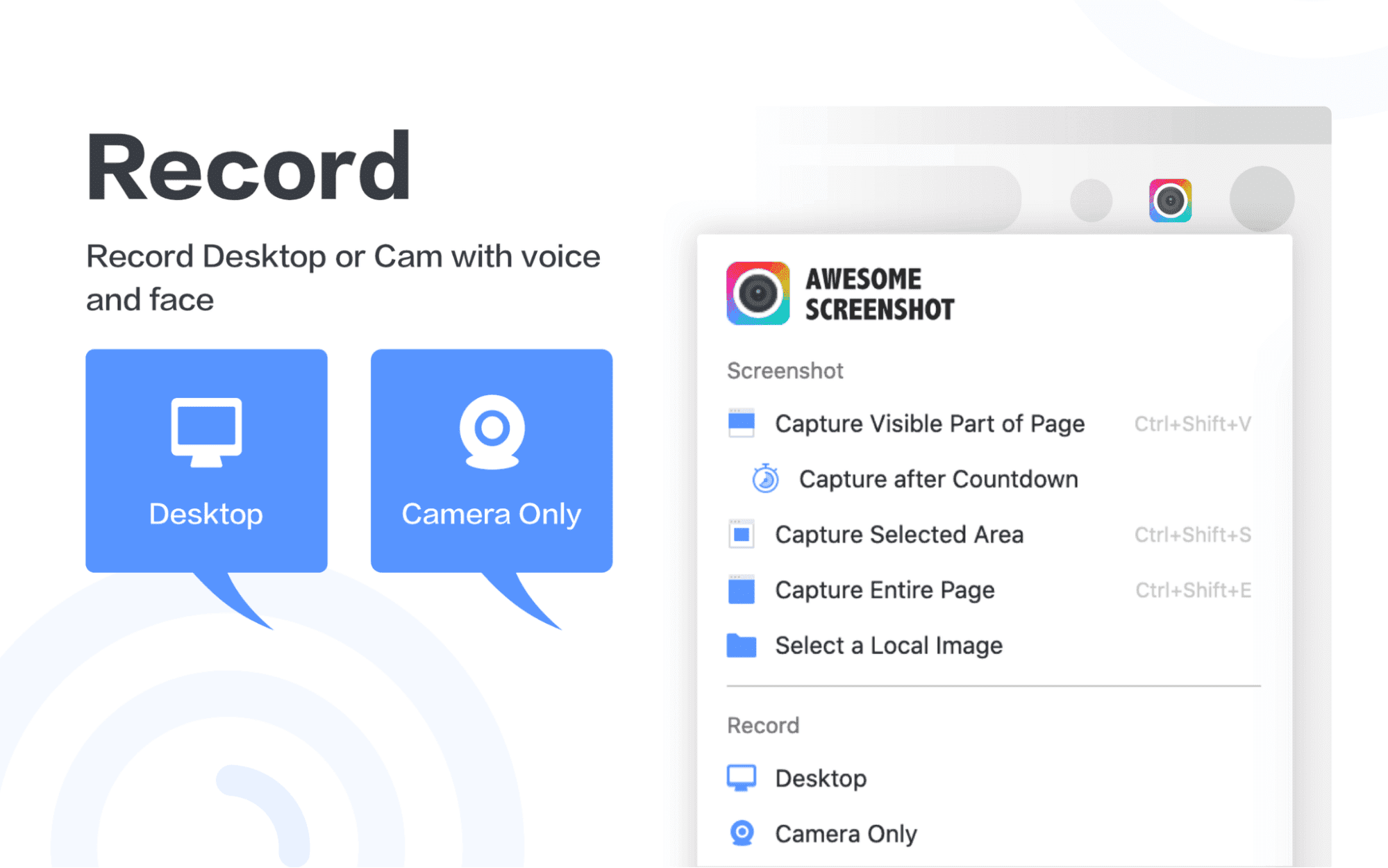 Bonus: Refoorest
And for those who have been brave enough to continue reading up to this point, there is a bonus extension.
By using Refoorest and visiting partner websites, you are taking part in reforestation.  The extension works in every search engine and highlights its partners in your favorite search engine. On top of that, it shows you how many trees were planted thanks to you.  If you are concerned about the climate and want to fight global warming, I strongly recommend using this extension.
There are several things that you can do with different extensions so we suggest you try them and pick the one that works best for you. There are of course much more extensions available that could have been listed alongside the ones we mentioned. Keep in mind that everyone has their own feelings with specific extensions so give them a try and stay with your best fit.
Ontvang onze inzichten rechtstreeks in je inbox
We duiken regelmatig in actuele onderwerpen op het gebied van digitale marketing en delen onze inzichten graag met jou.